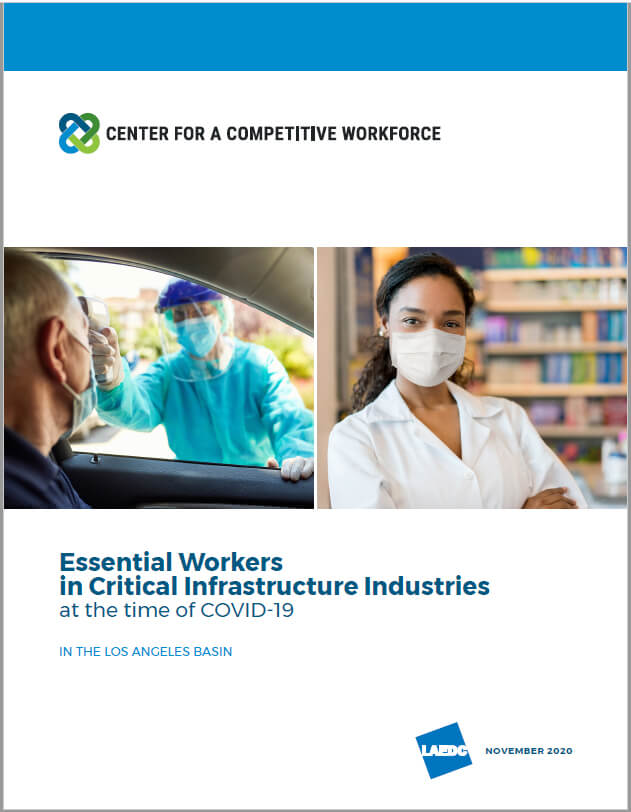 Essential Workers during COVID-19 in the Los Angeles region (CCW report)
This report is the 16th in a series of reports on occupations in Los Angeles County industries, published by LAEDC in partnership with Center for a Competitive Workforce (CCW).
VISIT THE CUSTOM WEBPAGE FOR THIS REPORT:  https://competitiveworkforce.la/essential 
During COVID-19, workers at "essential industries" in Los Angeles County reported for work and kept the economy and society going. This report's purpose is to inform our community college system, students and job seekers which occupations in frontline industries pay well and will be hiring.  This helps our colleges scale and update programs, and also provides job seekers with good information to choose careers. LAEDC is connecting industry with education for workforce development, which helps economic mobility especially for the diverse student body at our region's 19 community colleges.  The report:
■ Analyzes the major trends occurring in frontline industries
■ Projects regional employment in target occupations
■ Identifies the jobs that have the brightest future for community college students in the region
Published by LAEDC's Institute for Applied Economics, as part of our partnership in Center for a Competitive Workforce.