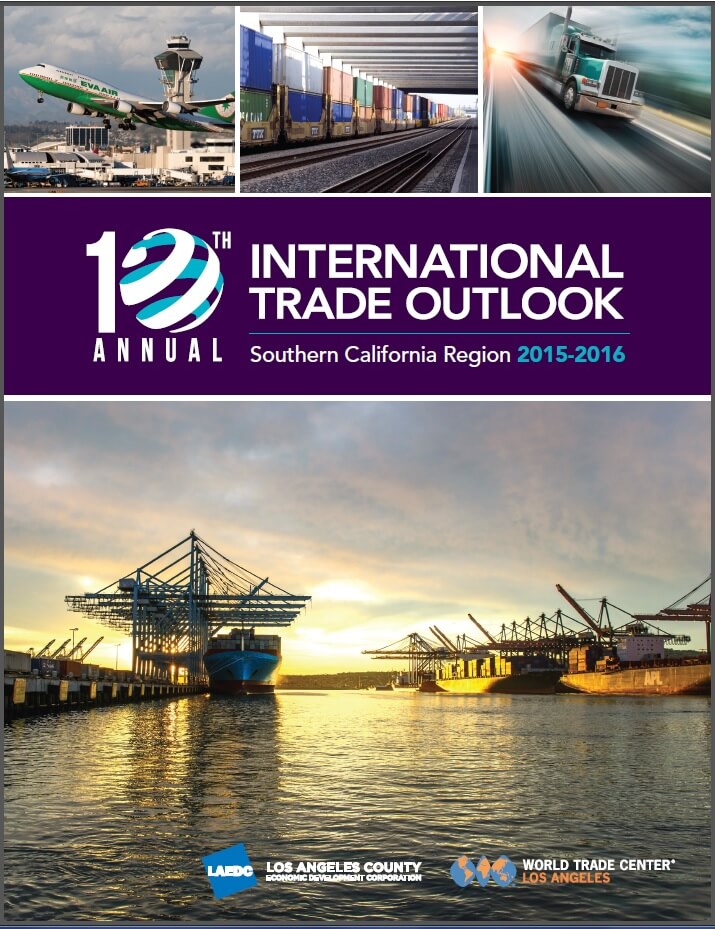 2015-2016 International Trade Outlook
LAEDC and its Kyser Center for Economic Research today published the 2015-2016 International Trade Outlook.
The report analyzes the Southern California and national "Trade and Goods Movement" industry, related infrastructure projects, and related issues such as real estate needed for industry growth.  The report delves into the specifics of LA County's top international trading partners, including a forecast for economic activity related to trade.  The report also provides analysis of employment related to this key piece of the Los Angeles County regional economy.  The LAEDC would like to thank to sponsors of ITO; City of Carson, Port of Long Beach, Port of Los Angeles, Los Angeles News Group, and Long Beach Business Journal.
READ THE REPORT: LAEDC 2015 Intl Trade Outlook Report
Learn what the speakers said, see their presentations and view a recap of the International Trade Outlook event, held June 3rd, 2015 in Long Beach.
Also released at the event was LAEDC's new report, Growing Together: Taiwan and Los Angeles County, which analyzes trade and investment ties between our two regions.  Thanks to Taipei Office of Economic and Cultural Office in Los Angeles (TECO) for generously sponsoring the Growing Together report.