Blue & Green Goods Movement
---
Los Angeles County experienced historic economic devastation due to COVID-19 when our economy lost over 772,000 jobs within the first 2 months of the pandemic.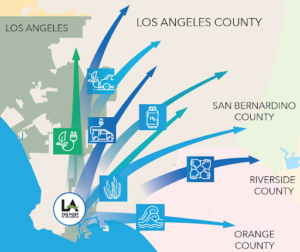 In 2022 – two years into the pandemic – LA County's unemployment rate remained high at 6.1% and over 308,000 residents of LA County are still unemployed (one of the highest numbers in the country). Urgent economic recovery is needed to accelerate equitable growth and resilience within our regional economy. Our largest opportunity to expedite an equitable recovery effort is within the Goods Movement Ecosystem (GME), an essential cluster that is being rapidly transformed by Blue and Green Industry solutions, originating from and flowing through the Port of Los Angeles (POLA). 
We need to work to create high quality jobs, increase wages, and revitalize communities while building a resilient and equitable port of the future that reduces emissions and increases efficiencies in supply chains, thereby keeping Los Angeles and the nation competitive in the global economy. 
Global commerce is crucial to American prosperity, and our proposal aims to optimize supply chains for throughput, equitable growth, sustainability, and resilience critical to the nation's economic recovery and resiliency. Through this process, LAEDC strives to make our region the world capital for technologies at the intersection of the Blue and Green Regenerative Economies. Read more about how LAEDC is making a difference in the growth of LA County through Industry Cluster Development.