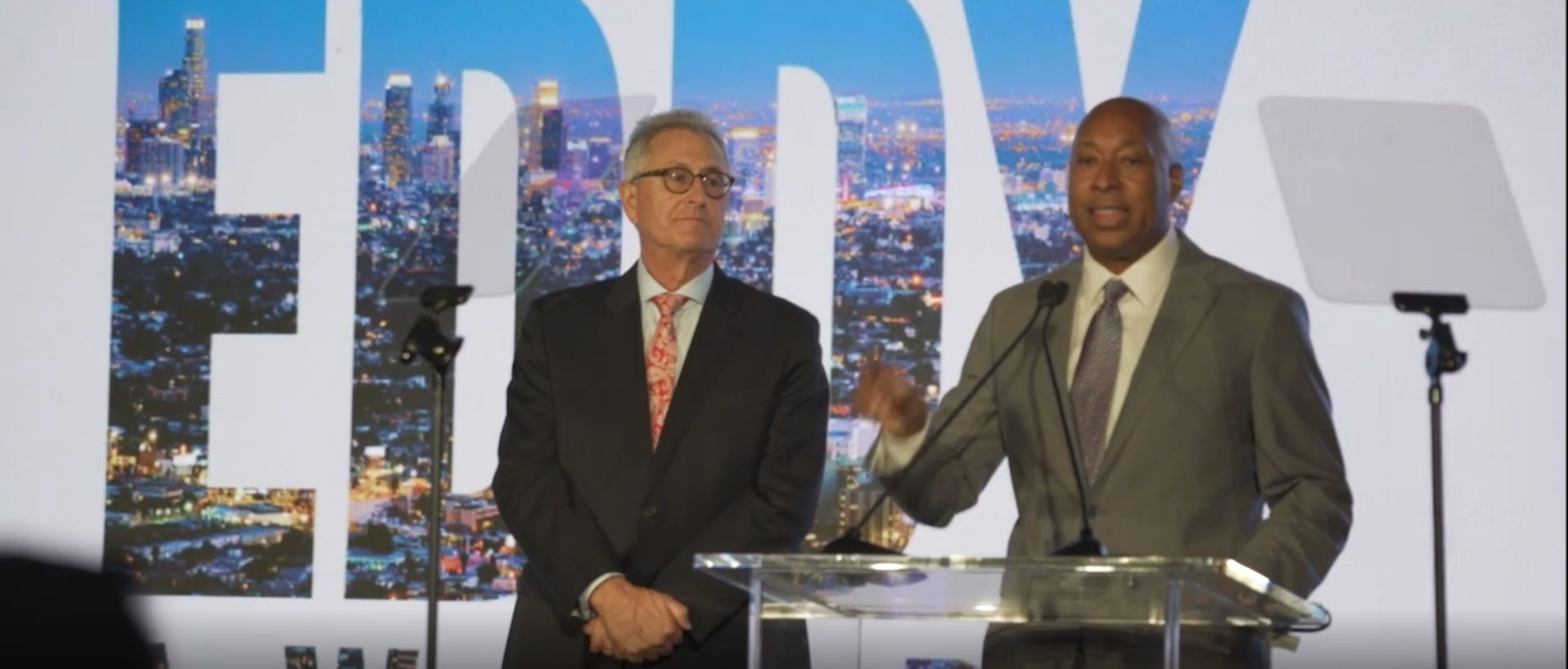 Platinum Sponsor*
$50,000
Pre-Event Recognition

Prime placement of your organization's logo in branding in marketing materials including main stage
Featured article about your organization in one LAEDC e-newsletter
Featured logo designation in digital media (website, email invitations, e-newsletters, social media)
Featured Eddy Award's e-blast(s) with sponsor ad
Live link to your organization's sponsor websites from Eddy Awards webpage
Sponsor designation on all marketing materials (website, email invitations, e-newsletters, social media)
and printed invitation.

Onsite Recognition

Speaking opportunity on main event stage
Prominent verbal recognition from the stage
Ad in Tribute Journal (2-pages)
3 Tables of 10 at Dinner
Sponsor designation on video slide loop on screens in event space

Post-Event Recognition

Dedicated email blast to all Eddy Awards attendees
* Platinum sponsor is exclusive to one sponsor
Diamond Sponsor
$25,000
Pre-Event Recognition

Featured article about your organization in one LAEDC e-newsletter
Featured logo designation in digital media (website, email invitations, e-newsletters, social media)
One featured Eddy Award's e-blast(s) with sponsor ad
Live link to your organization's sponsor websites from Eddy Awards webpage
Sponsor designation on all marketing materials (website, email invitations, e-newsletters, social media)
and printed invitation.

Onsite Recognition

Prominent verbal recognition from the stage
Ad in Tribute Journal (1 Full Page)
2 Tables of 10 at Dinner
Sponsor designation on video slide loop on screens in event space

Post-Event Recognition 

Dedicated email blast to all Eddy Awards attendees
Gold Sponsor
$15,000
PRE-EVENT RECOGNITION

Live link to your organization's sponsor websites from Eddy Awards webpage
Sponsor designation on all marketing materials (website, email invitations, e-newsletters, social media)
and printed invitation.

ONSITE RECOGNITION

Prominent verbal recognition from the stage
Ad in Tribute Journal (1 Full Page)
1 Table of 10 at Dinner
For more information on how you can sponsor the Eddy Awards, please contact Shane Cullen at [email protected].
Provide a lasting impression with an ad in the Tribute Journal for the event. Whether you are promoting your organization, acknowledging one of the Eddy Honorees or a finalist for the Most Business Friendly-City Award, pay tribute to them while also helping us achieve our fundraising goals for the event and allowing the LAEDC to continue with our mission.
Premium Full Page Ad
$

5000

Per ad. Premium locations have limited availability.