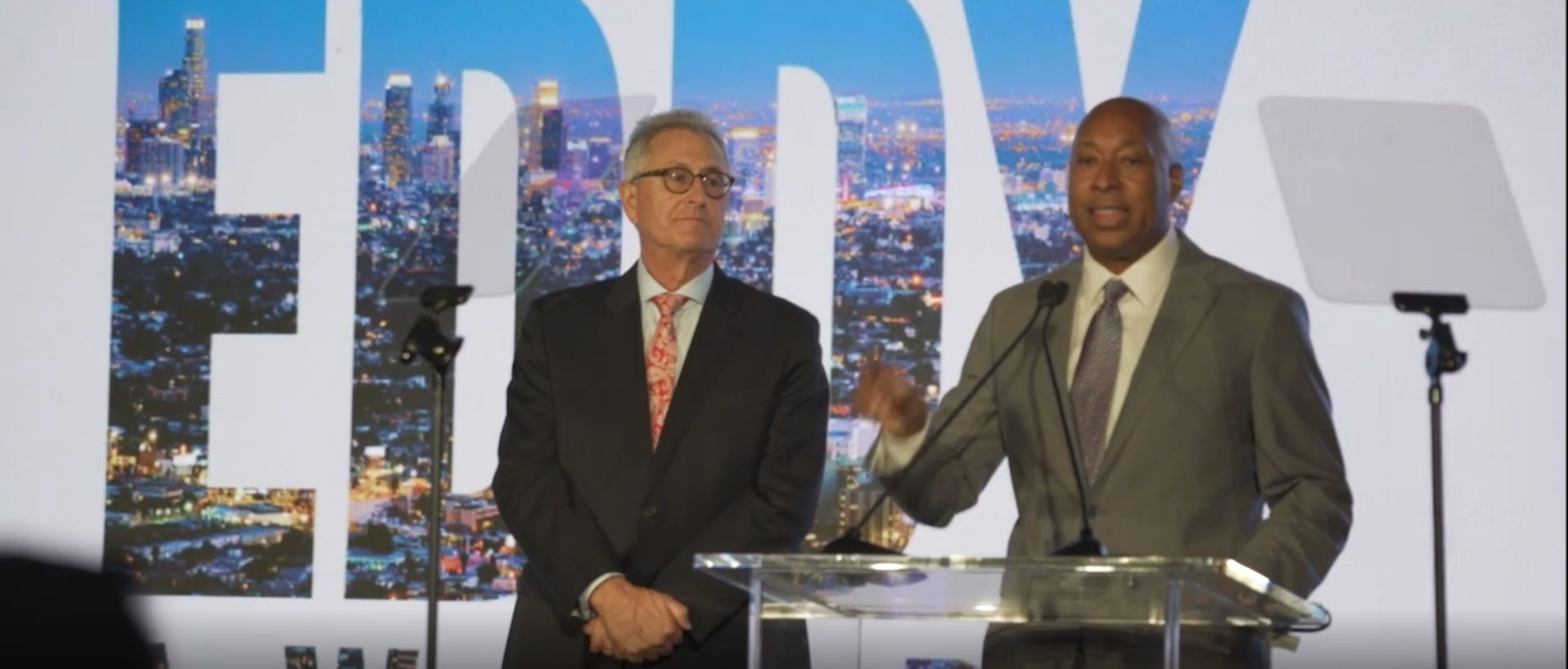 Eddy Awards Event Details
Location SoFi Stadium
3599 W. Century Blvd, Inglewood, CA, 90303
Access the site using the Yukon Ave & Century Blvd entrance. 
Stadium Entrance
Security & Check-in desks will be set up by stadium Entry 11, directly across Lot F 
Parking
Parking is free for all attendees in Parking Lots F or G 
Security
All guests must enter through metal detectors and subject to bag check for access to SoFi Stadium. Please note that a clear bag policy will be in effect. Guests can either have a clear bag or a small clutch (~4×6") but no large totes/backpacks.  
Schedule
Reception & Silent Auction starts at 5:30 PM
Awards Dinner starts at 7:00 PM
Program ends at 9:00 PM 
Please use this pdf in case requested by the Parking & Security teams and to get additional information on ride share drop off instructions: 
What do I need to bring with me for registration/check-in?

You will only need to provide

your

full

name

at registration

. Please be ready to provide your phone number and credit card at check-in if you want to participate in the silent auction and opportunity drawing.

Where do I go after entering SoFi Stadium?

After check

–

in,

SoFi

Stadium Guest Relations representatives will gu

ide you to

Section VIP 131 – VIP 132

where you will enter the

SoFi

Social Club for the Cocktail reception.

What is attire? Can we wear heels? Will there be coat check?

Dress code is cocktail/business attire.

We encourage

attendees to dress warmly and wear layers as we will be out in the open on the field and the temperature is

expected to be in the high 50s.

Heaters are not allowed on the field.

There is no coat check, but you will be able to leave your coats and jackets at your table.

 

If you are wearing heels, please be advised that there is a 5-7 minute walk from the parking lot to the stadium field. 

Will we actually be on the field/turf?

Yes, we will be on the field

!

The turf will be covered by protective mats.

 

What are the meal options?

Beef: 24hr Braised Short Rib, Cardamom Sweet Potato Puree, Charred Brussel Sprouts, Pickled Green Apple.

 

Chicken: Smoked Chicken Airline Breast, Romesco, Olive Oil Potato Puree, Broccolini. 

Vegetarian: Ricotta Gnocchi, Roasted Wild Mushrooms & English Peas, Morel Cream Sauce. 

*All meal choices have been sent to SoFi Stadium and cannot be changed at this time 

Will there be WiFi at the event?

Yes, SoFi Stadium offers free WiFi.

 

Just connect to the network #SoFiStadium and follow the instructions.

 

How does the silent auction work?

The silent auction

is managed through the OneCause mobile platform. We are asking for attendees' phone numbers at registration so they will get a text from the platform to get set up and start bidding. 

We also have a special opportunity drawing for a chance to fly anywhere in the world: one ticket for $25 or five for $100. For only $25 you have a chance to visit Paris, Cancun, or Cairo! Please click here to bid on auction packages.

Additional silent auction information

-Bidding on the Silent Auction items will be on BidPal (also known as OneCause, the creator of BidPal) via a link sent to your Smartphone. This link is personal to you. Please do not forward your link to anyone that you do not want to share your payment information and bidding obligations with. If you want to share this event with your friends/family, invite them to register by texting the word "eddys" to 243725.

 

-Bidders should be within 40 miles of Los Angeles only, please.  

-By providing your mobile phone number, you agree to receive text messages about this event and bidding activity. Los Angeles County Economic Development Corporation will not be responsible for any fees or overages your mobile provider may charge. Please contact your mobile provider for any additional details. Respect for your privacy is important to us. The mobile number(s) you provide are used for this Los Angeles County Economic Development Corporation, to participate in this event and the mobile silent auction. Your personal information, including mobile phone number, is used exclusively for Los Angeles County Economic Development Corporation and is not shared with or sold to third party vendors.  

-The Silent Auction will close as indicated by the countdown timer on the auction interface.  

-For your convenience, you will be required to securely add your credit card in order to bid or donate. If you would like to pay in another manner, please see our volunteers at the Checkout area at the end of the auction.