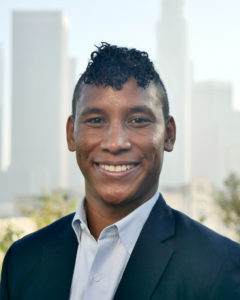 In his role as Policy Manager, Sulaiman focuses on advancing LAEDC policy priorities on specific key industries and legislation at the local, state, and federal levels. As a member of the Strategic Initiatives team, he also supports LAEDC industry cluster development to strengthen the region's global competitive advantage. He brings experience in business incubation, issue development, policy research and formation, and stakeholder engagement strategy.
Sulaiman was most recently an Associate at the International Business Accelerator, an early-stage startup incubator in Los Angeles, CA, where he developed an online curriculum to teach companies how to scale into global markets. He also helped cultivate strategic relationships with industry associations, community partners, and business leaders to participate in cohort seminars.
Prior to moving to Los Angeles, Sulaiman spent two years living in Southeast Asia. After backpacking across the region for several months, he settled in Singapore to conduct an independent research project analyzing the business issues and trade dynamics of the Asia-Pacific region. In addition, upon finishing his undergraduate degree Sulaiman served as the Communications Manager at the US-China Business Council in Washington D.C.
Sulaiman sits on the Global Committee of the Los Angeles Venture Association to help create programming that highlights global opportunities and capital sources for companies based in or coming to the Southern California venture ecosystem.
An East Coast transplant, Sulaiman grew up in Richmond, VA and received his Bachelor of Arts in International Business from Morehouse College.