Email Shannon
Vcard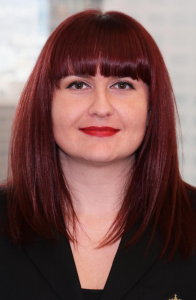 Shannon Sedgwick is an Economist in the Institute for Applied Economics (IAE) at the Los Angeles Economic Development Corporation (LAEDC). In this capacity, Ms. Sedgwick is involved in the planning and design of projects and develops subject-specific information and data interpretation for economic impact, demographic, workforce development, transportation, and industry and issue studies. She performs research, data collection and organization, analysis and report preparation. Her work focuses on demographics, industry clusters and contribution analysis, and occupational analysis. She is also proficient at conducting geospatial analysis and working with IMPLAN. Ms. Sedgwick is a principal contributor to the annual People, Industry and Jobs reports prepared for local Workforce Development Boards (WDB). Other notable works include The Oil and Gas Industry in California: Its Economic Contribution and Workforce, Aerospace: The Changing Face of Aerospace in Southern California, The Path Forward: Economic and Workforce Intelligence for Northeast Los Angeles, and Pacific Standard Time: Art in L.A. 1945-1980 which quantified the economic impact of the series of exhibitions held across Southern California.
Ms. Sedgwick joined the LAEDC in June of 2008 as an Economic Research Assistant with the former Kyser Center for Economic Research (now a part of IAE). In that role she assisted both Economic Research and the Consulting Practice of the LAEDC with data collection and research, managing multiple data sets covering the State of California, Southern California, its counties and their sub-regions. In addition to writing sections of LAEDC's Economic Forecasts, she was responsible for the "Business Scan" containing a collection of Los Angeles County economic indicators; the annual "L.A. Stats" report containing the most frequently requested statistics for Los Angeles and its surrounding counties; and was a regular contributor to the weekly economic newsletter "e-Edge."
Before joining the LAEDC, Ms. Sedgwick managed an industrial and steel supply company located in the Inland Empire. There she identified and targeted a diverse customer base, and analyzed product and customer patterns in the local industrial market to successfully increase revenues.
A Southern California native, Ms. Sedgwick received her Bachelor of Arts in Economics from the University of Southern California (USC) with a minor in Architecture. She is a member of the national chapter of National Association for Business Economics (NABE) and the American Economic Association (AEA). In her free time, she is actively involved with local animal rescue organizations as a foster and volunteers annually as a mentor to undergraduate students selected for the USC Dornsife Gateway Internship Program.