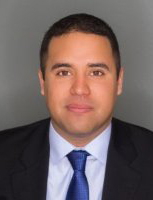 Rafael De Anda is an Economist at LAEDC.  Mr. De Anda joined the LAEDC Institute for Applied Economics in September 2016 and performs research associated with the County's industry clusters, economic impact analysis, and statistical analysis. His work focuses on processing large datasets and extracting and analyzing relevant information. Mr. De Anda is proficient in statistical programming using multiple software packages, economic forecasting, and geospatial analyses.
Before joining the LAEDC, Mr. De Anda served as the Research Project Manager for a local consulting firm where he helped to oversee the firm's economic research and consulting projects and performed economic research analysis for regional economies and industries throughout the state.  Mr. De Anda also previously served as an intern and research assistant to LAEDC's former Kyser Center for Economic Research and brings his experience in economic research to the IAE team and its projects.
Mr. De Anda is an Angeleno and grew up in friendly El Monte, CA. He received his Bachelor of Arts in Economics from the University of California, Riverside (UCR) with a minor in Political Science and a Master of Arts in Economics with a Global Economics option from the California State University, Los Angeles (CSULA). He is a member of the national and the Los Angeles Chapter of the National Association for Business Economics (NABE). Mr. De Anda is fluent in Spanish.
Contact Rafael De Anda:  [email protected]