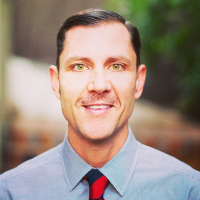 In his role as Director of Entertainment & Digital Media Industry Cluster Development, Chris fosters the growth of businesses and jobs in the entertainment and digital media industry cluster throughout LA County by developing strategies and bringing together stakeholders, to help remove obstacles to growth, while helping our region take advantage of emerging opportunities.
Chris is also Director of Innovation for the LAEDC, championing technology and new concepts that are creating economic opportunity for the region.  As part of this work, Chris manages the annual Innovate LA event and related year-round initiatives, including vision and strategy, external communications, marketing and social media for InnovateLA.  More about InnovateLA at this LINK.
Chris has extensive experience creating, producing and executing projects. Chris honed his creative skills during a successful career in film and television development and production in Hollywood. Chris's film and television experiences, along with his passion for social change, led him to the political arena where he worked with Arianna Huffington as a state organizer, Moveon.org as a lead organizer, and as campaign director for a ballot initiative to promote water conservation and sustainability. Recently, Chris consulted for the Bill and Melinda Gates Foundation on ActivateED, a campaign of leading education organizations to positively impact student achievement. Most recently, Chris worked with Bright Funds to attract more philanthropic donors, and overseeing an open source digital voting project for the OSET Foundation. Chris's campaign experience and innovative approach to digital and social media have precipitated exponential growth in visibility for every project he leads. Chris is a graduate of Duke University, where he designed his own major focusing on 20th C. Western European International Affairs. He is also a licensed special needs educator in California.