Last week, more than 200 elected officials, city managers, business, education, and nonprofit leaders gathered at LAEDC's annual 88 Cities Summit. This convening provided a space for local government leaders across Los Angeles County to share and create solutions to address the economic development challenges our cities and unincorporated communities face.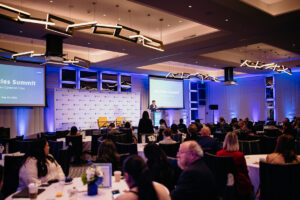 This year's topic, "Human-Centered Cities" brought focus to how cities can help address the greatest needs in their communities including homelessness, the digital divide, and cleantech infrastructure. The morning started with remarks from Los Angeles County Supervisor Holly Mitchell (2nd District) and City of Los Angeles Mayor Karen Bass. 
Supervisor Mitchell noted the importance of regional collaboration in tackling key problems, saying the role of the county was to lead on solving challenges, from investment in digital equity programs to ensuring equitable allocation of funding from the American Rescue Plan Act. She called for cities to play a leading role, too, pointing to opportunities to work to implement policies that foster small businesses and to welcome new neighbors as a way of tackling the homelessness crisis and highlighting the importance of cities partnering with the county to ensure equitable access to economic opportunity. Supervisor Mitchell cited the county's wage enforcement program, designed to ensure workers are protected from abuse and that contracted businesses understand and comply with fair chance laws, as a successful example of collaborative work. She noted the importance of inclusive economic development strategies that meet the true needs of diverse communities. 
City of Los Angeles Mayor Karen Bass outlined her plans to build stronger relationships with other cities' council members, city managers, city departments, and regional partners to tackle the region's challenges together. She believes that a human-centered approach to policymaking is essential in a time when the city is facing unprecedented homelessness. Mayor Bass also believes that focusing on business and environmental issues, such as bridging the digital divide and reducing greenhouse gas emissions, needs a region-wide approach to be successful. She ended by expressing her goal to work with telecommunications firms and the federal government to provide free internet access, public libraries to teach digital literacy and the city's economic and workforce development department to help small businesses expand.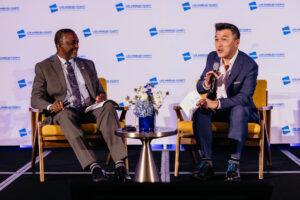 LAEDC President & CEO Stephen Cheung along with Kome Ajise the Executive Director of SCAG helped set the stage by discussing our economic development as a region. The Southern California Association of Governments (SCAG) stresses that addressing equity is key to boosting economic growth. A potential 5-8% boost of GDP can be achieved by ensuring that everyone has the same opportunity to participate in the economy, including access to broadband internet, clean infrastructure and ending homelessness. Homelessness is viewed as a key obstacle to thriving businesses and SCAG aims to enable cities through education and tools to plan housing units that might include underutilized retail spaces. For example, it has redirected $47m from the state to enhance low-resource cities and develop suitable housing locations. 
The largest manufacturing industry in the US is in Los Angeles County, and it is blessed with three ports that have an impact on every congressional district. To assert its importance better across the US, the region needs to view itself collectively and work in a unified voice on a global scale. However, it is not always easy for civic leaders to extricate themselves from local issues and focus holistically on broader regional challenges. Recognition of the true value of the region is necessary to encourage collective working at a local and state level. If the region can unify and display its regional importance on the national stage, funding could be made available for suitable infrastructure projects or for mitigating the impact of the supply chain on low-income communities. 
City Talks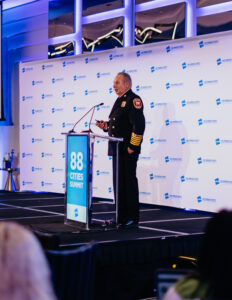 During the series of 'City Talks,' representatives from regional cities shared how they are addressing their city's most pressing issues. Speakers included (in order of appearance):
Leah Goold-Haws, President & CEO, Long Beach Economic Partnership

 

Fire Chief Fernando Pelaez from City of Montebello. 

 

Jesse Mays, Assistant City Manager, City of Culver City

 

Judy Kruger, President & CEO, Santa Monica Chamber of Commerce

 

Thomas Wong, Mayor Pro-Tem, City of Monterey Park

 
Ending the Digital Divide 
Universal broadband access can help bridge the digital divide and promote economic growth for all. Broadband internet access provides numerous economic benefits, primarily by increasing productivity and creating new jobs. With reliable and high-speed internet connectivity, entrepreneurs and small businesses can perform tasks more efficiently, reach a wider customer base, and establish partnerships with firms to improve productivity.  
This panel included: 
Landry Doyle Wiese, Director, HR&A Advisors (Moderator)

 
Maria Isabel Ellis, Deputy Director of Broadband, California Public Utilities Commission

 

Shayna Englin, Director, Digital Equity Initiative, California Community Foundation

 

Cristal Mojica, Senior Program Manager Digital Equity, Michelson Foundation

 

Linda Nguyen, Community Engagement Lead, Microsoft Philanthropies Digital Inclusion

 
The Economic Benefits of Ending Homelessness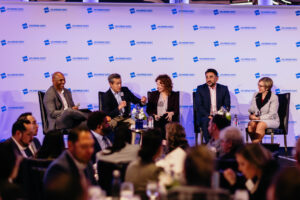 Ending homelessness can save major costs and enhance economic growth. By providing housing for people experiencing homelessness in Los Angeles County, this can reduce the cost of emergency services including hospitalization and emergency shelters. Additionally, ensuring stable housing can improve the overall health and well-being of individuals, leading to a more productive workforce and reduced healthcare costs. As people experiencing homelessness get access to basic needs such as food and shelter, they can focus on finding employment, which increases economic activity and decreases the reliance on social programs. 
Onnié Williams III, Homeless Initiative, LA County Chief Executive Office (Moderator)

 

Meredith Berkson, Director of Systems and Planning, Los Angeles Homeless Services Authority

 

Richard Corral, CEO & Principal Consultant, Corral Consulting

 
Phong Huynh, Principal, Public Sector, Deloitte

 

Anne Miskey President & CEO, Union Station Homeless Services

 
The Economic Case for Cleantech Infrastructure 
Research has shown that investments in cleantech infrastructure over the long-term result in reduced operating costs and increased productivity, making businesses more competitive, and contributing to economic growth. Sustainable infrastructure reduces costs associated with maintenance, repairs, and replacements of deteriorating infrastructure. It can create new jobs and stimulate economic growth through investment in renewable, energy-efficient technologies, and systems that reduce carbon emissions and improve health. 
Tim Hou, Manager, Economic Development Policy, Amazon (Moderator)

 

Joe Avila Vice President, Government & Community Affairs, Connected Signals

 

Erica Bowman Managing Director for Regulatory Policy, Southern California Edison

 

Matt Horton Director, State Policy & Initiatives, Accelerator for America