To tackle pressing environmental challenges like climate change and pollution, our local regional economy, including the private sector, needs to transition towards a greener, resilient, and climate-neutral economy.
A Just Transition means greening the economy fairly and inclusively and creating fair work opportunities that leave no one behind. A Just Transition involves maximizing climate action's social and economic opportunities while minimizing and carefully managing any challenges. On September 15, 2021, the Los Angeles Board of Supervisors adopted a motion titled "Developing a Comprehensive Strategy for Just Transition Away from fossil fuels in Los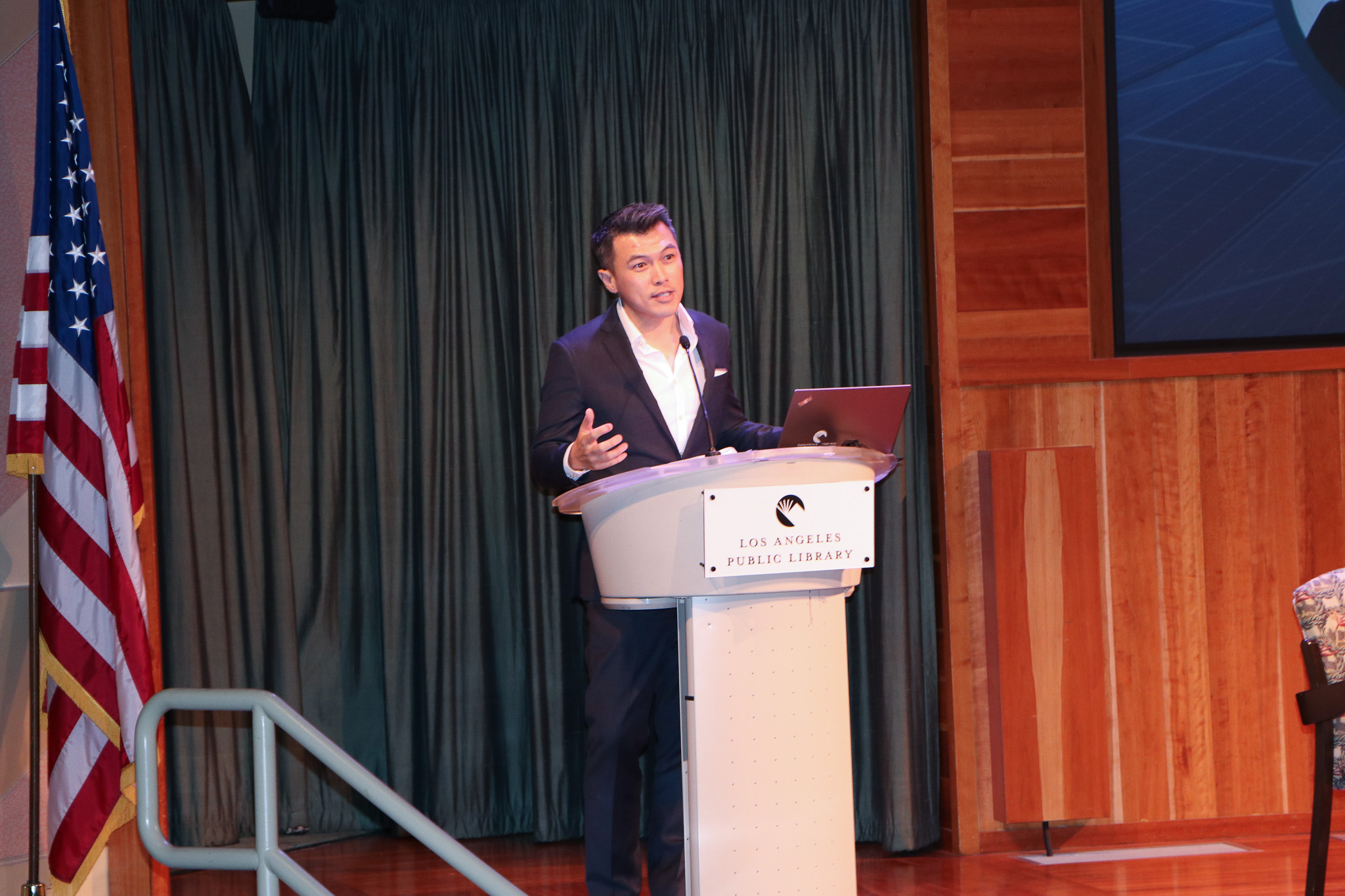 Angeles County" that would develop a just transition strategy for oil extraction workers impacted by the County's oil extraction phase out ordinance and to reconvene an expanded just transition task force to develop the strategy's recommendations. This Future Forum explores a Just Transition to a Green Economy and how the current regional plan will impact economics, community, and the environment.  
What must public and private partners consider for current projects and opportunities for a future workforce?  
Rita Kampalath, Ph.D., Acting Sustainability Officer for the County of Los Angeles, joined virtually to provide our keynote on the Board of Supervisors' actions since its September 2021 motion. The Board and the City of Los Angeles voted to phase out oil drilling in their respective jurisdiction and implement holistic designs for solutions that didn't just address the environmental issues but with multiple lenses, including equity and economy. 
"It was with this in mind that we launched the Just Transition Taskforce, an effort that LA County has been proud to co-lead with our partners at the City of Los Angeles," Dr. Kampalath said. "The driving motivation behind the task is: As we move away from fossil fuel extraction, we must also address the impact this move will have on workers who have long relied on this industry to support their families. 
"We can also start having conversations about the future of these sites and ensure that communities that have been impacted for decades by these extractions also have a seat at the table," Dr. Kampalath continued. 
More information on the Just Transition Taskforce and its activities can be found here.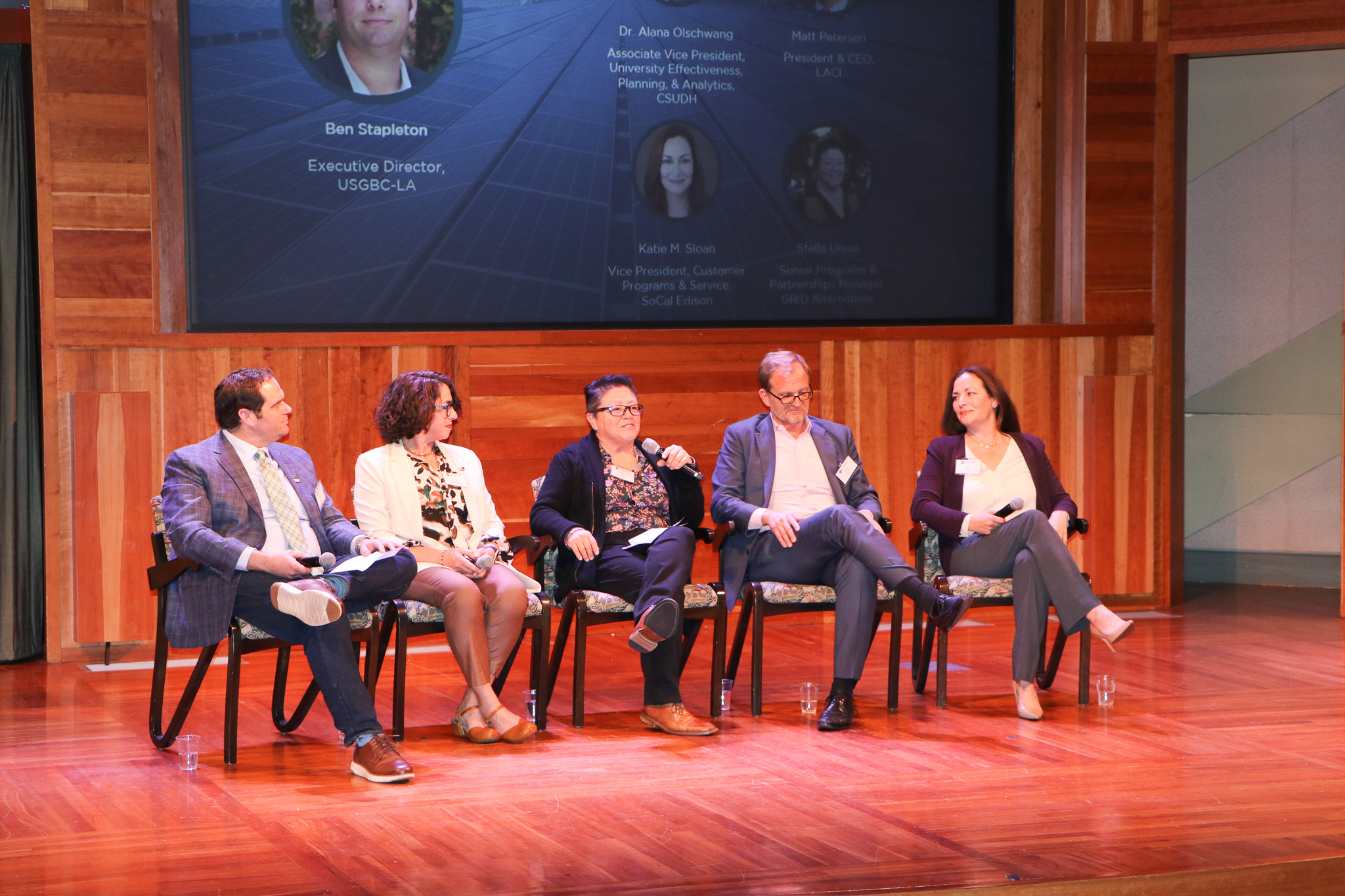 Following Dr. Kampalath's keynote, Ben Stapleton, Executive Director of U.S. Green Building Council Los Angeles (USGBC-LA), moderated a discussion with: 
Alana Olschwang, Ph.D., Associate Vice President, California State University Dominguez Hills

, University Effectiveness, Planning, and Analytics

 

Matt Petersen, President & CEO, Los Angeles Cleantech Incubator

 

Katie M. Sloan, Vice President, Customer Programs and Services, Southern California Edison

 

Stella Ursua, Senior Programs & Partnerships Manager, GRID Alternatives

 
The event ended with closing remarks from Nancy Sutley, Deputy Mayor of Energy and Sustainability, City of Los Angeles, who highlighted Los Angeles Mayor Karen Bass's ambitious vision for a reduce climate change and dealing with the impacts of climate change and fostering a green economy to help mitigate the climate crisis in Los Angeles.  
"Those strategies need to be centered on community; they have to create jobs and economic opportunity and really focus on marginalized communities," Deputy Mayor Sutley. "It's an opportunity to right some wrongs and to create a more sustainable and powerful economy." 
See the full conversation here