We are in middle of a climate crisis and this year's Future Forums series will look at the industries that will be necessary to help mitigate some of the damaging effects we are already seeing. On October 6th, the LAEDC and our attendees joined together in a conversation about the Future of Clean Hydrogen. 
There is no single path to decarbonization, and the current phrase "energy transition" recognizes that progress is found one step at a time. In the early 2000s, hydrogen made its first appearance in the limelight of U.S. discussion on energy conservation. However, when the 2008 recession hit, strategy pivoted towards other commercially ready clean technologies. Now, with new climate goals on the horizon, hydrogen is making its comeback.
This Future Forum explored the role clean hydrogen plays in decarbonization, how investments into clean hydrogen will impact the economy, current and future projects being developed, and opportunities for a future workforce.  
The day's event featured a keynote presentation from Gia Vacin, Deputy Director, Zero-emission Vehicle (ZEV) Market Development, GO-Biz. Ms. Vacin provided an in-depth view on the recent H2 State Investments in California, including hydrogen fuel production, emergency response & resiliency, and buildings & industry. She also provided information on some of the target industries that the state, such as transportation, electrical power, and industrial uses.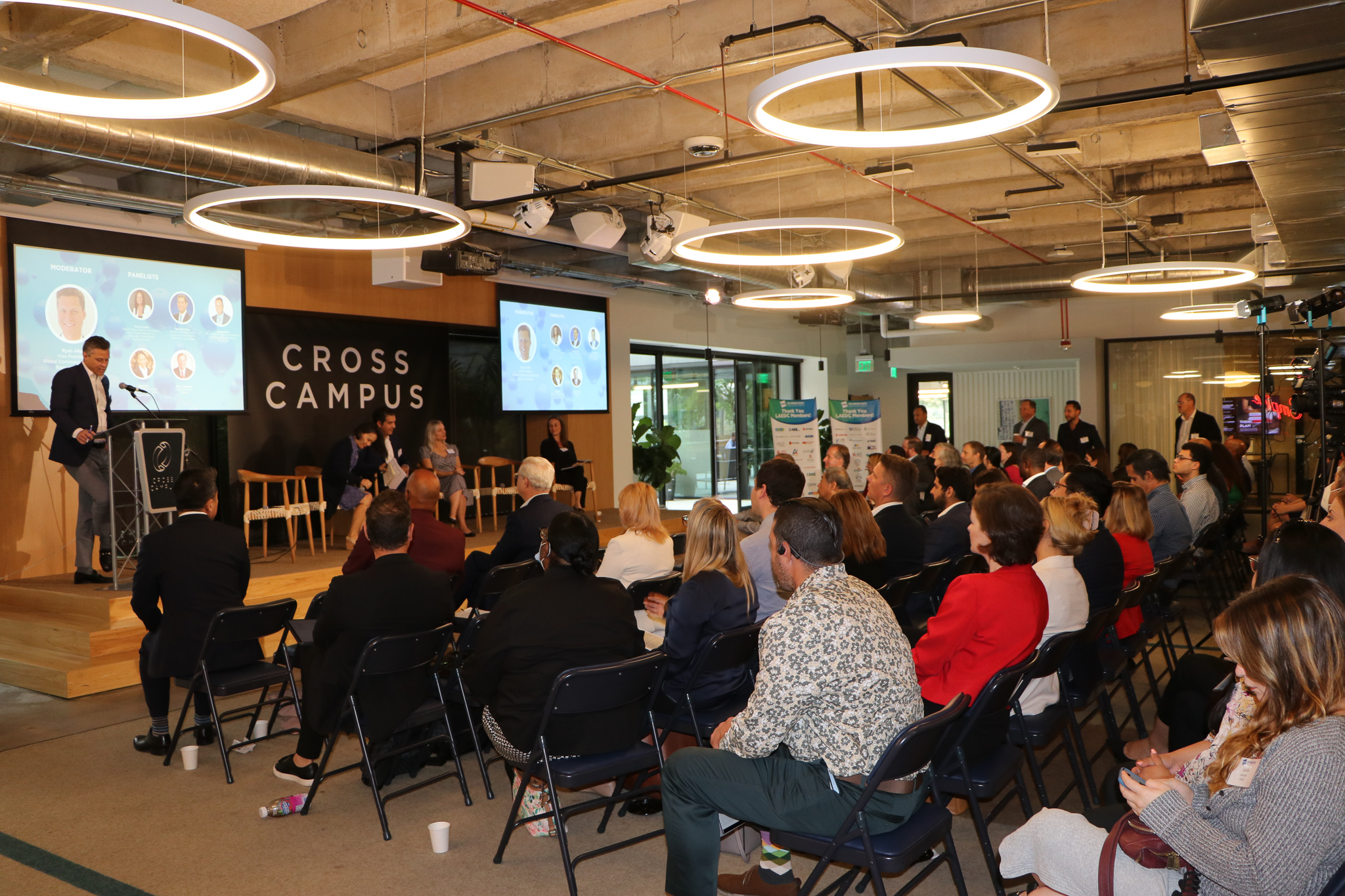 Ms. Vacin highlighted the State's 2022-2023 budget that includes a $54 billion climate package it will provide: 
$2.1 billion for Clean Energy

 
$100 million for Green Hydrogen

 

$5 million for California H2Hub

 
$1.2 billion for Goods Movements and Ports

 

$10 billion for Zero-Emission Vehicles

 

$315 million for a Clean Energy Workforce

 

$723 million for Climate Education

 

"Thankfully, we're not the only ones. This is really a team effort to accelerate the pace in which we make our transition," Ms.Vacin said. "We have very educated and invested stakeholder groups in California who have been working on this for a long time. Our challenge now is determining how to organize and focus all of this opportunity." 

Ms. Vacin also spoke to three lodestones that will help move us forward together, especially in respect to hydrogen hub application for California: 
Collaboration

 

Connection

 

Coordination

 

Click here to download the keynote presentation deck. Following the keynote, the Future Forum featured a panel discussion moderated by Ryan Allen, Vice President & Senior Relationship Manager, Global Commercial Banking, Bank of America.  

The panelists included: 
Teresa Cooke, Senior Policy Advisor, Brownstein Hyatt Farber Schreck, LLP & Advocate, CA Hydrogen Business Council 

 

Michael Galvin, Director of Waterfront and Commercial Real Estate, Port of Los Angeles 

 

Janice Lin, Founder and President, Green Hydrogen Coalition & Founder & CEO, Strategen 

 

Jawaad Malik, Vice President of Strategy and Sustainability and Chief Environmental Officer, SoCalGas 

 

Terry Tamminen, President and CEO, AltaSea

 
Watch the entire Future Forum here!