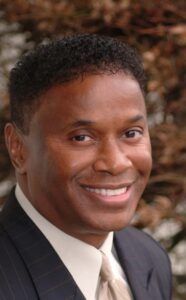 Gene Hale is the CEO of G&C Equipment Corporation one of the nation's largest Black owned businesses. The company is engaged in the sale and lease of construction equipment, material, and supplies.
Gene was appointed by President Obama to the President's Export Council. He was also appointed by President George W. Bush President's Board of Advisors on Historical Black Colleges. Governor Gray Davis appointed Gene to the California infrastructure committee for the 21st century and Governor Arnold Schwarzenegger appointed him to the California Small Business Commission.
More recently, Governor Brown appointed Gene to the Governor's International Trade and Investment Advisory Board. Los Angeles Mayor Eric Garcetti recently appointed Gene to serve as the president of the Mayor's Export Council. Los Angeles County Supervisor, Mark Ridley-Thomas appointed Mr. Hale to the Los Angeles County Small Business Commission. Mr. Hale serves on many boards including the Southern California Leadership Council. Currently, Mr. Hale is the Chairman of The Greater Los Angeles African American Chamber of Commerce and Chairman of Gardena Police Foundation.
Encouraging strong community involvement has been one of Gene's principal objectives. He has promoted these values by providing equipment and financial support to churches, charities, schools, and local business organizations.
A native of Birmingham, Alabama, Gene earned his Business Administration degree from California State University-Dominguez Hills in Los Angeles majoring in Business and Finance. Mr. Hale is also a service-disabled veteran.
Although a highly visible and public profile keeps him high on the list of leaders, Gene's commitment to assist in the success of small businesses is his main goal. Through his extensive career of service and leadership in all areas of business, Gene Hale has made contributions that have rewarded hundreds of people in his continued advocacy for entrepreneurship and business development.
LAEDC's annual membership provides cooperative action, real impact, and substantive direction through involvement with top business, education, government, and nonprofit leaders in LA County. To learn more about joining Gene and fellow Board of Governors please click below.