The LAEDC's Institute for Applied Economics recently released a market study commissioned by the Dutch Ministry of Foreign Affairs that maps the circular economy in California, specifically focusing on the Los Angeles region. The circular economy is the concept of systematically rebuilding the economy to encourage the continued use of resources. Core elements of circularity are embedded within each key urban system including water, housing, infrastructure, waste management, and food.
Policymakers in the Los Angeles region have actively steered and stimulated circular market activity by setting specific targets, changing public procurement policy, raising awareness among the public and private businesses, and encouraging innovative pilots. In addition, efforts have been made to steer education and training programs towards sustainable jobs. California, specifically the Los Angeles region, has embraced the circular economy concept and has enacted various public policies to encourage the shift to circularity. While the state has a framework in place to achieve important sustainability goals, individual counties and cities in California, in particular Los Angeles County and the City of Los Angeles, Culver City, Long Beach and Santa Monica, have much more comprehensive plans in place which contain well-defined goals, target benchmarks, and proposed actions. These plans will guide circular development in the region and are the source of multiple circular opportunities for companies that supply circular products and services.
State and local public policy aimed at supporting the circular economy is reviewed in the report and the region's circular industries are studied. Potential public and private partners for circular companies are identified, and past circular project successes and upcoming projects of interest are highlighted. Furthermore, opportunities and potential barriers in the circular economy are identified in the study. Circular opportunities in the region include various elements of the smart city approach to sustainability such as sustainable waste management practices, smart water policies, urban farming, and the use of circular methods and products to construct buildings.
Mapping Out Key Circular Public Policy Strategies
Reducing Emissions: California is making a strong push to reduce carbon pollution within its borders, with the centerpiece of this effort being a cap-and trade program in place until at least 2030. The state's Department of Water Resources aims to achieve carbon neutrality by 2045, while cities around the state (including Los Angeles) share similar timelines. Key strategies in the Los Angeles region include reducing emissions from transportation by transitioning to electric vehicles, monitoring and reducing industrial emissions, transitioning to renewable energy sources, and achieving net zero carbon in all buildings.
Mobility and Public Transit: To reduce the impact of vehicle emissions, the Los Angeles region is making efforts to shift residents towards sustainable modes of transportation. For example, the City of Los Angeles plans to upgrade bus and rail infrastructure and extend the reach of these systems, while also designing more pedestrian-friendly corridors and expanding bike lane networks.
Water and Waste: Los Angeles County and cities within it are developing stronger water conservation and smart water policies. For example, the City of Los Angeles wants to source 70% of Los Angeles's water locally by 2035, including plans to increase stormwater capture, complete new groundwater remediation facilities and improve wastewater recycling. Many cities in the region also have lofty waste reduction and recycling goals.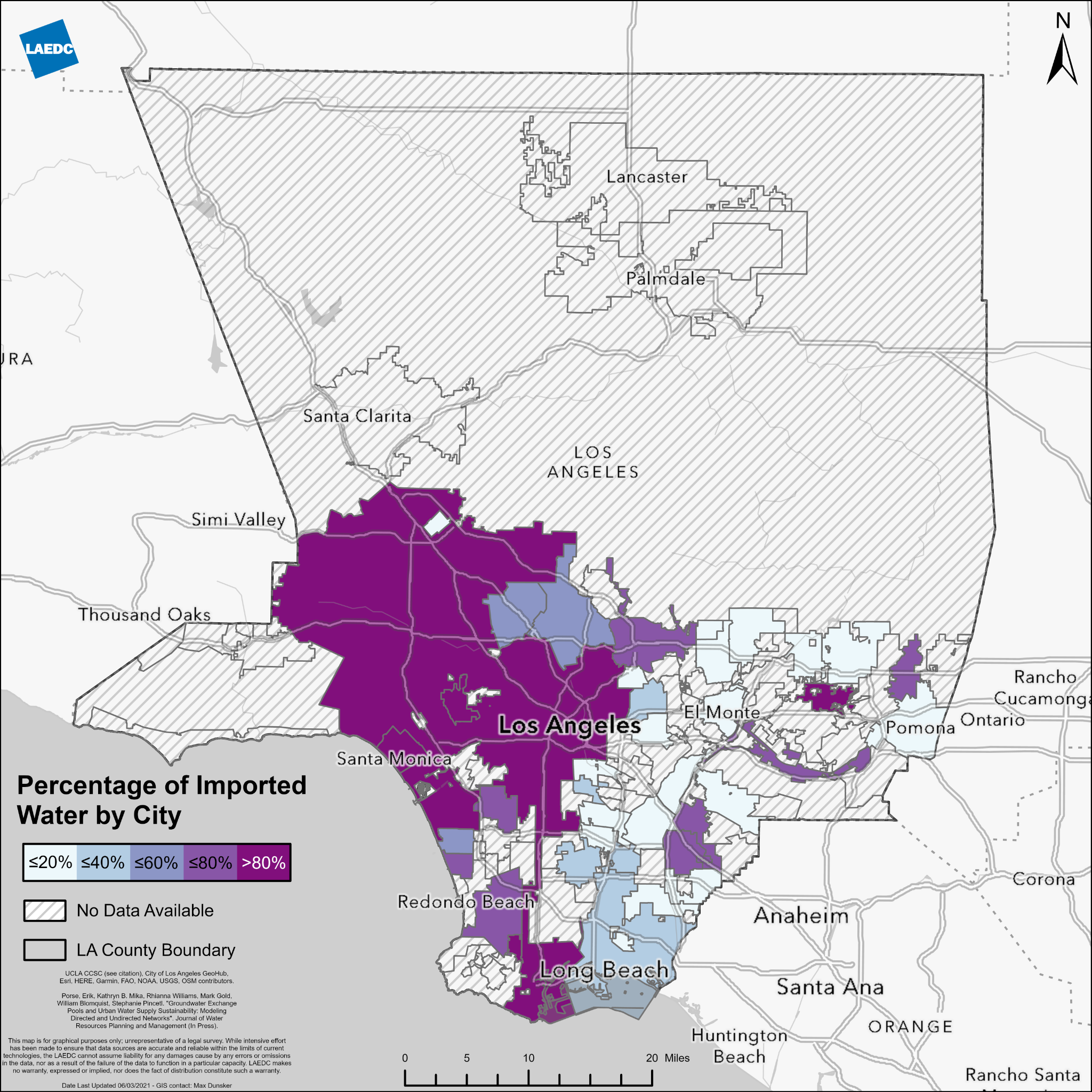 Urban Ecosystems: Southern California cities like Long Beach and Los Angeles are looking at a range of methods to strengthen urban ecosystems and resilience, including the installation of cool roofs, cool pavements, and other designs to reduce urban heat impacts, planting and maintaining tree canopy in areas of greatest need, and adding new parks and open spaces around their cities.
Circular Industries
An industry's circular potential can be identified in many ways such as by considering each industry's material and energy usage profile, as well as greenhouse gas and waste creation.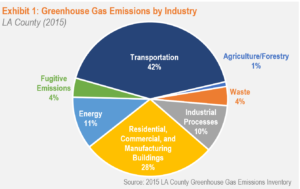 Circular potential takes into account both resource consumption and waste creation, as well as how effectively material is recovered and the potential for improvement. Industries with high circular potential can also be identified by regional sustainability policy initiative's focus on each particular industry. In the case of the Los Angeles region, the particular policy initiatives that were used to determine the circular potential of different industries were Los Angeles County's sustainability plan as well as sustainability plans put forth by the Cities of Los Angeles, Culver City, Long Beach, and Santa Monica.
Eight focus industries in the Los Angeles region's circular economy were identified. The focus industries are:
Clean and Renewable Energy
Waste Management
Transportation
Food and Agriculture
Construction
Industry: Oil, and Gas
Infrastructure and Urban Development
Water Supply and Waste
Opportunities
Both the state government of California and its component cities and counties are taking aggressive action against climate change with significant targets for promoting the sustainable development of the region. As their goals have a wide range of focuses, from water and waste to urban ecosystems and mobility to reducing emissions, there are opportunities for circular companies from all sectors to enter the market and build partnerships.
Smart Water Storage: Many major cities are exploring strategies to expand accessibility to water while conserving and recycling this resource at much higher levels. This would provide an opportunity for companies that specialize in smart water policies, water capture and storage, and efficient recycling to build partnerships and solutions in the Los Angeles region.
Focus on Smart and Sustainable Building Policies: Cities in the region have focused much of their circular strategies on circular building policy. For example, the City of Los Angeles wants to engage cities around the globe on smart building policies, including methods to design energy efficient buildings, reduce their carbon footprint, and reduce material waste during construction. Smart and sustainable building policies will be a key to future construction in the Golden State, where there is still a high demand for affordable housing and building space. Companies that focus on the built environment will find multiple opportunities in the Los Angeles region.
Urban Development: Many of the circular techniques and community driven approaches developed successfully in other parts of the world could be implemented successfully in Los Angeles County. Companies that focus on a circular, neighborhood-centric built environment will find multiple opportunities in the Los Angeles region.
Strength of Green Jobs and Private Sector Investment: The availability of green jobs and circular private sector investment in the Los Angeles region provides an environment ripe with opportunity. For example, the City of Los Angeles has a tremendous amount of resources to utilize for its sustainability endeavors; it seeks to increase private sector green investment in Los Angeles by $750 million by 2025 and $2 billion by 2035. California is opening green career pathways at community college and trade/technical schools to create a regional workforce that is ready to participate in the circular economy.
Circular Procurement Practices: Los Angeles County and city governments within the county have instituted procurement policies to move the circular economy forward. Circular economy standards have been incorporated into many government procurement guidelines in the Los Angeles region and are reviewed in the report.
Conclusion
A circular economy development path will reduce carbon dioxide emissions and help meet California and the Los Angeles region's ambitious climate goals. In addition, a circular economy development path can increase the resilience of cities in the Los Angeles region by increasing the ability to adapt to negative external environmental shocks such as droughts and rising sea levels.
As with most entries into new markets, the timing of entry is essential to maximizing company visibility and the probability of success. As new regional sustainability plans and past plan phases go into effect, first movers into the market will have significant advantages as technology adopted early on becomes established in the different circular industries. There is no time like the present to join the Los Angeles region's growing circular economy.
Watch the key findings video!