Future Forum – The Future of Aerospace: 5G and the New Age Space Race
LAEDC's Future Forum held on June 17th, 2021 explored how LA's companies, technologies, and talent are leading the way as 5G gains global acceptance and opens many new capabilities related to Internet of Things (IoT) and expansion of consumer internet coverage.  Our speakers offered ideas on how LA's satellite and related technologies will factor into what's to come in the technology rollout.
Engage with LAEDC's SoCal Aerospace Council,which connects SoCal aerospace businesses with market trends, talent development, programs and policy advocacy to bring growth and jobs to the region, with a focus on equity.
Watch the full video
(1:20 total time)
LAEDC's Future Forum series is sponsored by CSU Dominguez Hills, and CSUDH President Thomas Parham helped kick off this event by talking about the linkages between LA's thriving aerospace sector and our talent pipelines such as our CSU system, which are ensuring the future success of this key regional industry. He also addressed the potential for satellite 5G services to drive greater regional industry success and expand internet access, which should help close the digital divide.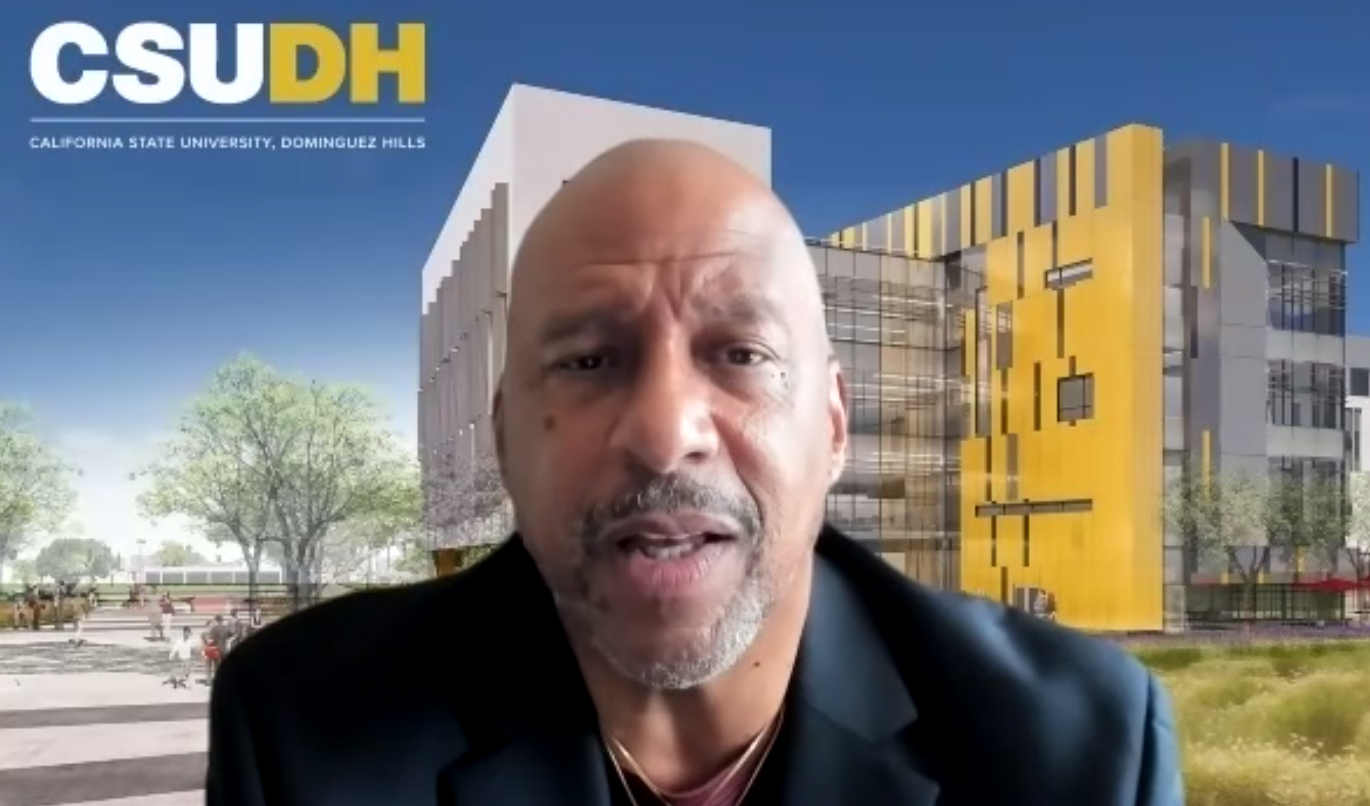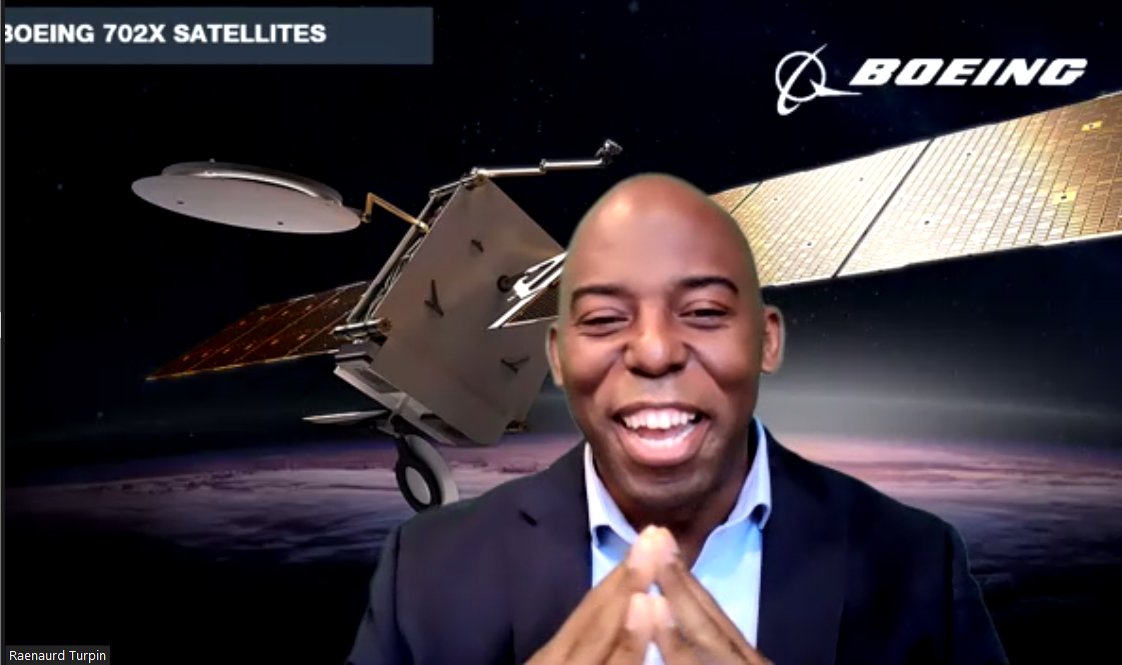 Keynote speaker Raenaurd Turpin, Executive, Boeing Commercial Satellites' Chief Engineer, Common Products talked about the breadth of projects active at Boeing: building the next generation of satellites in El Segundo. Boeing's entire space portfolio touches Southern California and is supporting NASA with its space launch system – the largest rocket ever built, and augmenting the nation's capability to reach the international space station.  Turpin said that 5G, the fifth-generation mobile network, will be powered by satellites, and it will transform the way organizations will interconnect.
Turpin said consumers are spending $123 billion this year on IoT devices for smart homes, and 5G is an enabling technology. He also noted the trend towards exponentially fewer components, which is reducing the weight of satellites, allowing more satellites to be launched on a rocket.  Boeing is currently building a constellation of 5G satellites, ranging from Low-Earth Orbit (LEO) to larger geosynchronous satellites that are in higher orbits.
Turpin closed his remarks by talking about Boeing's economic impact on this dynamic LA industry.  Boeing has 13,000 employees in California, 2,500 suppliers, and spends $6.6 billion in purchases in California every year, creating 168,000 direct and indirect jobs.  LAEDC CEO, Bill Allen, thanked Boeing for their years of investment in California and the tremendous contribution to the local community.
Featured speaker Peter Goettle, Aerospace Corporation Senior Engineering Specialist, talked about the mechanics and components of a satellite 5G system.  Goettle showed how a constellation of many moving satellites is placed in orbit to cover the planet like a net.  Some constellations have just a few dozen satellites while others have hundreds, depending on technical factors. One driver is funding, and FCC's world digital opportunity fund has a role in expanding internet to rural and underserved regions where satellite connection offers advantages, distributing subsidies to firms providing internet to unserved regions. LA-based SpaceX is one of the companies working on this expansion of satellite internet.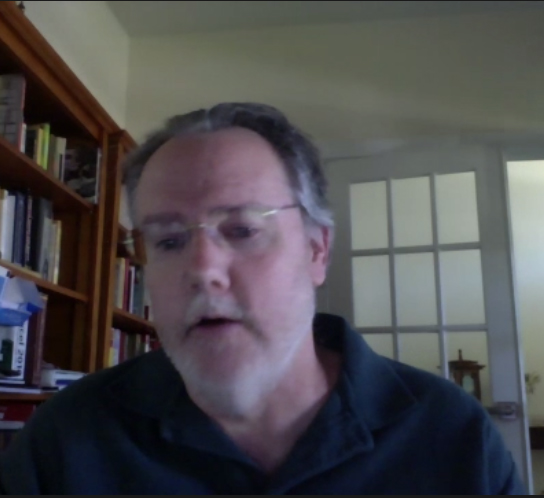 Peter Goettle, Aerospace Corporation
LAEDC CEO, Bill Allen, thanked Peter Goettle and noted that Aerospace Corporation is a huge partner for the aerospace and space commercialization industry, including close ties to LA Air Force Base's Space and Missile Command and various launch partners, serving as a key enabler in the success of LA's aerospace industry.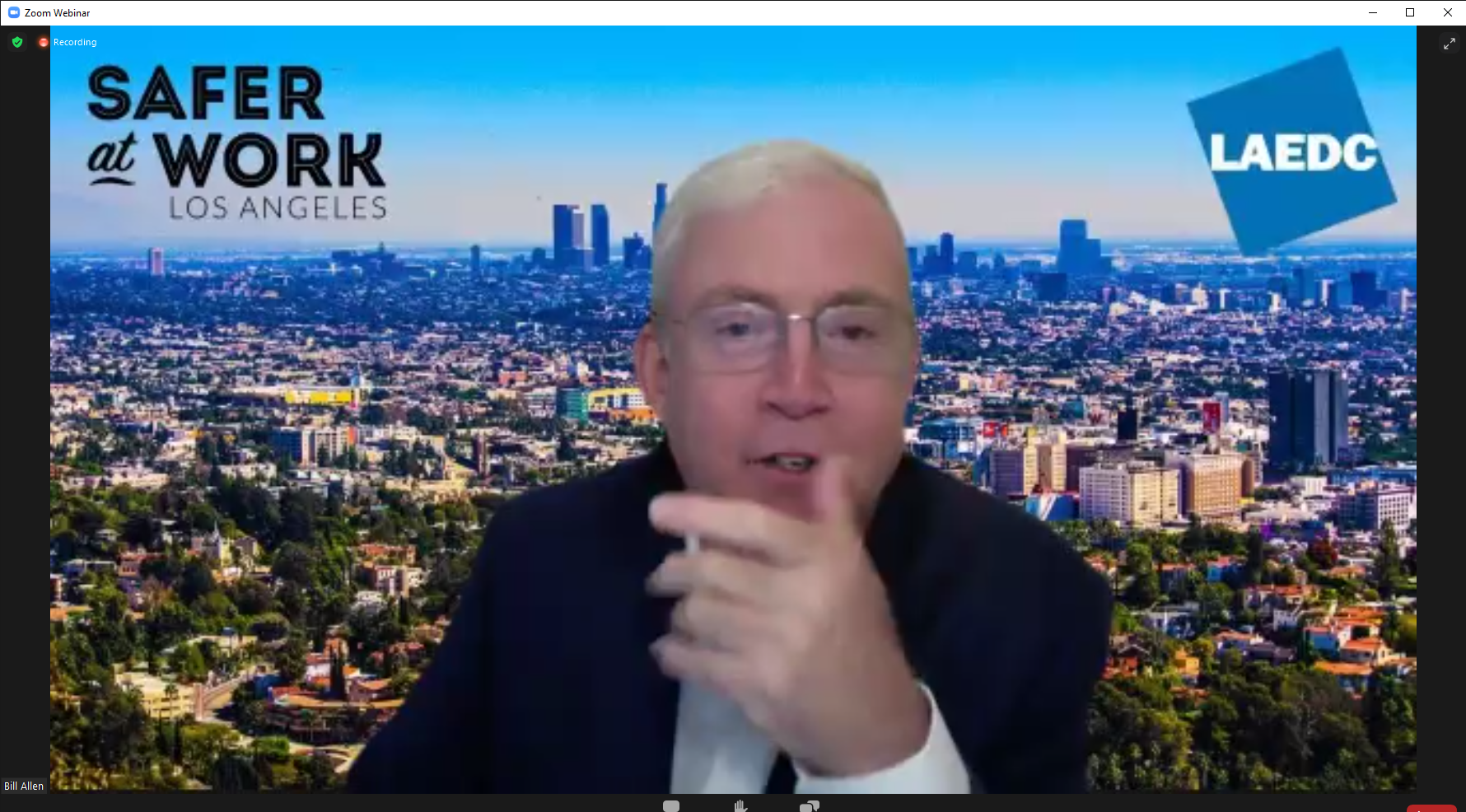 PANEL: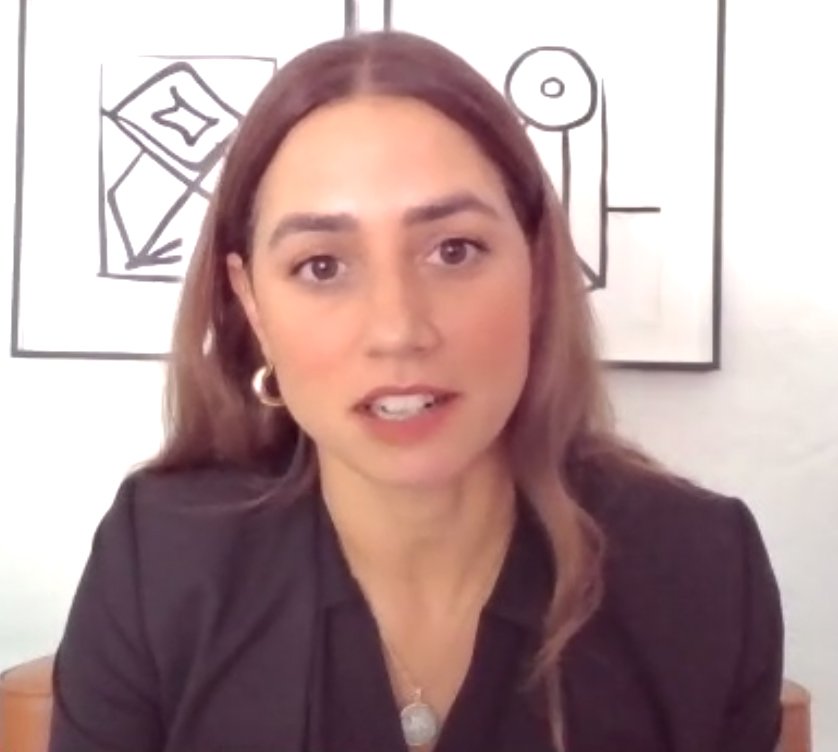 Michelle Iturralde, Bank of America's Senior Vice President, Global Commercial Banking, Aerospace & Defense moderated the panel.  Her questions drove the interesting conversation below.
Jeff Matthews, Deloitte Consulting LLP's Specialist Leader – Space Sector talked about the renaissance of small launch companies and a renewed effort at California's Vandenburg Space Base to serve that community.  Raenaurd Turpin added that the small LEO satellites and shorter lifespan requirements are opening up economic opportunities. They use less energy, you can use more of them (a requirement if they are closer to earth), and that small size means less complex launch vehicles, which in turn means the cost of launches has dropped dramatically.  The primary driver for this market is data.
Van Espahbodi, Starburst Accelerator's Co-Founder & Managing Partner talked about their work with the VC community and nontraditional investors.  He said that with eight billion people in the world, only 60% of whom are connected, companies like Amazon stand to benefit from increasing connectivity and there is incredible demand that has potential to be unlocked.  Use cases for internet deployment are changing and that is garnering funding from unexpected sources.  He said the ability to serve the developing world is opening up a lot of interest.
Amanda Stiles, ABL Space Systems' Director of Mission and Program Management talked about her company's role providing launch services for specific orbital placements.  She said the current discussion is about deploying large constellations of quite a few satellites at the same time, and flexibility to serve the market and fills gaps with a quick timeline for launches.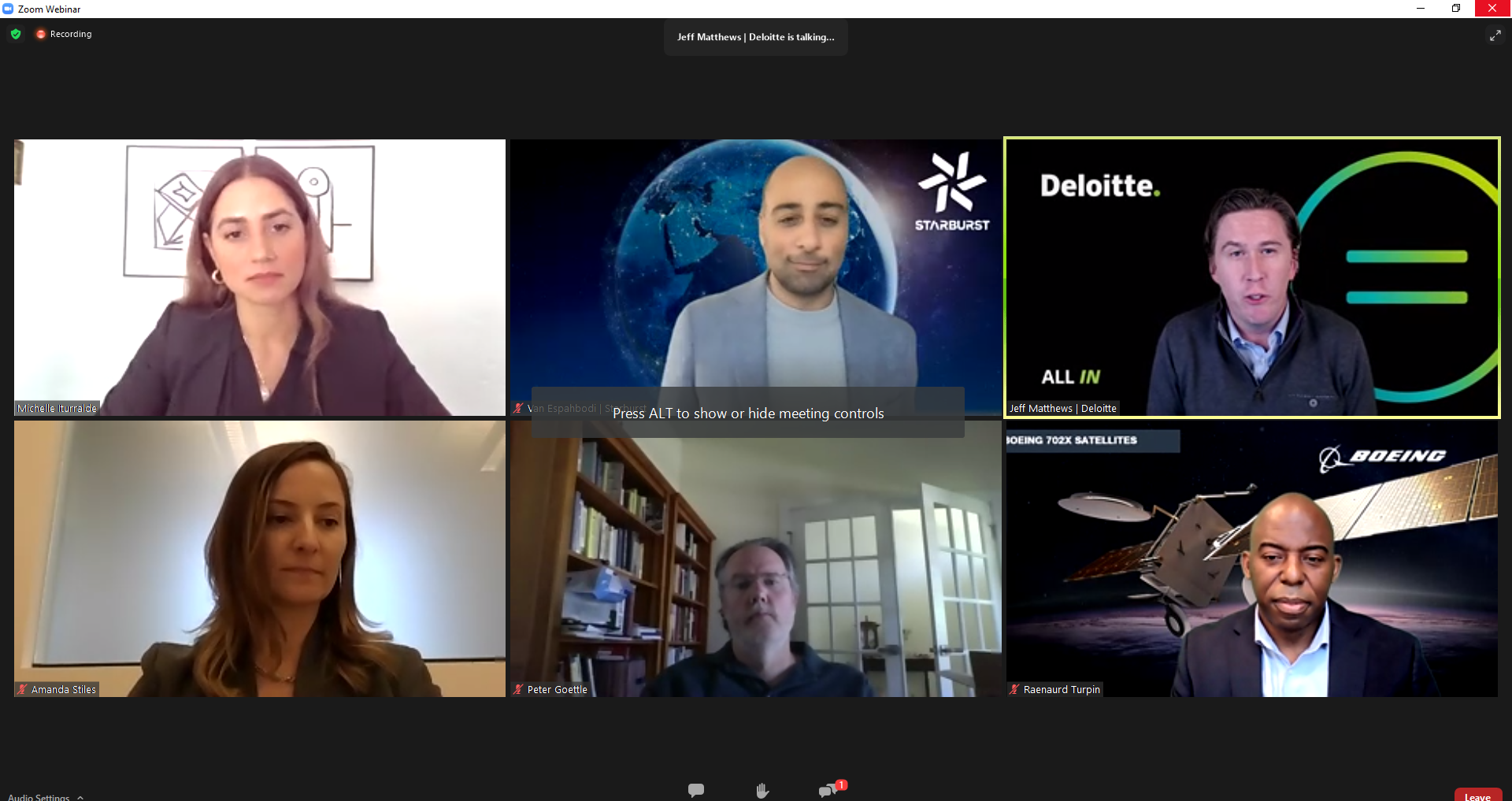 Van Espahbodi talked about the magnitude of opportunity for startups in this sector and noted the number of LA companies  has dramatically increased in under four years.  Jeff Matthews suggested that this growth of new companies is related in part to new use-cases. The conversations regarding satellites started with rural needs and also smart cities, but now the conversation is rapidly shifting to how this powers the future of work.
Addressing another dynamic trend, Raenaurd Turpin said satellite projects are being done very differently now.  Gone are the days when Boeing would get a client spec and deliver a product.  Now it is an integrated discussion about how to deliver capabilities and work through the options and strategies to solve specific businesses use-cases.
Regarding the financing landscape, Van Espahbodi noted that we now see 3,000 new companies per year in this market globally, and bold aggressive plans usually use venture capital.  Now it may only take a few years for these companies to get a billion-dollar valuation, and college grads from LA's universities want to be part of these companies.  These hypergrowth companies try to raise huge amounts of capital to e.g. digitize the manufacturing process.  New processes create new opportunities to raise money from banks, private equity and VCs.  Michelle Iturralde agreed regarding investor interest and noted that Bank of America is helping take pre-revenue companies public.
Amanda Stiles said that we are also starting to see investment in global launch startups and spaceports in parts of the world we haven't seen before.  Over 100 launches from over 14 counties this past year.  Responsive launch is getting big too – ability to launch from a concrete pad anywhere.
Space Debris
All this activity is creating more space debris and people are realizing that good stewardship is important so there is more focus on e.g. bringing stage two of a rocket back to earth, Stiles said. Iturralde and Turpin agreed; as we grow from about 800 to 7200 satellites in orbit, this becomes much more important.  Goettle added that debris can be traveling at 10,000 miles per hour, and there are now cases of delaying launches to minimize risk of collisions.  He said this will harm the economics if we don't manage it with better engineering solutions.
Workforce Development
Jeff Matthews said diversity in the talent pool is advantageous and Deloitte has a lot of Diversity, Equity and Inclusion (DEI) corporate focus, and brings on candidates they can teach, and helps those who previously haven't been able to engage in the industry.  Raenaurd Turpin said a diverse team of experts is needed to solve the world's problems.  We need to look at the statistics, measure, put the resources behind DEI.  He said the inclusion part is important – once you get people in the door, how do you bring these hires into the fold and help them be strong, integrated contributors.
Amanda Stiles added, it can be as simple as a job description that people don't see as representing them.  Also, diversity in leadership helps people see career paths and helps you promote from within.
Dr. Thomas Parham thanked the panel for working with education to indicate what skills they need in the next generation of aerospace workforce (Related Link – LAEDC's Workforce Development Team facilitates such discussions).  He noted that demographics are only a part of diversity. He asked, Do the policies, practices and norms change as a function of the demographic, and are we being politically and socially conscious to support positive change.
If you would like to participate in LAEDC's SoCal Aerospace Council, please contact LAEDC Senior Director Judy Kruger. 
If you are interested in sponsoring LAEDC events or becoming a member, please contact LAEDC Vice President Melissa Kham.