Los Angeles (May 24, 2021)– The Los Angeles County Economic Development Corporation (LAEDC), as a champion and catalyst for an equitable, sustainable and resilient economy, supports Governor Newsom's proposed investments in zero-emissions transportation in the May Revision to the California state budget.  The investment recognizes that moving swiftly to reduce Greenhouse Gases (GHGs) is essential to limit the damage of climate change, positions California to grow well-paying jobs, strengthens a future-forward competitive green industry, and provides health benefits for all.
From an economic development perspective, the $3.2 billion ZEV investment over three years will help fuel California's recovery, increase private sector confidence and stimulate investment so the zero-emission industry can scale, bring down the cost of deployments globally so more nations and states can collaboratively address climate change, and maintain California's competitive advantage as the hub of zero emission manufacturing and deployment.  The investments in workforce development also help California job-seekers prepare for career opportunities in a sector primed for rapid expansion, helping businesses find talent. Funding also supports additional charging and fueling infrastructure to support more clean vehicles, a necessary facilitating investment that creates even more jobs for Californians.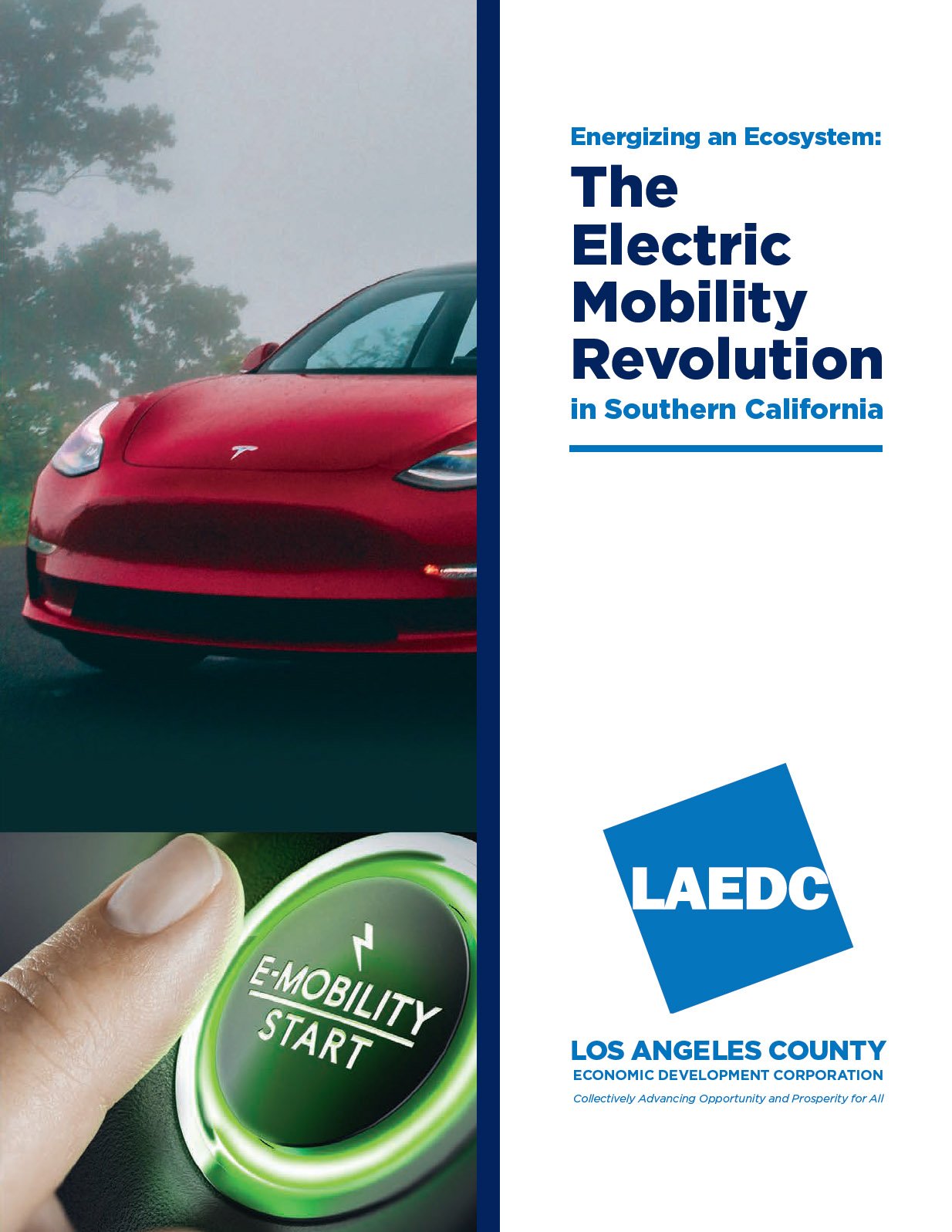 A thriving electric vehicle industry has grown rapidly in California, creating over 275,000 jobs in the state, and 120,000 jobs in Southern California, according to LAEDC's recent report, The Electric Mobility Revolution: Energizing an Ecosystem in Southern California.  The LAEDC report identifies 70 businesses active in the EV market in California, designing and manufacturing passenger vehicles, heavy duty vehicles and buses, and charging systems and related infrastructure. California's ZEV ecosystem is like no other.  In fact, the Governor's budget notes that in 2020, ZEVs became the state's #1 export.  The global market for these products is experiencing exponential growth in demand, which bodes well for regions that commit to strong policy and investment choices.
But significant challenges remain: adoption of ZEVs is still a fraction of what's needed to achieve targets for GHG and pollution reduction, and other states and nations are gaining ground in EV manufacturing which could undercut California's recent success and dampen job prospects if policy tools and investment aren't used to build on the state's success thus far.  Support from the legislature would put California in the driver's seat.
The Heavy-Duty ZEV manufacturing sector in California is in a crucial startup period and beginning to scale, and the  proposed $1.4 billion over three years to deploy 1,000 zero emission drayage trucks, 1,000 zero emission transit buses, and 1,000 zero emission school buses will provide demand that California manufacturers need.  Heavy vehicles also emit significant pollution that is more concentrated in low-income communities and communities of color, so while all Californians will breathe cleaner air, equity will improve substantially with this funding.
Light-Duty ZEVs are still a small percentage of consumer purchases because of upfront cost and access to charging infrastructure, and the proposed $650 million investment over the next three years through the Clean Vehicle Rebate Program and expansion of Clean Cars 4 All will move adoption past a tipping point, and improve equity with a focus on low-income and disadvantaged communities. This will also benefit California companies and jobs involved in the manufacture of light-duty ZEVs and chargers.
The investment in Zero Emission Vehicle and Infrastructure Manufacturing of $250 million over two years will provide manufacturing and supply chain grants to expand California's nation-leading ZEV manufacturing footprint, which will help emerging companies become stronger.
The ZEV Market Development Strategy Implementation investment of $5 million will accelerate awareness and access to ZEVs in the hardest to reach communities and expands tools that help convert this awareness into decisions to drive or ride in ZEVs.
Funding of High Road Training Partnerships and applying Prop 98 funds will develop work-based learning opportunities in zero-emissions and supply chain fields to increase access to high-quality jobs for workers and increase the level of highly skilled employees needed by growing businesses.
LAEDC also applauds the investment in GO-Biz to implement the office's ZEV Strategy, which will allow greater coordination and action to support projects, opportunity and competitiveness of the ZEV industry in the state.
To ensure California's industry ecosystem and job creation are strengthened, LAEDC recommends that buy-California incentives of various kinds accompany these budgetary investments.  We can create many more well-paying jobs for Californians if procurement stimulated by this budget goes to California firms.
For all the above reasons, LAEDC urges the California legislature to support Governor Newsom's Climate Resilience and Zero Emission Vehicle budget proposals, which will pay dividends in numerous, measurable and valued results that benefit Californians and provide fiscal ROI to state and local government.

"LAEDC stands ready to convene ZEV industry participants via the e4 Mobility Alliance to assist the roll-out of new programming to the ZEV businesses," said Judy Kruger, Senior Director of Strategic Initiatives at LAEDC
About Los Angeles County Economic Development Corporation (LAEDC)
LAEDC drives action in support of a reimagined Los Angeles regional economy that is growing, equitable, sustainable and resilient, and provides a healthy and high standard of living for all. A public-benefit nonprofit celebrating its 40th year of working collaboratively to improve the lives of people through economic inclusion, LAEDC is a trusted leader working on behalf of the Los Angeles County region.    www.laedc.org
Media contact:  [email protected]