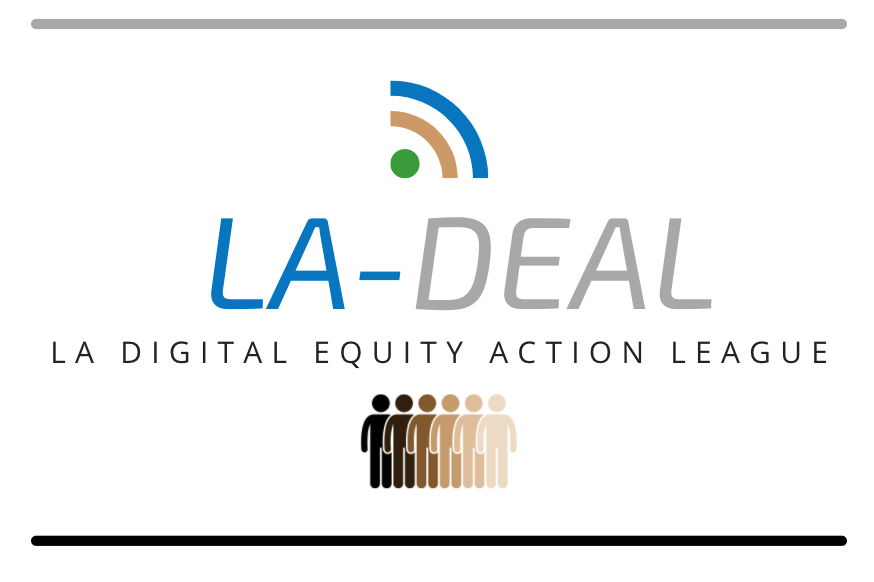 Funding will help eliminate the digital divide for good in Los Angeles County and all of California
May 19, 2021 (Los Angeles) – The Los Angeles Digital Equity Action League (LA DEAL), focused on eliminating the digital divide for good in LA County, strongly supports Governor Newsom's broadband budget proposal in his May revise of the 2021-2022 California budget.  LA DEAL, led by LAEDC and UNITE-LA, along with a coalition of over 100 community-driven stakeholders from education, government, business and nonprofit sectors, is committed to bringing fast, reliable internet service to all in LA County to create more equitable opportunity for remote work, schooling, telehealth and all the other opportunities that now require broadband service in our modern economy.
Governor Newsom's $7 billion investment over three years will expand broadband infrastructure, increase affordability, and enhance access to broadband for Californians.
The proposal makes future-forward investments to build out a statewide high-speed fiber backbone, and also will incentivize providers to expand service to unserved and underserved communities by substantially reducing their upfront infrastructure costs including via long-term financing accessible by any municipality, cooperative, or local non-profit engaged in building local fiber infrastructure that connects to the state's open access network.  This creates new opportunities for municipal fiber networks and promotes affordability for consumers.
In addition to addressing the crucial issue of equitable access, this proposal will create thousands of well-paying, future-forward jobs, and better positions the regional economy to be globally competitive, attracting employers and economic development projects that support higher standards of living and an economy that lifts more people.
The proposal's creation of technical assistance teams tasked with helping communities plan their last-mile fiber rollouts will also help those projects utilize a state rollout of fiber backbone networks.
The Governor's budget notes that only 52 percent of Californians are using broadband at the modern benchmark speed of 100 Mbps. Service at speeds below 100 Mbps is not enough for households who are juggling the demands of distance learning, telework, and accessing health care on-line.
LA DEAL consortium is focused on affordable rate plans, expanding digital literacy, ensuring more people have access to devices to use the internet, and policy & advocacy to ensure that LA County reaches 100% adoption of high-speed internet.  The Governor's proposal advances several of these goals.
LA DEAL was formed because as society has accelerated its reliance on the internet to conduct business, access healthcare, services, education, and important news, those without or with only limited access to internet have become more and more disenfranchised from career, economic and social opportunities. Reliable and affordable broadband internet access can serve as an engine of economic mobility, educational opportunity, civic engagement, and better healthcare. Conversely, individuals and communities that lack the access to broadband and the means to use it are increasingly being left behind.
About LA DEAL     
The Los Angeles Digital Equity Action League (LA DEAL) is the region's leading inclusive and collaborative regional broadband consortium employing a community-driven process to assess and close the broadband internet gaps that exist in communities across the LA region.  With a wide-reaching coalition of stakeholders, from grassroots communities to regional institutions capable of addressing broadband at a transformational level, LA DEAL is working to eliminate the digital divide for everyone in LA County.  LA DEAL is powered by nonprofit partners LAEDC and UNITE-LA. To join forces and support this effort, visit LADEAL.org .            Media Contact:  Lawren Markle [email protected]