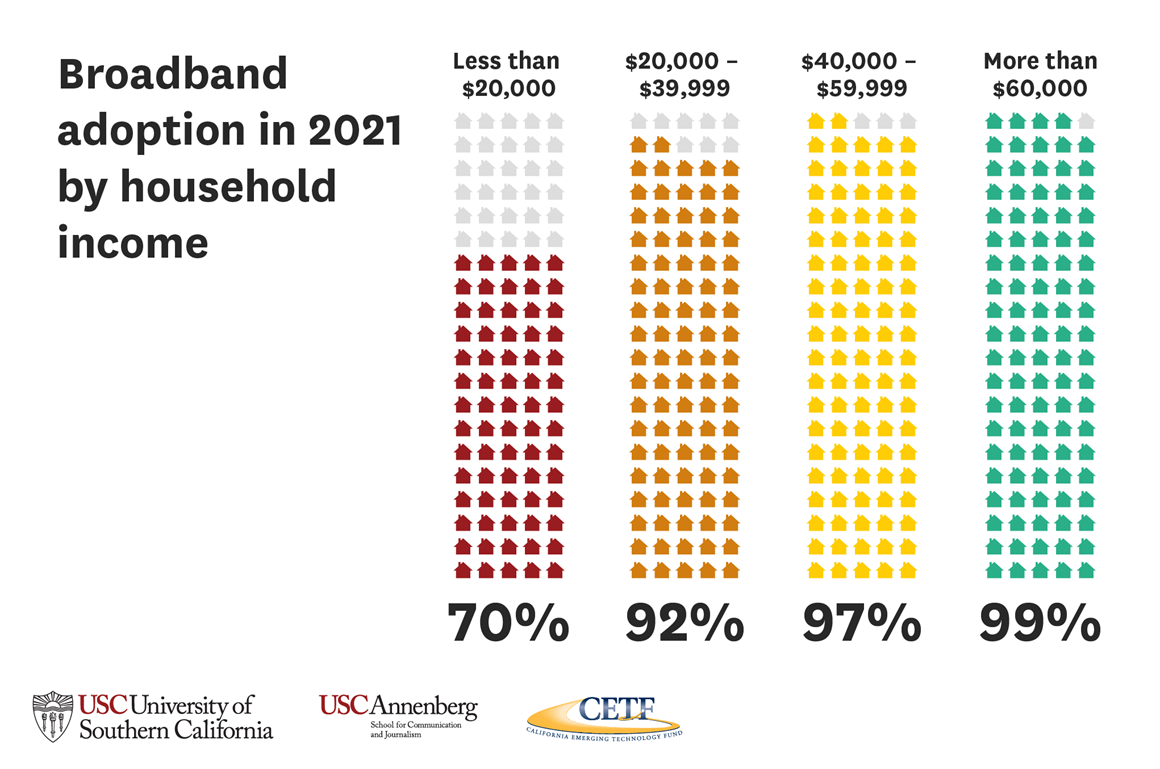 Temporary federal program providing $50/month internet subsidy for qualifying residents
Los Angeles – The Federal Communications Commission (FCC) has launched the Emergency Broadband Benefit program to assist households struggling to connect with reliable, high-speed internet. Starting May 12th, eligible households are now able to apply to receive a discount of up to $50 per month, as well as a one-time discount of up to $100 to purchase a device from participating providers. This opportunity to apply for federal assistance via the Emergency Broadband Benefit is highly recommended for Los Angeles County residents. LAEDC, UNITE-LA and the LA Digital Equity Action League are urging Angelenos to apply for these funds right away, as this program will end when the funds are depleted.  Please tell your neighbors, friends and family who lack internet.
People who qualify for the grant are those who meet one of the criteria below:
Have an income that is at or below 135% of the Federal Poverty Guidelines ($17,388 for one-person households)
Qualify for the Lifeline program, as well as those who participate in certain federal assistance programs, such as Medicaid, SNAP, and SSI benefits.
Approved to receive benefits under the free or reduced-price school meal program
Received a Federal Pell Grant during the current award year
Experienced a substantial loss of income since February 29, 2020, and the household had a total income in 2020 below $99,000 for single filers and $198,000 for joint filers.
Meet the criteria for an internet provider's existing low-income or COVID-19 program.
The grant program also offers a one-time discount of up to $100 for a laptop, desktop computer or tablet purchased through a participating provider, although restrictions apply.
How to Apply
Contact a participating internet provider to learn about their application process.
Apply online at GetEmergencyBroadband.org and find participating provider in your area. Interested parties can also visit org to access the grant.
Call 833-511-0311 to receive a mail-in application.

LA Digital Equity Action League (LA-DEAL) Is Working for You
LAEDC and UNITE-LA, along with more than 100 partners in the region have formed the LA Digital Equity Action League (LA-DEAL), an initiative to eliminate the digital divide for good in LA County.  The LA-DEAL team will be convening a wide-reaching coalition of stakeholders to implement an actionable roadmap to overcome specific barriers such as infrastructure, internet affordability, digital literacy, devices, and public policy to achieve universal broadband access and adoption across LA County.  Details about the Emergency Broadband Benefit can be found there, as well as a list of upcoming regional events where participants will collaboratively work to eliminate the digital divide for good.
Affects Nearly 20% of LA County Residents
Nearly 20% of LA County residents are either unconnected (11%) or under-connected (8%), meaning they have slow or unreliable internet service.  This digital divide must be eliminated as a matter or equity in our modern economy because internet is used to enable remote schooling, remote work, access to telehealth and access to other opportunities.
The recent LAEDC Pathways for Economic Resiliency report found that this digital divide is concentrated in economically disadvantaged communities of Los Angeles County – mainly in District 1, 2, and 5. LAEDC believes that addressing equitable access to internet will be a key factor in supporting an equitable and inclusive recovery effort for the region. The COVID-19 pandemic has highlighted how essential reliable internet is for everyday life.
About Los Angeles County Economic Development Corporation (LAEDC)
LAEDC drives action in support of a reimagined Los Angeles regional economy that is growing, equitable, sustainable and resilient, and provides a healthy and high standard of living for all. A public-benefit nonprofit celebrating its 40th year of working collaboratively to improve the lives of people through economic inclusion, LAEDC is a trusted leader working on behalf of the Los Angeles County region. To learn more, visit www.laedc.org, www.ladeal.org, or follow #ladeal on social media.