Center for a Competitive Workforce (CCW), a Strong Workforce regional project led by LAEDC, is connecting the region's 19 community colleges with industry leaders and employers in many of our region's highest growth industry clusters to inspire new education and training programs, support faculty professional development, connect students to work-based learning and jobs, align training with regional economic demands, and strengthen access to local talent pipelines for our region's businesses.
This is important because community colleges represent a vital part of the education and talent development landscape (and the largest segment) with over a half a million students and adult learners pursing career and technical education certificates and academic degrees to work and advance in all of the region's major industries and small businesses.  The community colleges also serve a racially diverse student base and strengthen our region's ability to power an equitable and inclusive recovery.
Due to the economic impact of the pandemic, hundreds of thousands of people are still out of work in LA County but mid-skill job openings are on the rise and forecast to provide significant opportunity for well-paying careers.  Our community college system has been able to adapt through collaboration with LAEDC to offer fast, efficient certificates to prepare job-seekers for specific career opportunities that LAEDC has identified in the LA County economy.  Many thousands of low-wage jobs lost during the pandemic will not return, and reskilling for better paying jobs with career potential must be a priority.
During the spring of 2021, LAEDC staff has been bringing together college faculty and students with employers such as Riot Games, Walt Disney Animation, LA Metro, Amazon Web Services and many other employers, to examine career paths and skills requirements for specific occupations that are in-demand, such as website design, animation, cloud computing administrators, auto technicians, social service assistants and more.
Students and faculty are hearing directly from employers about hiring and skills needs for well-paying jobs with strong forecasts for job openings.  These interactions allows students to learn which occupations they want to target, ask questions directly to top employers and plan their education more accurately.  And significantly, this develops relationships with large regional employers and sets the stage for work-based learning programs and more efficient use of student time at community college.  Faculty further develop these relationships with industry to create future-forward and adaptive training pathways.
During the school year, over 850 students from LA County's 19 community colleges have engaged with employers in student-focused work-based learning and internship webinars facilitated by CCW.  The level of deep interaction has been tremendous and we thank our employer participants for answering the many, many, many questions posed by students seeking careers in the industries represented by those business leaders.
In addition, well over 100 faculty members from the community colleges engaged with employers for the purpose of discussing specific occupational programs, curriculum, and the industry trends that are shaping skills requirements for those occupations.  These exclusive convenings, known as CCW Regional Program Advisories — exclusively for community college faculty and employers — are driving progress and action.
A great example is Citrus College, serving the East San Gabriel Valley.  In the past year, as a result of engaging with CCW Regional Program Advisory program, the Citrus Business Department faculty have developed new certificates in accounting and real estate, and recently started to develop several new business & entrepreneur certificates, and are now considering a new program in paralegal. CCW's Regional Program Advisory has also helped Citrus College's new full-time faculty in the IT Department gain an understanding of the regional need for cloud computing, which has led to development of curriculum. Michael Wangler Dean of Career, Technical & Continuing Education at Citrus College shared, "I think the most impactful part of CCW for Citrus has been the regional advisory meetings."
This deep engagement is helping all the region's 19 community colleges develop and offer certificate programs that meet the needs of employers.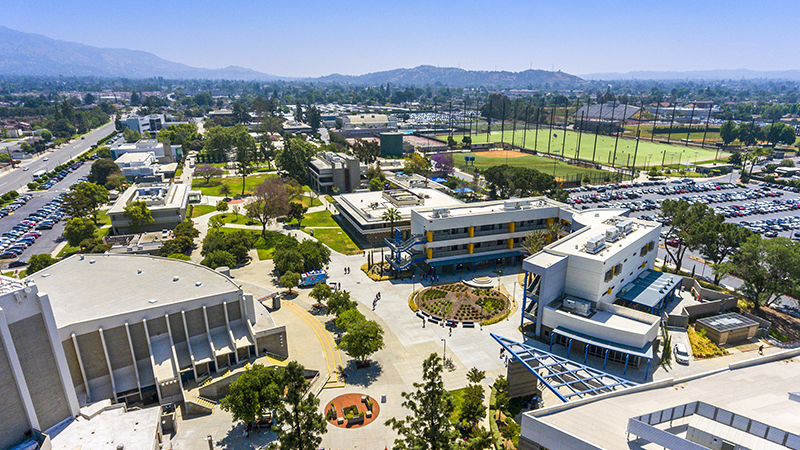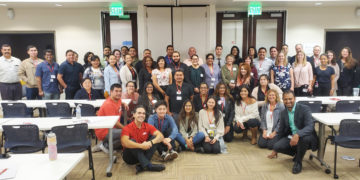 students engaging with an employer via CCW, pre-pandemic
Another great workforce development engagement opportunity aligned with CCW is LAEDC's quarterly Industry Council meetings in the sectors of Advanced Transportation, Bioscience, Aerospace and Digital Media & Entertainment.  These focus on future market trends, technology advances, what industry participants need, and those ideas are utilized by LAEDC to advance connections, programs and policies to increase business growth and hiring here in LA.  
LAEDC's Institute for Applied Economics is also contributing to college intelligence on industry needs.  On June 10th, 2021, LAEDC and CCW will be releasing the report LA's Middle-Skill Occupations through the Lens of Race & Ethnicity, which will inform programs to bring good jobs to underserved communities and give businesses more ability to implement desired diversity, inclusivity and equity (DEI) initiatives.
CCW's numerous industry reports identify the well-paying jobs in LA County that are hiring, and the training pathways to gain those careers.  Learn more HERE.
In addition to programs delivered via CCW to strengthen the region's community colleges, LAEDC published the report Community Colleges at a Crossroads:  A Market Assessment and Call to Action, which provides intelligence for the California Community College system as it adapts to the rapidly changing economic and educational landscape.
This report is one of the ways LAEDC is delivering assistance to increase the ability of the LA Area community colleges to be highly successful.
In the report, LAEDC:
1. Assessed the value proposition, key differentiators and market position of LA Area community colleges
2. Identified important trends, threats and opportunities affecting the LA Area community colleges
3. Developed a preliminary set of potential short-term "enabling" initiatives for LA Area community colleges to adapt to the future of work and fast-changing education and training provider landscape
4. Developed a high-level path forward, with guiding principles, for achieving these enabling initiatives
5. Convened a group of LA Area leaders to share and further refine key findings.
This report was commissioned by the  community colleges as part of the collaboration in Center for a Competitive Workforce (CCW).  Learn more about LAEDC's research capacity related to Workforce by contacting Jessica Ku Kim, LAEDC's VP of Economic and Workforce Development.