The federal government is increasingly embracing private business collaboration in its space missions, space-based projects and to power the new US Space Force as it ramps up in Los Angeles.  This is creating a lot of activity and opportunity for LA-based aerospace companies.
This government pivot to more contracts and engagement with the private sector is being structured through processes that were explained at the LAEDC's SoCal Aerospace Council in partnership with NSIN, Space Ventures Coalition, and the Governor's Military Council.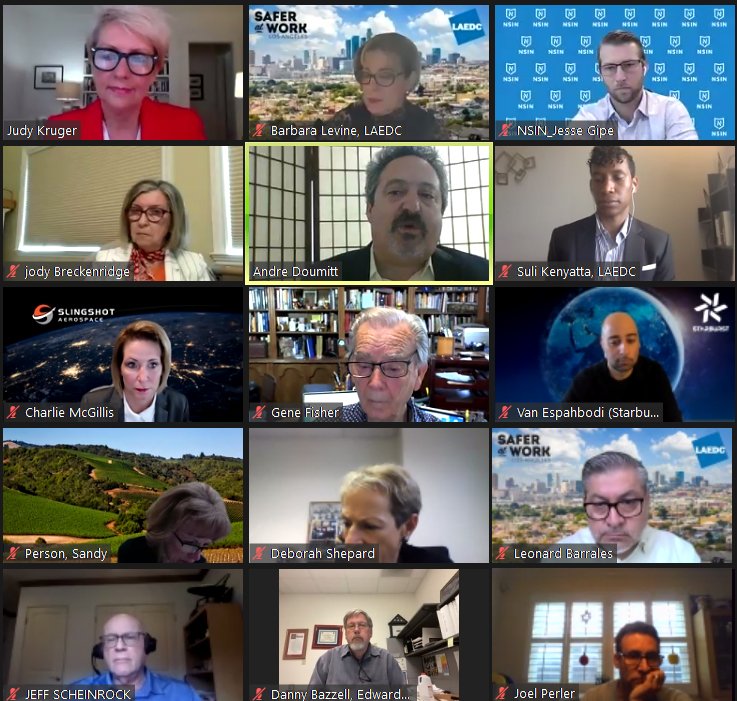 The SoCal Aerospace Council is LAEDC's industry development program that connects SoCal aerospace businesses with market trends, talent development, programs and policy advocacy to bring growth and jobs to the region. To engage, contact LAEDC's Judy Kruger, Senior Director of Strategic Initiatives.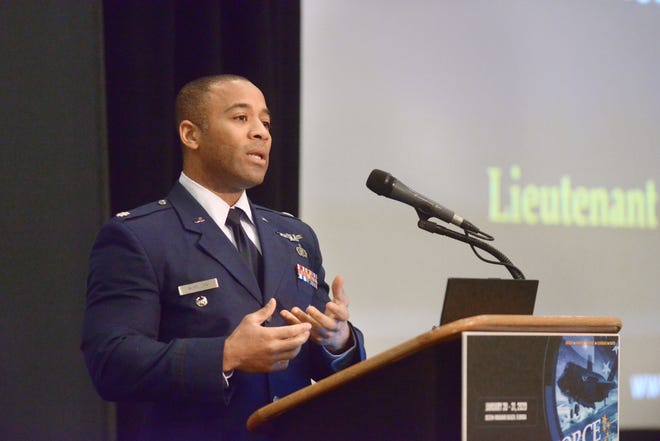 file photo of Lt. Col. McMillan
At the meeting, US Space Force Lt Col. Walter "Rock" McMillan talked about the ability to deliver capabilities for Space Force being developed by SpaceWERX, a new entity that will focus on technologies for the Space Force.
SpaceWERX is partnering with new entrants in the ecosystem because transitioning into the industry can be challenging, and the Lieutenant Colonel talked about tools being offered to promote long term investment and scaling of the industry.  Technical and Strategic Financing is a big piece of that, he said.  SpaceWERX is offering senior-level guidance, such as via General John W. "Jay" Raymond's direct engagement.  As Chief of Space Operations, General Raymond has identified top competencies that he wants to provide, including space security, combat power projections, Information mobility and more, and his goals of delivering of new capabilities quickly, enhancing security and accelerating innovation will be met through increasing engagement with commercial companies, educational universities and global allies.  This will include partnering with commercial companies for deep space services, space domain awareness, and much more as the US works to outpace the current threats they are assessing.
Space Force has a new Chief Technology and Innovation Office, and SpaceWERX will prioritize critical needs from space operators and other participants and drive this ecosystem of commercial companies to transition and scale US space architecture by utilizing partnerships.
At Air Force Research Laboratory (AFRL), technology scouts will be looking at concept development to evaluate bright ideas from the commercial sector, with an eye as to application within SpaceWERX.  This effort to draw commercial participants will include pitch days and challenge activities, and assistance to help companies transition into a role as supplier/developer for the Space Force.
McMillan concluded his remarks by saying that the current programs at LA-based Space and Missile Command (SMC) have advanced US space architecture, but there is a tactical need that SpaceWERX is now addressing – leveraging technologies from partner companies and their commercial "dual-use" (commercial/military) technologies.  SpaceWERX will focus on engaging with companies via Small Business Innovation Research (SBIR) and tactical financing to help transition companies that are already in the ecosystem so they can get over the "valley of death," meaning the difficult period after startup financing and before revenue generation.

Barbara Levine, District Director for LAEDC's Business Assistance Program offered LAEDC support to aerospace companies including site selection, assistance with the California Competes tax credit, workforce development and consulting to help businesses overcome tricky challenges.  Please consider our LAEDC team your connection to valuable resources at no cost.
LAEDC's new policy manager, Sulaimon Kenyatta talked about California bill AB 538 will be heard next week, and introduced Carson Richards, Legislative Aide to Assembly member Muratsuchi.
Richards said AB 538 would establish an aerospace commission to provide attention to this industry with representation from large, medium and small companies, educational institutions, incubators and investment groups, with offices at UC Berkley and Moffett Field at NASA's Ames Research Center.  The Committee on Jobs, Economic Development and the Economy (JEDE) is about to hear arguments for the bill.  He suggested support letters and opinions would be welcomed the JEDE committee.

 Vice Admiral Jodie Breckenridge
Speaker Andre Doumitt of Aerospace Corporation talked briefly about the increasing economic ecosystem for "Big Space," which will enable further success of businesses in this LA-based industry.
As the opening remarks closed, Vice Admiral Jodie Breckenridge of the Governor's Military Council said the national security footprint in California has a larger impact on the state economy than agriculture, especially since California has been very successful in attracting Department of Defense (DOD) contracts.  With Space Force standing up, she said we are at a pivotal point in relationships between DOD and private businesses.
PANEL: "Tech in Take Off"
Jesse Gipe, PAC South Director, National Security Information Network (NSIN) moderated the panel with a focus on bringing early stage startups into the procurement cycle.  He noted that it was 70 years since the Air Force was created, so this is an opportune moment for LA and California businesses to drive innovation for Space Force. NSIN is a facilitator for impactful engagement to connect DOD end-users to the companies and people who can deliver solutions.

Major TC McNitt  has been working on the rollout of Space Force by engaging the SoCal community and emphasized that a great way to get in the door is the open conference call thru SBIR.  Also, AFRL creates opportunities throughout the year, like the hyperspace challenge and pitch days, which help companies see where they can plug in, including with dual-use technologies.  The next pitch day is scheduled for August and a cohort of companies that have been awarded Phase 1 status will present to the government. There will be many subsequent pitch days thereafter.  A company's ability to apply for pitch days is initially attached to being awarded SBIR process.  This year's cohort for pitch days is primarily set, but next year more opportunities will be available.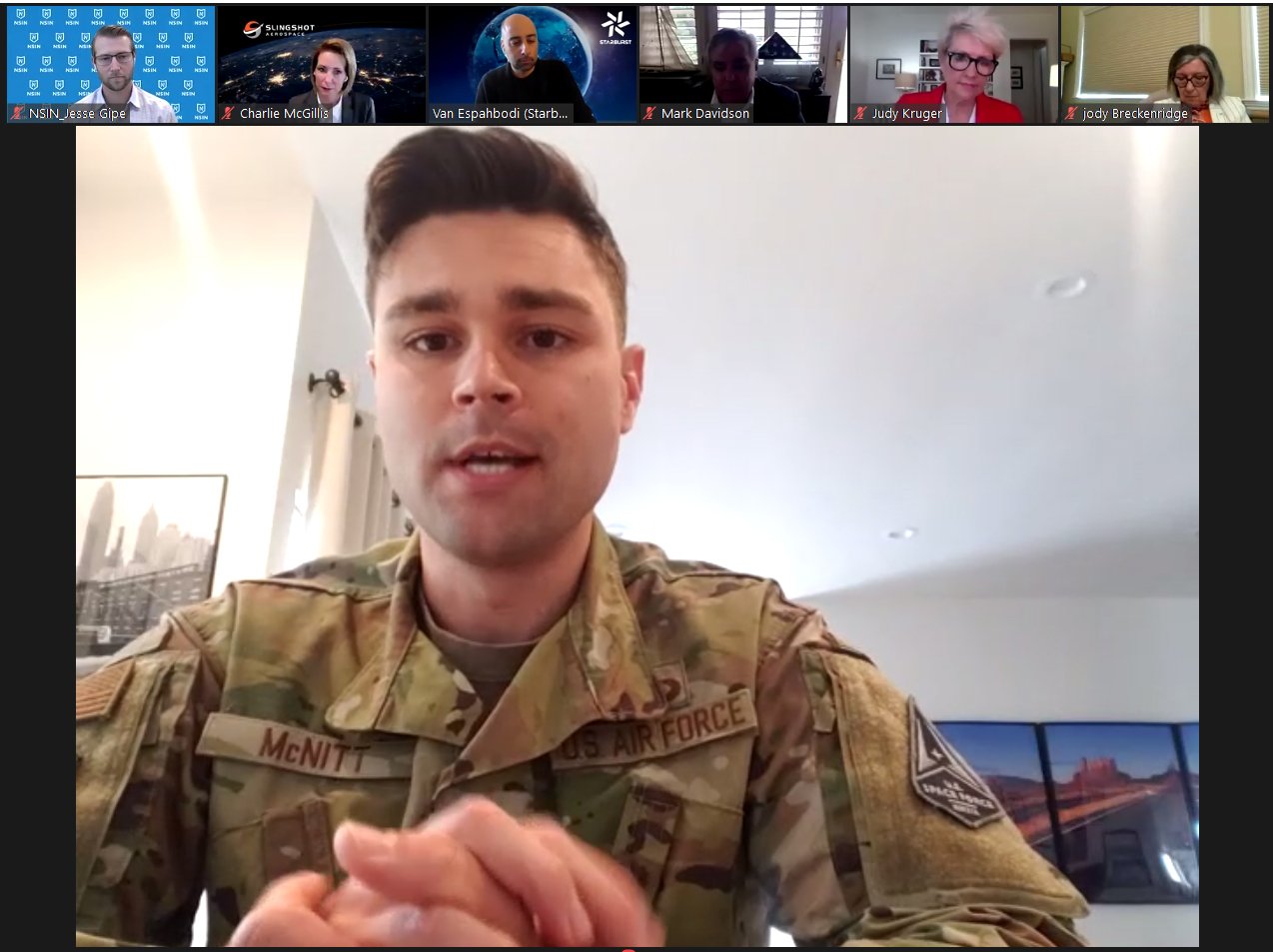 Marc Davidson, Program Lead for technology transfer for NASA's SBIR/STTR programs at Jet Propulsion Laboratory (JPL) talked about the NASA's much more structed SBIR program with one annual solicitation. Companies are invited to submit competitive proposals for Phase 1 SBIRs based on the problem statements in the solicitation.  The topics range from human exploration, tech development for terrestrial systems, earth science and solar system exploration, and more.  The NASA program (link) to learn more about Phase 1, Phase 2 and the award process.
Davidson shared that Mars Perseverance has seven systems that originated through the SBIR process.  Some of those companies have exercised exit strategies like Honeybee Robotics, which was acquired after developing the Mars "sample return" strategy.  Another example was the Mars oxygen creation proof-of-concept system as JPL looks for ways to produce rocket fuel on Mars.  He said we may see a NASA pitch day approach in the future.  There is a NASA RFI out for pitch day.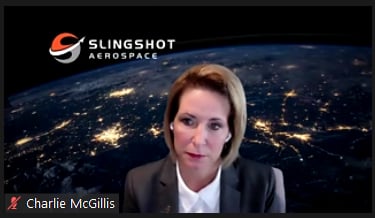 Charlie McGillis at Slingshot Aerospace talked about leveraging the SBIR process from their perspective as a small startup company.  The company tried to find that product-market fit, and submitted proposals that matched their technology.  She said startups need an injection of VC dollars and Slingshot achieved that through three SBIR processes.  She said an advantage of this funding stream is that the US government doesn't take any of the startup's equity, so that investment is great, and Slingshot levered series one funding to gain SBIR support.  The government incentives are also letting Slingshot keep its intellectual property because they want to nurture a growing aerospace economy with thriving commercial businesses.  McGillis also remarked that the government furnished data that helped with the development cycle, since data analytics is a big focus of Slingshot's offering.
Van Espahbodi, cofounder and managing partner of Starburst Accelerator said that the rapidly increasing trend of government procurement officials plugging into the startup ecosystem is driving incredible opportunity and startup activity as we enter a hypergrowth phase in complex infrastructure for space systems.  Starburst helped shape the Space Force pitch day, which extends beyond SoCal.  A The reality is there are more and more new businesses looking for opportunities; in the not-too-distant past, hundreds of companies were trying to raise capital but now thousands of companies are trying to compete and the product development cycle is changing and becoming faster.
Starburst's collaboration with UCLA helps startups focus on stages of funding, visualization technology and entering into a new domain like military dual-use applications.  He noted this includes communications, network architecture, applications in orbit, meaning that tech that is successful in other sectors have space awareness applications, for example.  Media, health, other adjacent industry sectors are eyeing product solutions for Space Force.
Charlie McGillis noted examples of needed solutions including commercial debris removal, data access and processing, performing AI with astro-data science, applying machine learning to astro-dynamic solutions.  Mark Davidson agreed that other industries can look for dual-use of their technologies, such as health industry algorithms for machine reviewing of x-rays to detect anomalies, which can be applied to interpretation of space x-ray data, so medical applications and terrestrial applications can transition over to space, using the SBIR process.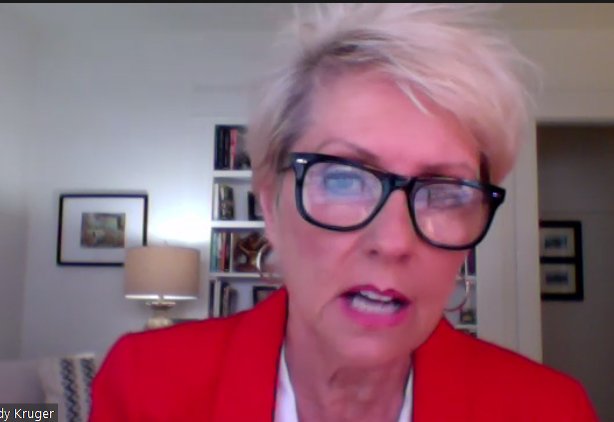 LAEDC's Judy Kruger closed by thanking the panelists and offering LAEDC's guide to marketing for space/aerospace companies (see link at top of this post)
—–
To learn about supporting LAEDC's nonprofit mission via membership, please contact Melissa Kham.