"Home Alone: Gaming Explosion During COVID" was the topic of the March 12th LAEDC Digital Media & Entertainment Council, where Michael Zhang, CEO of Firefly Games and a panel of experts discussed the fast growth and future of the gaming industry in the Greater Los Angeles region, and discussed the ways the pandemic accelerated the demand for content, boosted revenues, and increased workforce needs.
This meeting was sponsored by the Center for a Competitive Workforce, dedicated to aligning our region's community college programs with the skills needed by industry. The Center highlights well-paying, middle-skill jobs that are hiring, and that are accessible quickly, to help faculty to offer the right programs to help students access careers.
LAEDC's DME industry council provides SoCal entertainment and digital media businesses with market trends, talent development, programs and policy advocacy to bring growth and jobs to the region, with a focus on equity.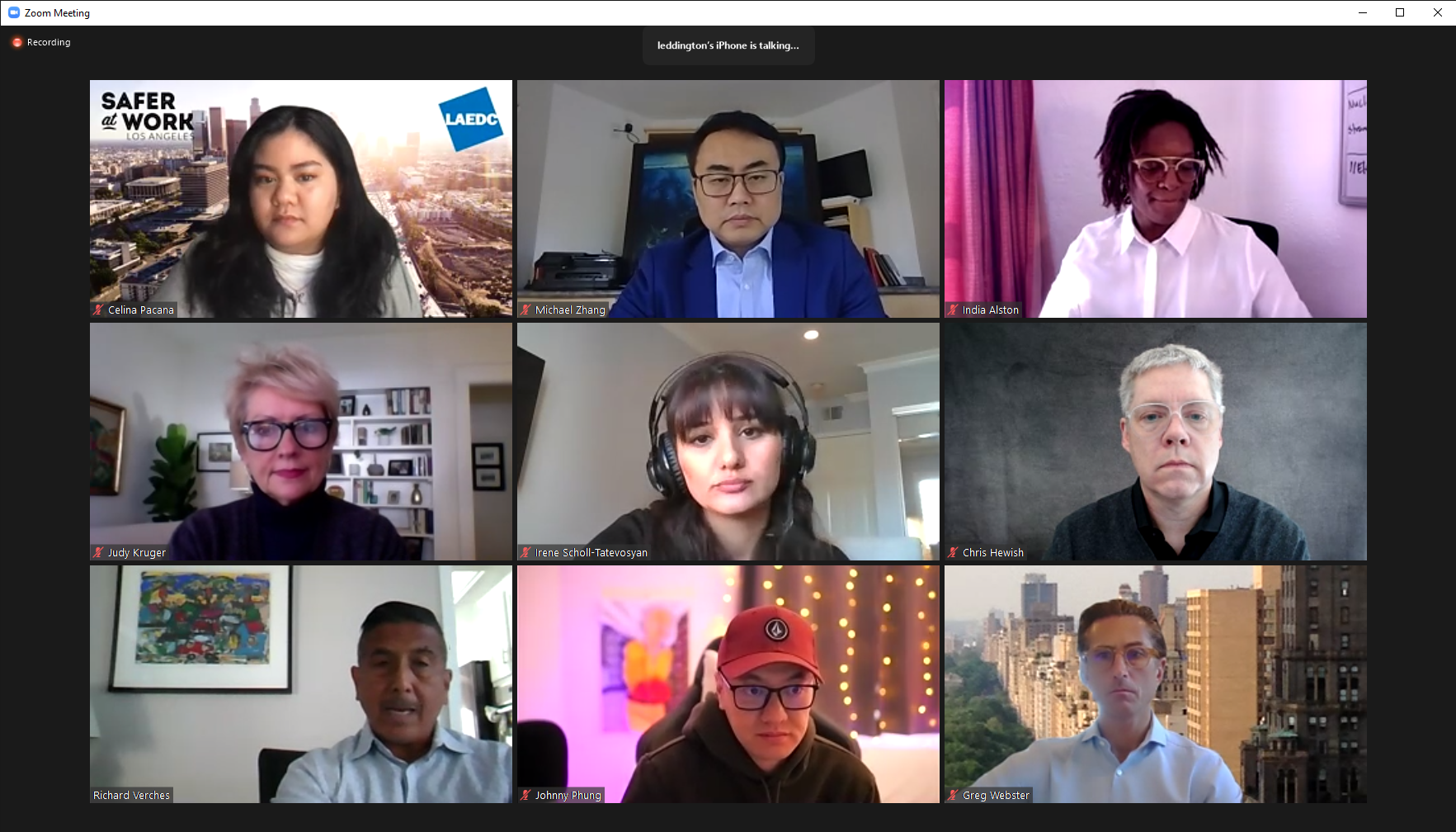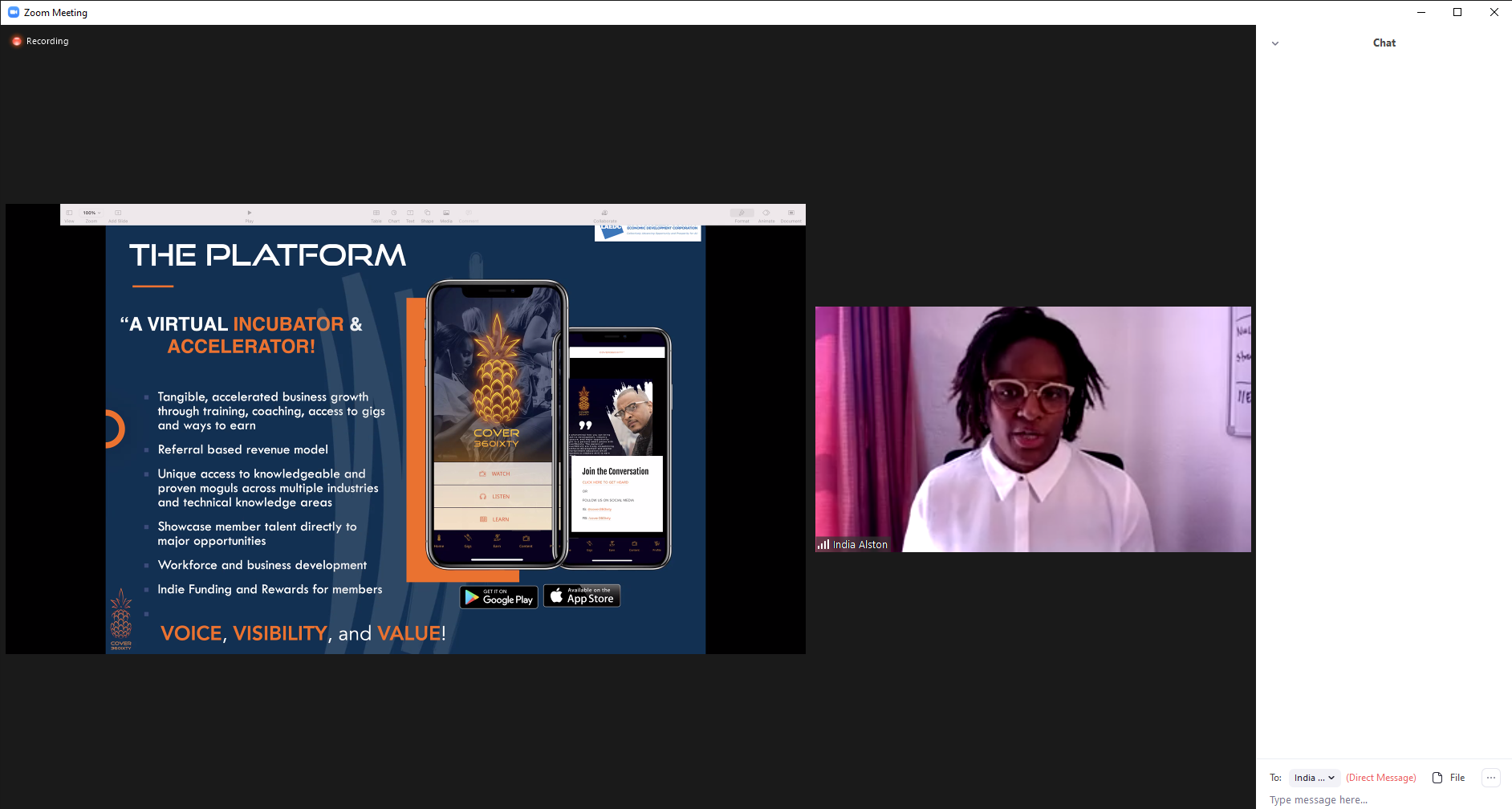 India Alston, Cover360ixty
Richard Verches, executive director of Center for a Competitive Workforce opened the meeting with brief remarks about the importance of connecting industries with colleges to establish pathways into these important industries.  LAEDC is a cofounder of CCW.
Learn more about CCW at CompetitiveWorkforce.LA, and further explore career pathways, forecasted job openings and college programs in the CCW report, Entertainment and the Rise of Digital Media.  In addition, plan to attend future meetings of LAEDC's DME Council
Judy Kruger, senior director of strategic initiatives at LAEDC hosted the quarterly council meeting by asking, How do we build out the talent development pipeline for the gaming and esports industry?  Judy announced that LAEDC's Institute for Applied Economics will be developing a report on this regional industry.
Before that, LAEDC will begin to develop asset maps of the participants in that market, and LAEDC will be reaching out to the industry to ask for their knowledge and information for that project, and that will be part of the effort to gather important data on trends and assets in LA County.  So, we hope to connect with industry and education professionals regarding this project.
Celina Pacana of LAEDC said that "by understanding who is doing what where," we will start to map the gaming and esports industry and its impact on jobs in LA County.  If we look at where these companies are located, we see geographic clusters of industry activity, and there is a large number of companies throughout LA County with hot spots on the west side.  The LA region clearly attracts a lot of industry growth and it is going to continue to bring economic opportunity to the LA region.
Celina announced the formation of LAEDC's Focus Working Group for the gaming and esports industry in LA.  Contact Celina to participate, at  [email protected].
Watch the entire video of the meeting
Industry Speakers
India Alston and Jeremy Newkirk of Cover360ixty talked about their virtual incubator and accelerator for gaming industry startups and emerging talent.  They talked about the role as talent pipeline using 360's ecosystem of talent development, to help the networks and community colleges and creative entrepreneurs who can learn, grow, add skills and develop.  The 360 TV show also showcases the platform and its experts mentor emerging talent, with shows like Six Figure Makeover.  By design, a very diverse population utilizes Cover360isxty, to help add diversity and equity to the industry.  Jeremy said that Gamification is a big trend that 360 is levering and including in its programs, with digital content that includes rewards, prizes, and giveaways in a content rich economy, trying to engage global audiences.  He emphasized the trend of turning entertainment content into games.  As an incubator they support creative entrepreneurs and content creators.  www.cover360ixty.com
Keynote speaker Michael Zhang, founder and CEO of Firefly Games noted the video game industry is larger than the combined size of the movie industry and the North American sports market.  Firefly works with major studios like DreamWorks and Dark Horse, gaming companies, toy companies and more.  Firefly helps build brand awareness for movie companies as Firefly's games are played by users.  Related to COVID, Firefly provides a virtual platform to stay connected with friends and loved ones and that has been a big deal during the pandemic.
He said that Animal Crossing sold 22 million copies just last year, and that is an example of the growing gamer base and the opportunity in this industry.  He said Metaworlds is another hot company, a virtual world with AR and user generated content, similar to what was suggested by the movie, Ready Player One.  Development of this immersive, next generation of gaming experience is happening right now, here in LA.
"This industry needs talent, including data scientists, artists, script writers, film makers, music producers, artists, 2D and 3D content artists, marketing coordinators to promote, social influencer managers, advertisers, game testers."  Firefly is working with community colleges because he feels that is a good route to develop talent.  He has also worked with 4-year universities like USC and said the industry needs this focus on talent and related education programs.
Michael also said the industry offers mind-blowing technology and content that will be on the cutting edge, and likened current trends to Black Mirror because it is predicting the future of products and experiences we see, and he says there also needs to be energy spent addressing the concerns that are obvious from Black Mirror.
PANEL:
Judy: Thinking about good-paying jobs and LA's economic recovery, how do we bring more equity and diversity to the industry?
Chris Hewish, president of Exsolla talked about the company's role of helping you drive the business of your game (for gaming startups), and he said diversity is a challenge for the western gaming industry. Access to capital and educational pathways from the less-diverse engineering programs set the industry on a less diverse course, and now the work is underway to address this social issue and investors also tend to believe that mixed teams perform better than homogenous teams, and they want to follow that trend.
Irene Scholl-Tatevosian at law firm Nixon Peabody, who is an attorney specializing in the gaming industry, said a lot of teams are working on gender diversity and bringing in women.  Some of it is education, promoting that women are welcome in this field, and women need to see the  representation in the gaming companies themselves.  She welcomed everyone to the upcoming Socal Women and Gaming event, which will next occur in May with about 100 participants so far.  Contact Irene directly to join at [email protected]
Judy:  Should companies have a location in LA?
Michael:  Michael said Yes, originally Firefly's investor team wanted the US location to be in Silicon Valley but after one year he moved it to L.A.  "The large studios are here, the art is here, and it is easier to build up the connections."  He noted Santa Monica and Silicon Beach more broadly, is a fast-growing region for this industry.  He said the cost in LA is actually a lot cheaper than Silicon Valley.  Even Google and Facebook are moving some development to LA, which speaks to the amount of content here, and gaming is a big piece of that.  "We can build an even stronger community here in LA and we hope more companies locate here."
Judy:  How do you help with legal issues around company formation?
Irene:  Legal protections for companies are really important, including an "Inc." structure (not an LLC) because it is attractive to investors that might want to acquire a company, and therefore valuable from an exit strategy perspective.  She said that protecting IP and branding are the two main areas of focus for startups, and as these businesses mature there are more specialized legal needs.
Chris:  Make sure you have a video game attorney, "Investors are interested in demos from these companies and the business model, but as they look deeper at your company, they might see you don't have software licenses in order and employment paperwork together, and that displays a lack of business acumen that turns off investors, or there may be ways the company can be exploited by investors when startups don't have their legal footing in order, so it is important to pay attention to these issues by utilizing an attorney.
"Having a demo is the best way to attract investors.  Investors want people with a pedigree and a track record, but they also prioritize a good viable demo that not only shows gameplay but also shows that you can execute as a team."
Irene:  If you aren't willing to protect your brand and your IP then you're not serious about your company.  It is what will make your company.
Judy: how should indie and smaller studios disrupt the gaming industry?
Michael:  We still consider ourselves a small studio.  If you are trying to design, work with a larger publisher which has the resources to put it on the market.  Also, a revenue share model is possible, 6-7 figure investments are common.  Also as an indie, a game can become a hit if you target a niche market, like Among Us, which was designed by only a few people.  Lastly, you don't need huge marketing budgets.  For example, in Animal Warfare, users can watch videos and get rewards in the game, and you can generate revenue that way.
Chris:  "On the mobile side and gamer acquisition, focus on building an audience, focus on building a community with direct relationships.  Find these users online and build a community with transparency and you'll find a group of advocates online who are there when you launch your game.  The bigger content developers keep the secrets inhouse and don't get feedback from the community…but this is a secret weapon if you want to develop a gamer following, and the big companies don't have that."
Irene:  "Yes, we worked with a VR game company and they brought in influencers who had big following on social media, and let them play the game, and it made a big splash in awareness and user engagement.
Judy: In terms of workforce, how can we build a strong pipeline?  We have educators on the call who want to understand skillsets in their programs.
Chris:  There's the technical component — engineers need the right coding skillsets and production technologies.  "We need someone who has executed with those skills, so cross-functional teams at college who come together and build something – that also builds collaborative skills with team members, and that skill is essential because video game development is highly collaborative."  Chris said they value abstract thinking, such as an engineer who says, "Wait a minute, I hear you asking us to build a door but you gave me a tricky spec, so may I suggest we build similar functionality with another technology in less time?"  He also emphasized soft skills, "Businesses don't need the friction of people who can't work together."
Irene:  She suggested educators look at USC's game development program, implying similar programs would be helpful.  But beyond development, she said you need biz development managers, marketing, HR pros, project managers; it is a full team.  Therefore, educating your students about these broad opportunities – the broad range of occupations in gaming opens opportunity for professional positions in companies they would love, and they can learn the industry once they start the job.
Michael:  My advice to educators and students is that networking is important and people-skills help with that.  Try to get an internship, follow current events, stay current, and get into real projects as early as possible. (Michael earlier mentioned skills needed for data scientists, artists, script writers, film makers, music producers, artists, 2D and 3D content artists, marketing coordinators to promote, social influencer managers, advertisers, game testers.)
Judy: Thanks to our panelists.  LAEDC is developing a popup gaming hub to incubate students and steam entrepreneurs, and we are hoping to launch a three month popup location in south LA, hopefully in June 2021 to get more students into the pipeline.  Judy is a contact point for that at [email protected] . She also encouraged industry participants to get involved in LAEDC's asset mapping project.
If you have questions about the program, please contact LAEDC's Celina Pacana at:  [email protected]