LAEDC's team continues to assist — at no cost — businesses struggling during the pandemic.  One great story is Playa Las Tunas restaurant, located just west of DTLA at 1107 S Alvarado St, Los Angeles.  Playa Las Tunas offers Salvadoran cuisine, adding to the rich cultural fabric of the neighborhood and loved by many patrons in the area.  The owner, Celso Hernandez and staff were kind enough to film a short video to the right.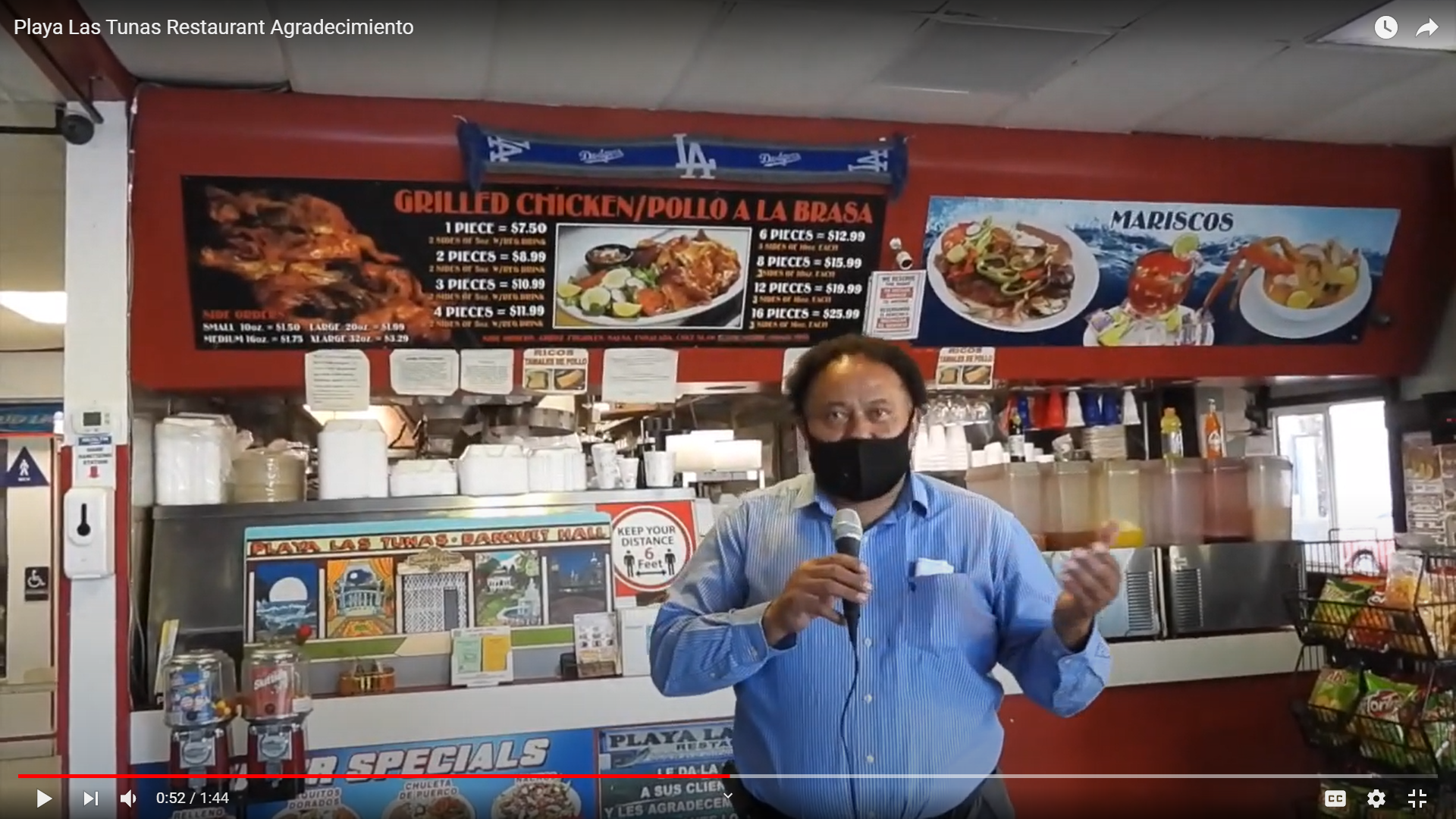 When LAEDC first connected with the owner, he was discouraged to hear that his city of LA micro-loan application had been denied. He had not been successful in obtaining access to capital from grants or loans. The restaurant sales had declined immensely due to COVID19 and he was struggling to maintain his staff and was using all his personal savings to remain open.  LAEDC's first step was to take a close look at the denied application. We found that the application was "incomplete" due to missing information. We encouraged him to re-apply. A couple months after, he re-contacted LAEDC and was excited and grateful to let us know that he has received the micro-loan! He was very pleased to have had LAEDC services on his side, providing him with reassurance and motivation to not give up, and he was happy to know that we were here to help him!
In addition to accessing capital through a City of LA program, LAEDC has helped the restaurant access other resources.  Some of the restaurant's reinvention included adapting with outdoor dining, and while the status of outdoor dining in LA County is in flux, it is hoped that will resume soon.  In addition, the restaurant has added online ordering platforms: Doordash, Postmates, Uber Eats,  Grubhub and Virtual Restaurants.  Primarily serving the Latinx community, but with customers of all kinds, the most popular dish on the menu is Salvadorean Pupusas.
While Playa Las Tunas is navigating challenges, business is still significantly less compared to a year ago.  Before COVID19 it was operating at 120%, but since COVID19, the restaurant is now only operating at 40%. We hope you will support small businesses in your community as much as possible.  In LA County, 93% of all businesses have less than 20 employees, and these businesses rely on the community to support and keep them going, which in turn contributes to fabric of our neighborhoods and provides much needed jobs.
LAEDC looks forward to assisting more businesses, so please spread the word.  These services are provided at no cost, and can be confidential, and the programs are funded by County and City of Los Angeles, including via the Keep LA Working program from City of Los Angeles, which LAEDC team is fulfilling.  Please contact our team at [email protected], view resources at LAEDC.org/coronavirus, and view free webinars funded by County of Los Angeles at LAEDC.org/recovery.
LAEDC encourages businesses, staff and patrons to keep everyone Safer at Work, via safety guidelines such as mask-wearing, hand washing, physical distancing and other protocols designed to protect the community while allowing businesses to continue to operate.  Small businesses are the backbone of our communities and need our support, and rely on our safe practices to keep everyone safe!  We all have a role to play.  Learn more about the Safer at Work campaign, with helpful signage and other resources, initiated by County of Los Angeles at saferatwork.la/