Filmmaking in the era of COVID has been a rollercoaster ride this year, with mass reinvention of an industry and its protocols disrupting the filmmaker talent pathways in the industry.  These topics and more were discussed at this quarterly meeting of LAEDC's Digital Media & Entertainment Industry Council, which featured a keynote presentation by Larry Laboe, Co-founder and Executive Director, New Filmmakers Los Angeles.
A panel discussion included speakers Gary Smith, Film and Digital Media Liaison, LA County CEO's Office and Emily Beeler, DVM, MPH, DACVPM, Los Angeles County Department of Public Health.  Additional speakers included Bojana Sandic with NewFilmmakers Los Angeles and filmmakers Varda Bar-kar and Dinh Thai. The event was moderated by LAEDC senior director Judy Kruger. The meeting was sponsored by Center for a Competitive Workforce (CCW), an LA regional project that aligns talent development with industry trends and well-paying career pathways.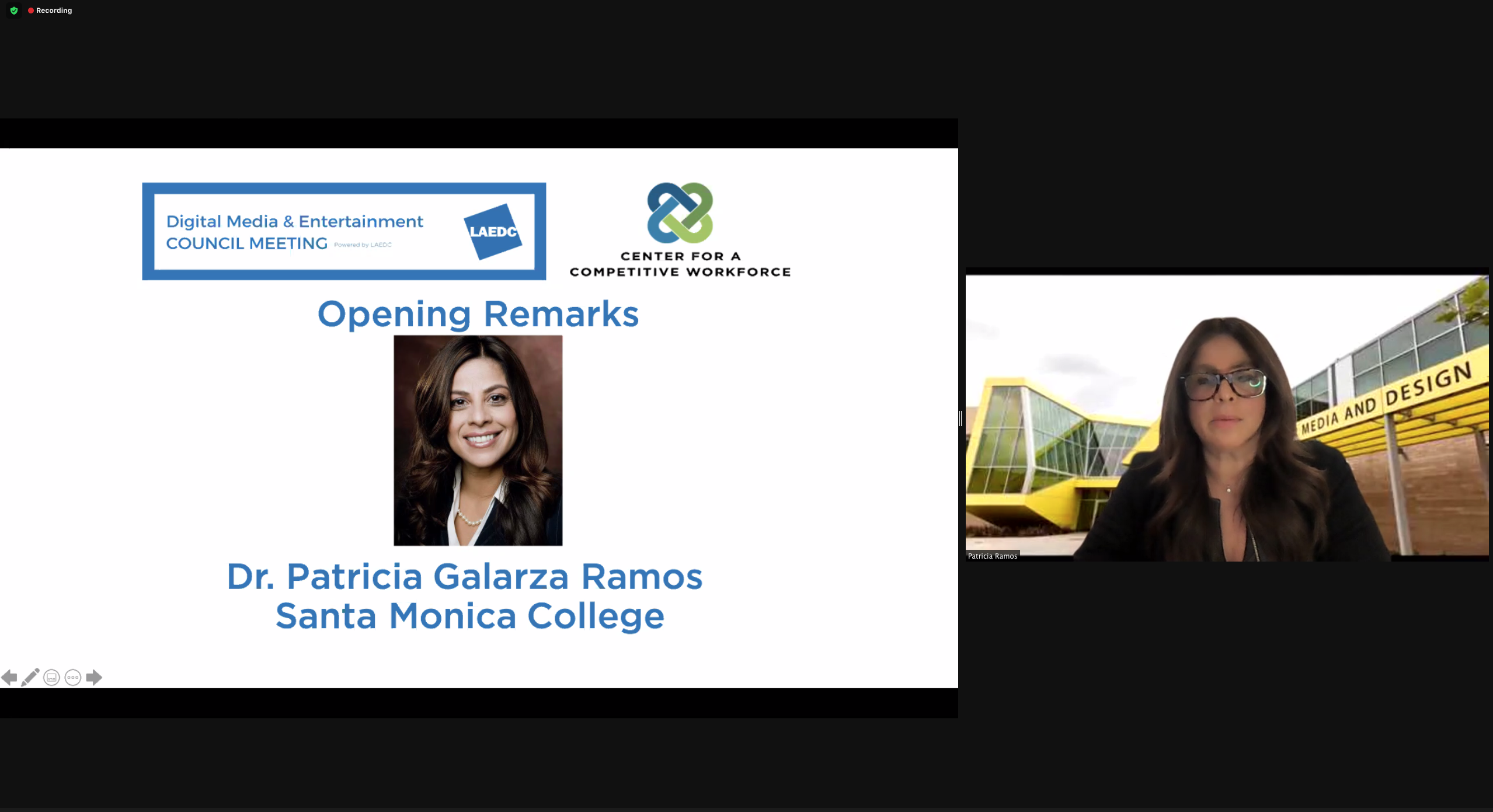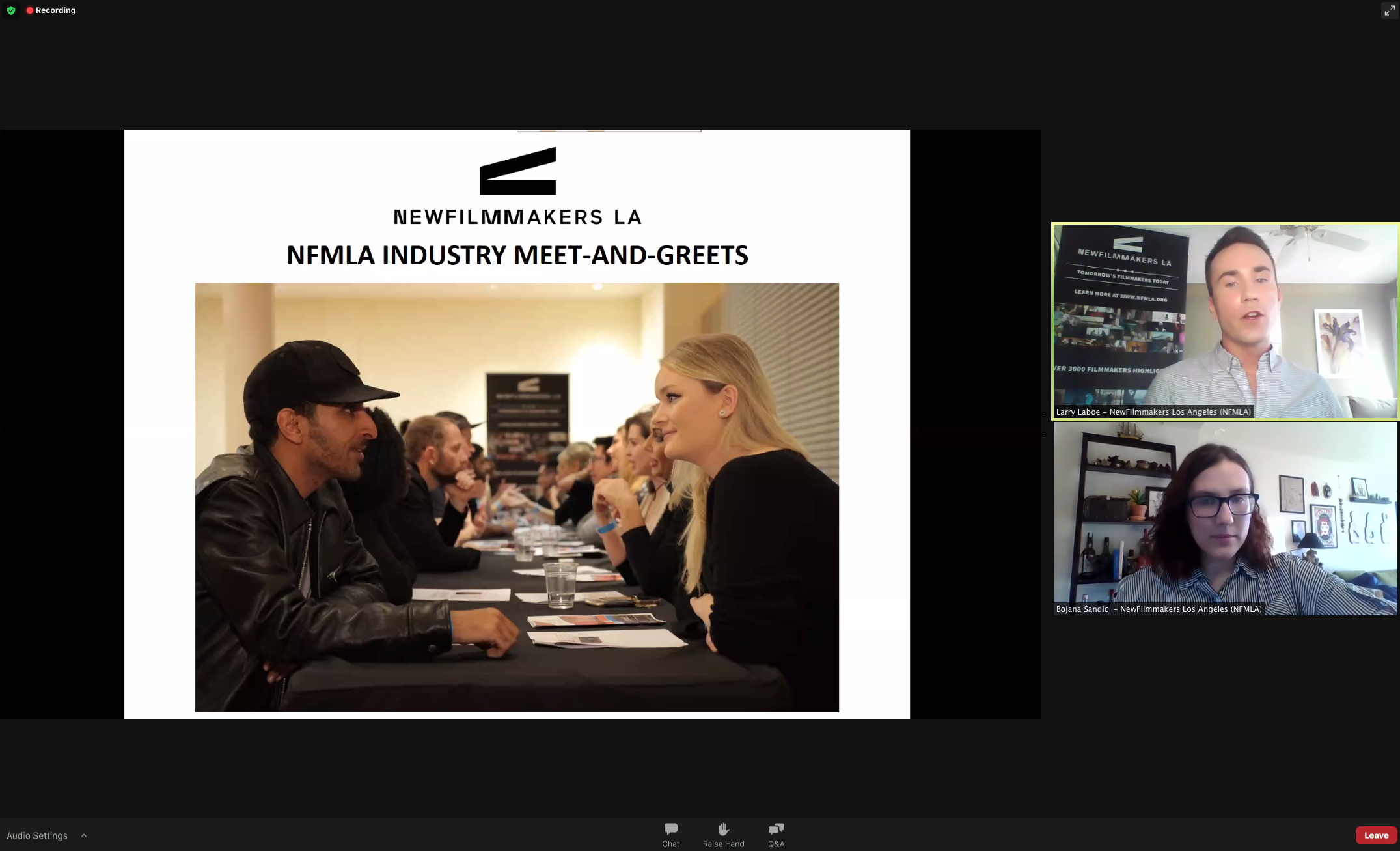 Patricia Ramos, Ed.D., Dean, Workforce and Economic Development, Santa Monica College (SMC) and project lead for CCW introduced the event and talked about the numerous community college programs preparing talent for the industry, including SMC which offers an Associates degree in filmmaking.
Learn more about CCW at CompetitiveWorkforce.LA, and further explore career pathways, forecasted job openings and college programs in the CCW report, Entertainment and the Rise of Digital Media.  In addition, plan to attend future meetings of LAEDC's DME Council, which will in January explore ways to support filmmakers of color.
KEYNOTE:

Larry Laboe described NewFilmakers LA as a nonprofit founded in 2007, with monthly movie screenings rather than an annual event.  They bring in industry executives from big studios like Warner, Lion's Gate, Focus Features, and many more, for emerging filmmakers to connect with.  They also bring in press to help new filmmakers get exposure in the industry. Community Collaborators is another important element of programming offered. Industry meet-and-greet speed-dating sessions are another program to create new connections to advance young careers.
Larry said that COVID impacted NewFilmmakers LA right away; there was an event planned with Shanghai Film Festival in January that was forced to cancel, and then Los Angeles events were canceled shortly thereafter.  "We made sure we remained vocal with partners and press, and started rethinking our season.  We signed a pledge to adapt qualification rules for filmmakers that waived premiere requirements and allowed the nominated films to be screened in any way, including online."  Emerging independent filmmakers have had a hard time, he said.
"We started an industry interview series, with experts talking about producing, directing and other roles, with Q&A from attendees.  We moved screenings to online, our InFocus Canada event was one of the first events that made this transition.  We chose Seed&Spark as our film festival platform, but we will be moving to Eventive as a new platform in January."  He said that keeping the community informed was important during this period and was a big focus.
When the BLM marches started in the spring this year, New Filmmakers LA moved ahead with a call to action conversation with the Black filmmaking community to discuss supporting emerging Black filmmakers, and served as an important platform to showcase related work.
Going virtual was a head scratcher for many filmmakers and the education process was tough.  The team adopted new tactics, new ideas, workshops to increase press outreach and engagement with leaders, levering the film festival, building better promotional strategies, looking for grant opportunities.
"We started seeing success getting top executives from MGM, Sony Pictures to be part  of our festivals and that helped drive media coverage and energized our filmmakers – important to have these opportunities to break out of the school system and meet others, develop connections, comingle with career-level professionals."  Larry also mentioned the Recover and Overcome program was important.
"We started to see some zoom fatigue, and we decided we would focus on press coverage for nominees and winners.  Our Best-Of awards was successful, for example."
"Post screening Q&A sessions with industry leaders alongside students and emerging filmmakers worked out great, the participants are really invested and it turns into a discussion that was engaging and overcame zoom fatigue."
Meet the programmers was another way to connect with the various festivals to help our filmmakers understand the process for getting their work screened at festivals.
Physical events are really important in the film industry to develop rapport and connections that drive collaboration and success, according to Larry, so they look forward to a return to in-person events sometime in 2021.
Judy Kruger:  What's the future of work?
Larry:  Having your craft honed is the most important thing.  During this time, hyper focus on what you want to do.  Competition is so high, if you want to be a writer, director, actor, designer (etc) you need to focus there.  If you are on the tech side of the industry, these virtual events aren't going away, so keep honing your skills and following trends.
PANEL DISCUSSION:
Varda Bar-kar:  I'm on the board of New Filmmakers LA, and I've never seen another org do so much for filmmakers.  We can't do it alone, especially as independent filmmakers.  What is happening at SMC and other diversity initiatives is great… it is an almost impenetrable journey to become successful as a filmmaker.  I want to commend the work you are doing for independent filmmakers to have a voice and be discovered by content companies like HBO and others.
Dinh Thai:  The pipeline for emerging directors has been disrupted by COVID.  The shadowing of directors that we usually do to develop trust in the up and coming talent isn't possible right now, so it's difficult to build that talent in the current environment.
Dr. Beeler:  I've been a liaison to the film and TV industry this year to help them develop strategies to work during the pandemic.  It's clear how strongly the industry has been responding to the pandemic, convening with guilds, bringing in experts, collectively developing standards that are closely followed.  This is the worst point in the pandemic.  LA County had 7,800 cases yesterday and the rate of infection is growing, and we are very worried.  As the Governor looks at options to prevent the ICUs from being overwhelmed, and social interaction is still the primary way the virus is spread.  Your bubble effectively goes way beyond.  Crowds, confined spaces, close contact all need to be avoided, and outdoors are much safe than indoor activity.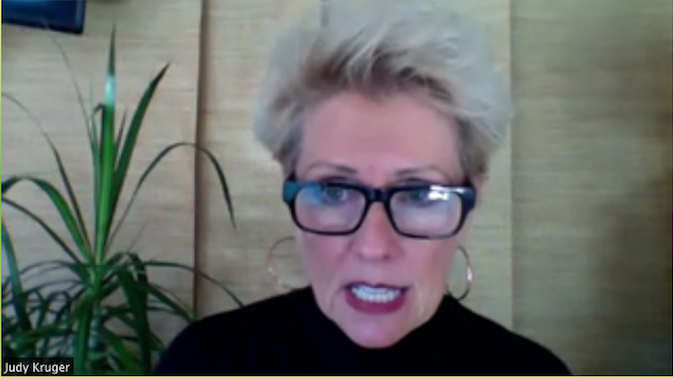 Judy: Where are the challenges?  Are you surviving under Appendix J protocols?
Gary Smith:  Dr Beeler has been great, working with the various leadership in the industry, she authored Appendix J in collaboration with the industry.  We are learning something new every day.  There are so many microenterprises that make up the industry: makeup, special effects, caterers, music scoring ,administration, lawyers, and we know there are so many adjustments that need to be made to keep the industry resilient. It is a struggle at many levels of the industry from big studios and major releases – a huge revenue loss, and that trickles down to every level of the industry.  We talk to productions one-on-one to help guide them in what they want to do.  We want to help navigate insurance and other challenges.  I oversee the Film LA contract and permitting, and we manage the neighborhood responses to filming, and that has been different this year too.
Judy: What are the jobs of the future and the shift from the pandemic?  All of us are looking at Diversity/Equity/Inclusion; how are we seeing the industry shift for women, people of color?
Varda:  I'm an optimist, and I feel that different voices and diversity makes civilization marvelous.  People want to know we are connected and experiencing different things.  That's fundamentally who we truly are.  We want to feel we really belong, so I think that will happen.  Some studios are bringing in diverse voices due to pressure, and filmmakers/directors are experiencing hardship even though they're "in" and they face some skepticism such as, "can they do it, will it work."  There is still a lot of bias but there are breakthroughs and opportunity.  It is always going to be very competitive and about who you know.  The biggest challenge will be the same as now: how do we build those bridges to give people openings.
Judy:  Change is not always linear, and even if it seems artificial it is still heading the right direction and it is going to smooth out.  Dinh, what are you seeing?
Dinh:  Learning about storytelling as an editor was important for me.  I was never a writer until I wrote and directed my own script.  My experience is that while we need to be hyper-focused like Larry said, but we need to have some exposure to the knowledge that helps us become a better writer and director.
Varda:  Agreed. I came up through the ranks.  I was a very proud PA (production assistant) and swept stages.  I've edited, I write, I understand camera and shoot as a director, so I agree that these various skills are important.  Maybe we don't need to enter as a director.  We don't need to rush.   We are better filmmakers when we learn all these aspects of the work.  We learn so much as a crew member, you learn how shots are being selected, and you become a better filmmaker as a result. It's OK to put in the work, rather than just pick up the phone and get a direction role.  We all aspire to do masterful work, and below-the-line work helps us get there.
Gary:  A below-the-line workforce program is being developed, and HBO, Amazon, Snap have been part of the conversation, focusing on the emerging digital media landscape and emerging trends in the pandemic.  That is going to be launching next year, primarily focused on ages 18-25, utilizing programs in operation now, like at SMC.  We wanted to focus on below-the-line first because there are so many opportunities… The way we produce content is constantly changing.  We are using the County's position to help build bridges.  I think it's the first time the County has done something like this.  Working name is the Digital Media Career Program.  County WDACS will be leading this, and you'll be hearing more about that.
Judy: What industry questions are you being asked?
Dr. Beeler:   Shortened quarantine approach is one thing we are looking at.  Shortening it will mean some people will be contagious and on the set.  14-days quarantine seems prudent.  We get a lot of questions about, "will the industry be shutdown."  The industry has put so many protocols in place, and is working hard to be vigilant.  But things are changing fast, which increases risk, and we appreciate everyone's patience getting through this.
Gary:  Folks come to set, there are a tremendous number of protocols and production companies are doing a great job.  But what are folks doing when they leave the set?  They're doing things that aren't necessarily in a bubble.  If you want to work on Monday, don't go hang out with friends on the weekend.  Take care of yourself so you can continue to work.  We are all tired, but dropping your mask around your chin, you can't do that on set.  We hear a lot of that struggle.  If you are an active production worker, take care of yourself by not socializing.
Dr. Beeler:  More cases are starting to impact productions that we weren't seeing before.  It's part of the challenge.   There is light at the end of the tunnel.  That is going to make a big difference.
Varda:   This is a really great opportunity to develop projects and think about who we are and what we want to be doing with our lives, the why and how.  Strengthening our core as humans will help us move forward with power.
The panel looked ahead and envisioned an industry that is resilient, meaningful, safe, driven, vaccinated, resourceful, and amazing.
Next DME meeting in March will highlight filmmakers of color.