Bioscience activity in Los Angeles County is up, with more jobs, more investment, more incubators and infrastructure, and new resources to aid collaboration, according the expert speakers at the Bioscience State of the Industry event hosted October 28th by LAEDC, Center for a Competitive Workforce and the  industry association Biocom.  The event also served to introduce Biocom's new executive director Stephanie Hsieh to industry attendees (read her comments in the concluding paragraph).
Topics included:
Key takeaways from Biocom's 2020 Economic Impact Report of the lifescience industry in California
LAEDC analysis on biomanufacturing geographic hubs in LA County
Launch of Why LA life science portal, which provides unique asset mapping and partnering functionality
The Center for a Competitive Workforce and community college workforce initiatives in bioscience
Local COVID-19 solutions panel with Takeda & Gilead
Speakers included:
LA County Supervisor Mark Ridley Thomas
Stephanie Hsieh, Biocom executive director for the Los Angeles region
Richard Verches, Executive Director for Center for a Competitive Workforce
Joe Panetta, CEO of Biocom
Abbas Yar-Khan, VP of Manufacturing at Takeda
Edward Bjurstrom, VP of Operations for Gilead Sciences
Carolyn Hull, General Manager, City of Los Angeles EWDD
Jessica Ku Kim, Senior Director of Workforce Development at LAEDC
Jasson Crockett, City of Los Angeles Director of Community Business for Bioscience
Bill Allen, CEO of LAEDC
LAEDC CEO Bill Allen opened the event and talked about the important contributions of LA-based companies such as Grifols and ImmunityBio who are leading the push to quickly develop COVID-19 therapies and vaccines, but reminded the audience that LA County's bioscience industry was heating up long before this current important progress.
LA County Supervisor Mark Ridley Thomas was the first featured speaker and talked about County's ongoing effort to grow the jobs in this industry.  Effort accelerated in 2015, the Board of Supervisors set forth a bold plan to grow the regional economy and grow well-paying jobs.  He saw two important reasons why.  First, bioscience has demonstrated the potential to save and transform lives, with many great examples in our own backyard.  He cited Lundquist Institute's success developing a treatment for sickle cell disease.  They are leading the way with testing, therapeutics, vaccines.  The supervisor's second point, was bioscience has demonstrated its potential for sustained growth.  He mentioned the investment fund seeded with LA County money that is supporting innovation.  County is also providing money for bioscience incubators at Cal State LA and Lundquist Institute (formerly LA BioMed).  On the workdorce development side, County is partnering with South Bay Workforce Investment Board on Bioflex, an apprenticeship program, and he touted the new Bioscience Futures internship program that Bio LA will launch next year.  "We also sponsor the annual Bioscience Summit, which this year has a focus on diversity, equity and inclusion in the industry.  "This County continues to garner research grant funding, with $1B in NIH funding in 2019.  We have more than 2800 bioscience establishments.  With the study we underwrote in 2011, we didn't know where we'd be today, but we are doing well, we look pretty good, and we are poised for greatness."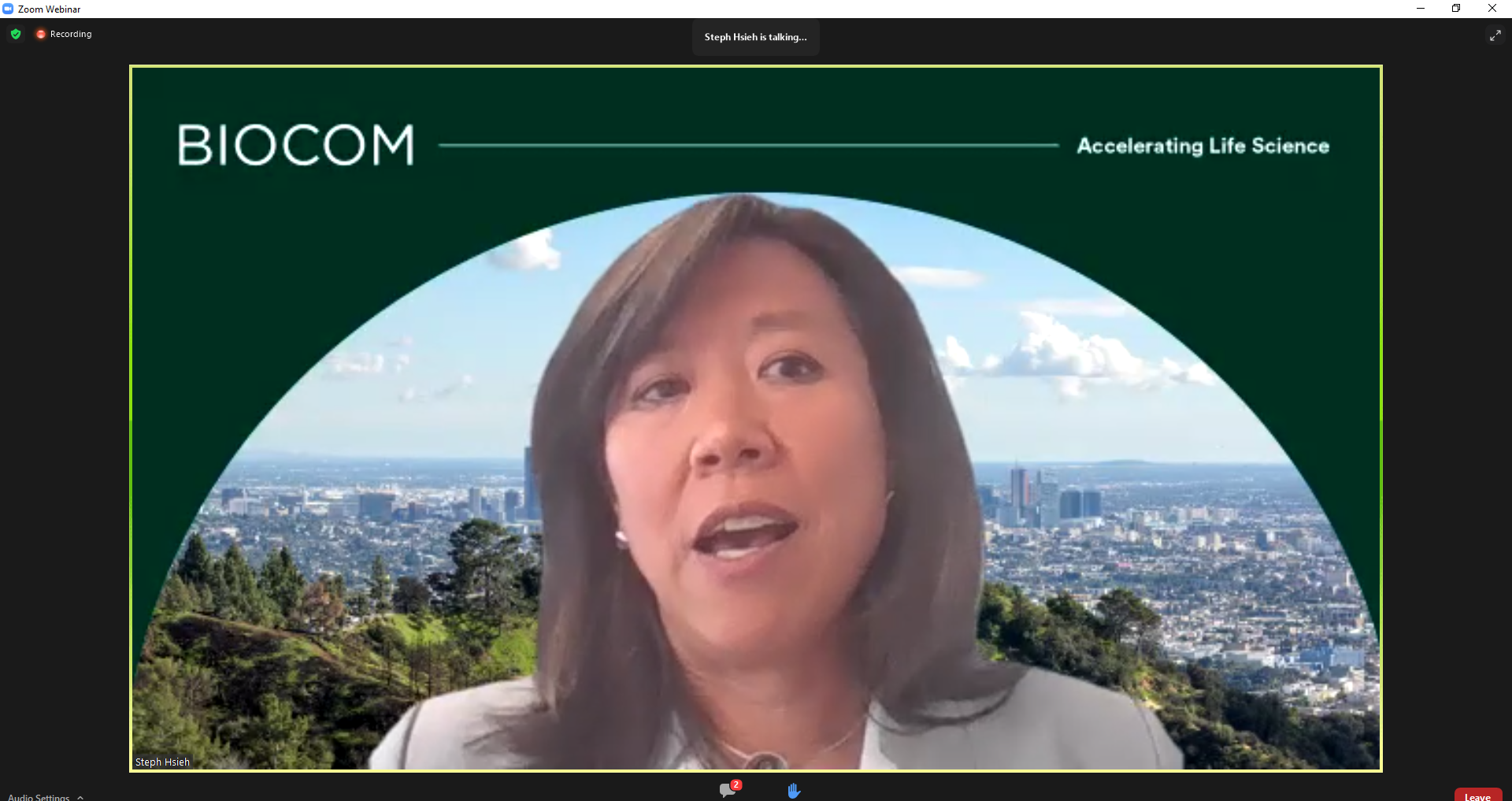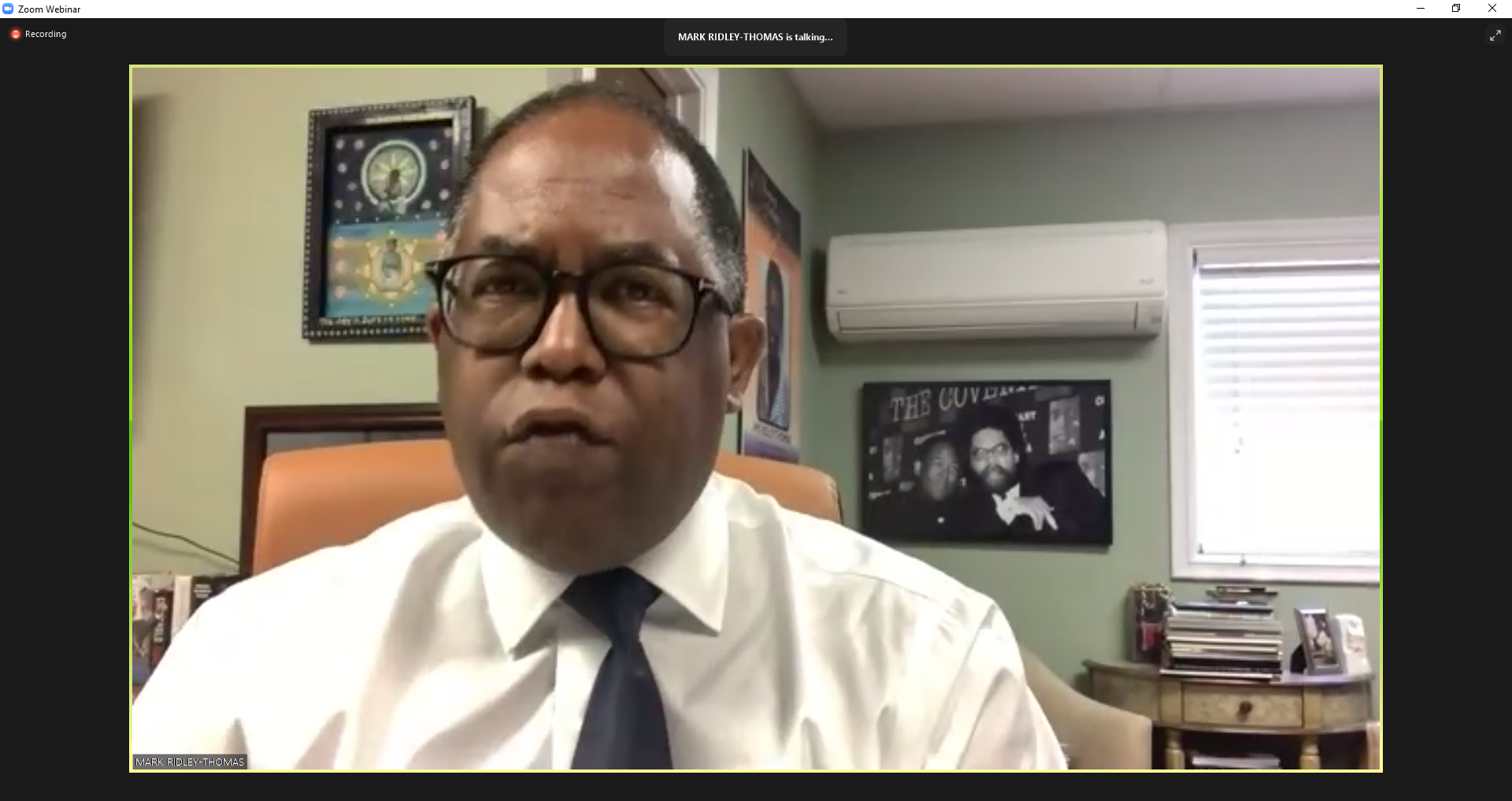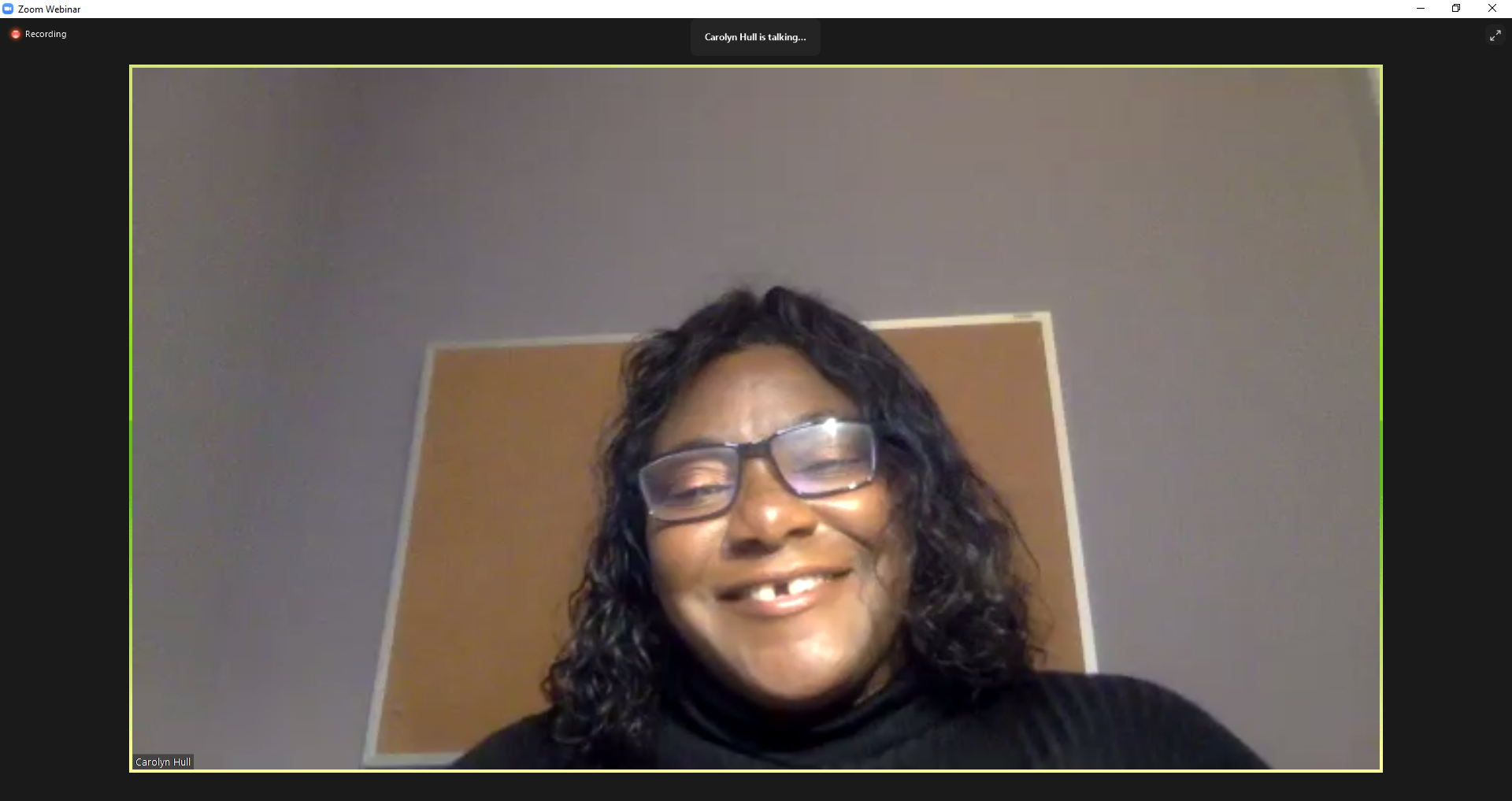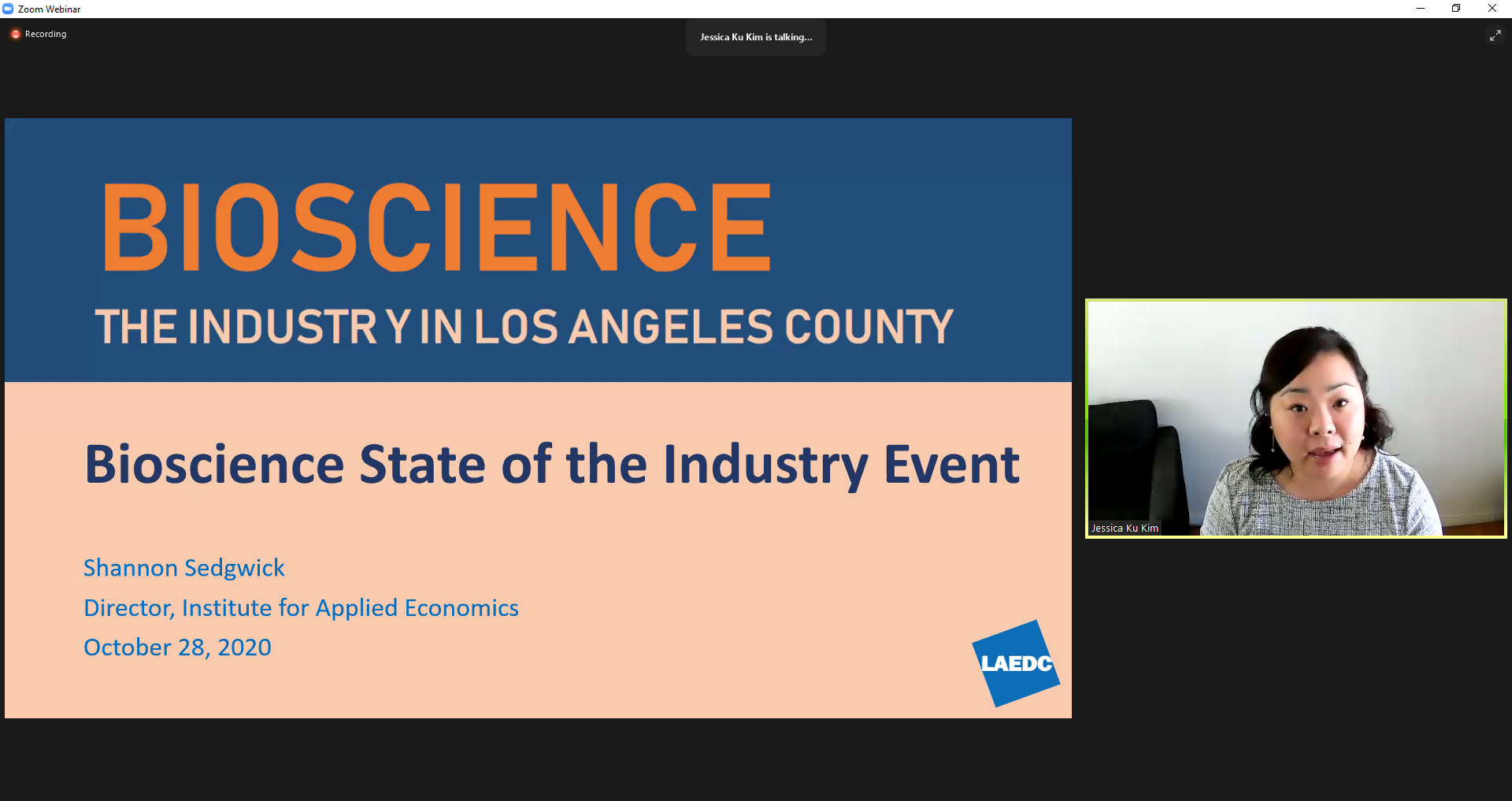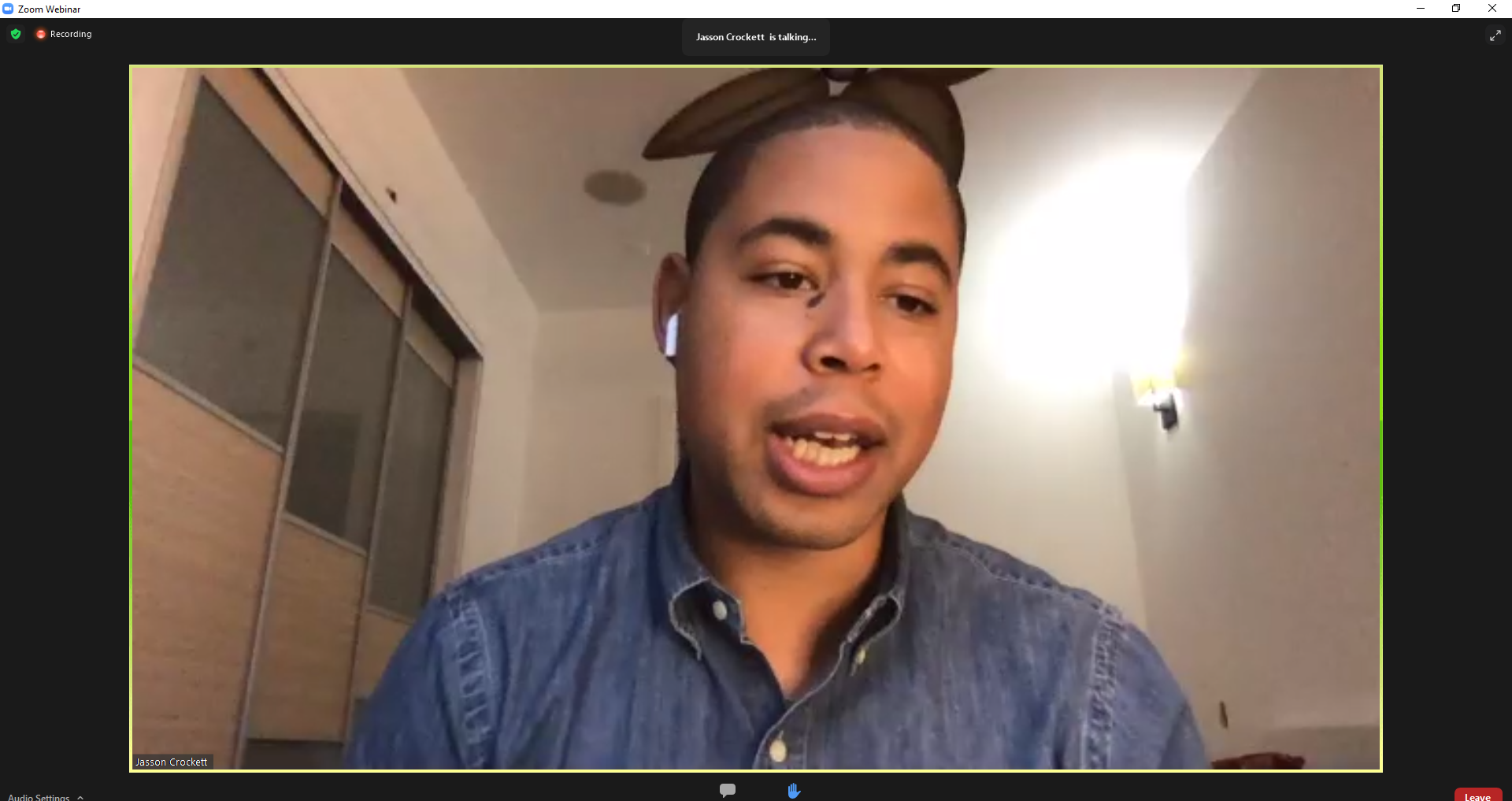 Jasson Crockett, City of LA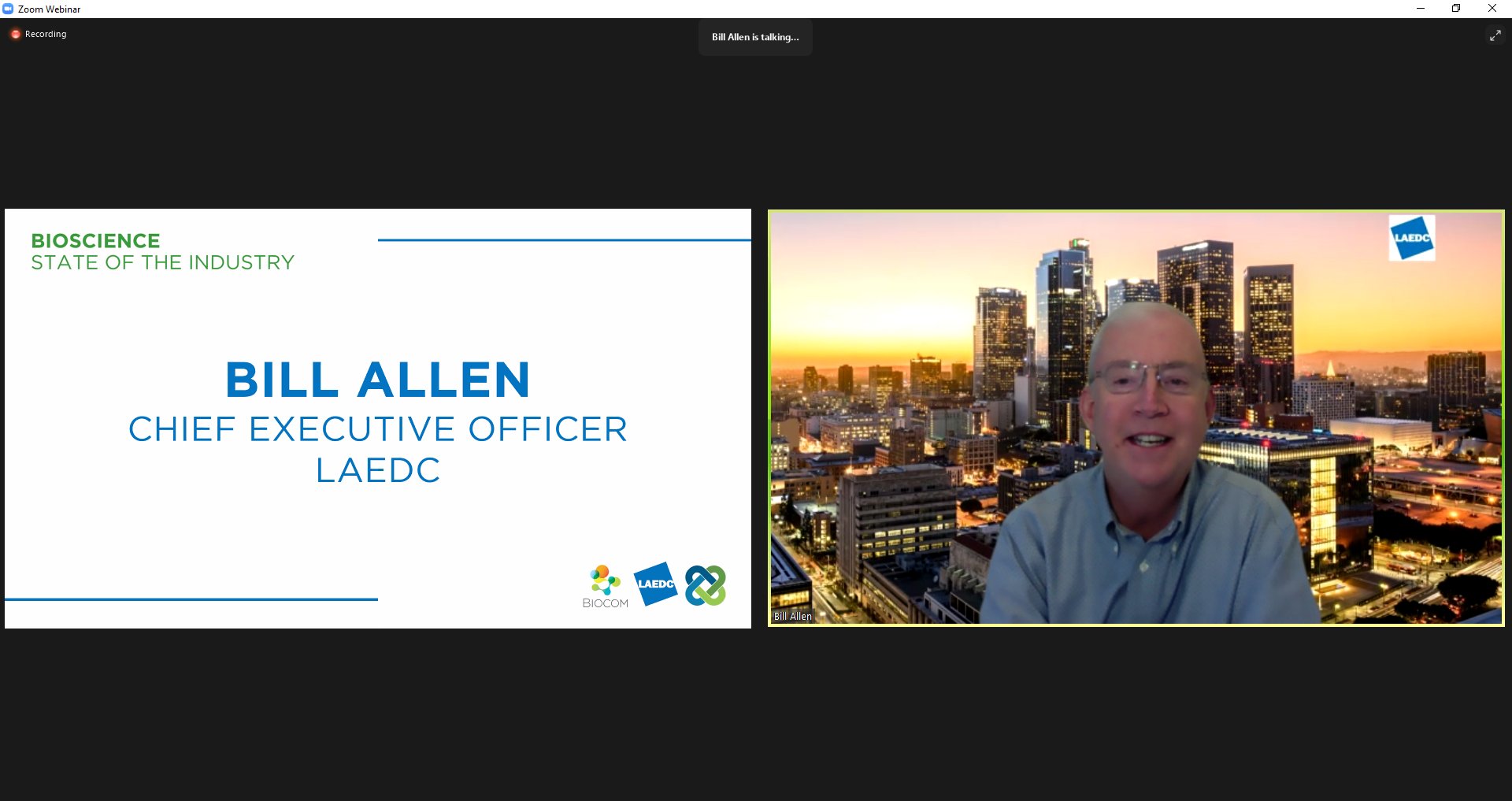 Speaker Richard Verches, Executive Director for Center for a Competitive Workforce (CCW) said that 33 faculty and leadership from the community colleges in the region were attending this event today, which shows how seriously the colleges are about partnering with industry to develop talent pipelines that serve the industry. He noted that CCW has produced 15 reports in last four years on the growing and emerging industries in LA County and the occupations in those industries, with a new report coming on Essential Workers.  Verches remarked that businesses in bioscience that want to increase diversity would be smart to get involved with the region's community colleges, and by supporting these regional industry initiatives we are working to make sure no one is left behind.  "Community Colleges are a key pathway transforming lives especially those who are disconnected from the thriving economic sectors…and for people who are beginning education pathways.  We look forward to making sure students have access to the opportunities in this industry, especially through industry involvement from Takeda and other local companies."
Joe Panetta, CEO of Biocom introduced the recent California economic impact report, in which Biocom summarizes bioscience/lifescience job growth, business growth, and many other metrics that point to opportunity. He said that in San Diego, the Bay Area and LA, we are dedicated to improving the human condition.  He talked about Biocom's role as an advocacy organization, with over 1300 members, founded 25 years ago.  Panetta said, "We believe it's important to California that we ensure we have a voice in our nation's and state's capital and in big industry centers around the world," meaning policy advocacy, building networks, raising capital for companies to fuel growth and commercialization, and assisting with business strategy to help Biocom's lifescience company members in California succeed.  He cited support mechanisms like Biocom's purchasing network to help companies buy the supplies at favorable terms to grow effectively.
Panetta also talked about the need for talent, "Workforce is a key in California, and we want homegrown talent, especially to ensure less represented groups," are accessing opportunity.
Biocom's report found there is $44 billion in economic activity in LA County, with 195,000 direct jobs.  "It used to be thought of as an industry where you needed a masters degree or Ph.D, but career track jobs with bachelors or associates degrees or even certificates allow people to be employed.  We want to keep attracting people to this industry to make sure we have the workforce to grow this industry."
Panetta mentioned Biocom members are addressing COVID-19, with a wide array of treatments, vaccines, and related key research going on in the region.
He discussed credential program for lab techs and mid-skill occupations and gave shout outs to Amgen Biotech Experience and LabXchange.
He also mentioned Biocom Institute Internship and Fellowship programs help increase awareness of careers, mentorship, career development opportunities, and real-world experience in the industry, "all of which helps our home-grown talent development to bring local residents into this well-paying industry."
"We were a big proponent of the bioscience overlay zone policy," which has helped the industry, Panetta mentioned, and he discussed other policy wins based on advocacy.  He also suggested we need to avoid unintended consequences of the Buy American program, to make sure supply chains aren't interrupted and companies aren't negatively impacted in their progress and production.  Biocom is supporting and advocating Prop 14 for funding stem cell research, which has been an essential part of the COVID solutions being developed, Joe said.
Shannon Sedgwick, Director of LAEDC's Institute for Applied Economics spoke next and covered geographic industry clusters of LA County, in which there are ecosystems of employers, talent, research and supporting businesses that lead to faster progress and competitive advantage for LA County's bioscience industry.  "Earlier this year we published snapshots of geographic hubs for bio industry activity in the region and we will share that info with you.  Many of these workers were deemed "essential" and this contributed to job growth. She noted the industry pays higher than average wages.
PANEL DISCUSSION
The panel discussion included Abbas Yar-Khan, VP of Manufacturing at Takeda and Edward Bjurstrom, VP of Operations for Gilead Sciences, both of which companies have a large presence in the LosAngeles region.  Joe Panetta joined the panel as moderator.
Ed Bjurstrom:  Gilead has operated a large facility in San Dimas for over 30 years, and the company is completing a new facility in La Verne which will replace it.  We did not expect to be putting this facility into use so quickly to manufacture Remdesivir, but then the pandemic arrived.  "We have continued to expand our manufacturing capacity, and right now we're doing packaging locally with contract manufacturing doing the actual Remdesivir production at this point.
Abbas Yar-Khan:  Taketa has been collecting convalescent plasma from all over US.  "We separate antibodies from those who have recovered, which will help us develop a therapy to help people recover from the disease.  We are doing clinical trials and preparing for worldwide distribution.  We have 36 manufacturing facilities globally.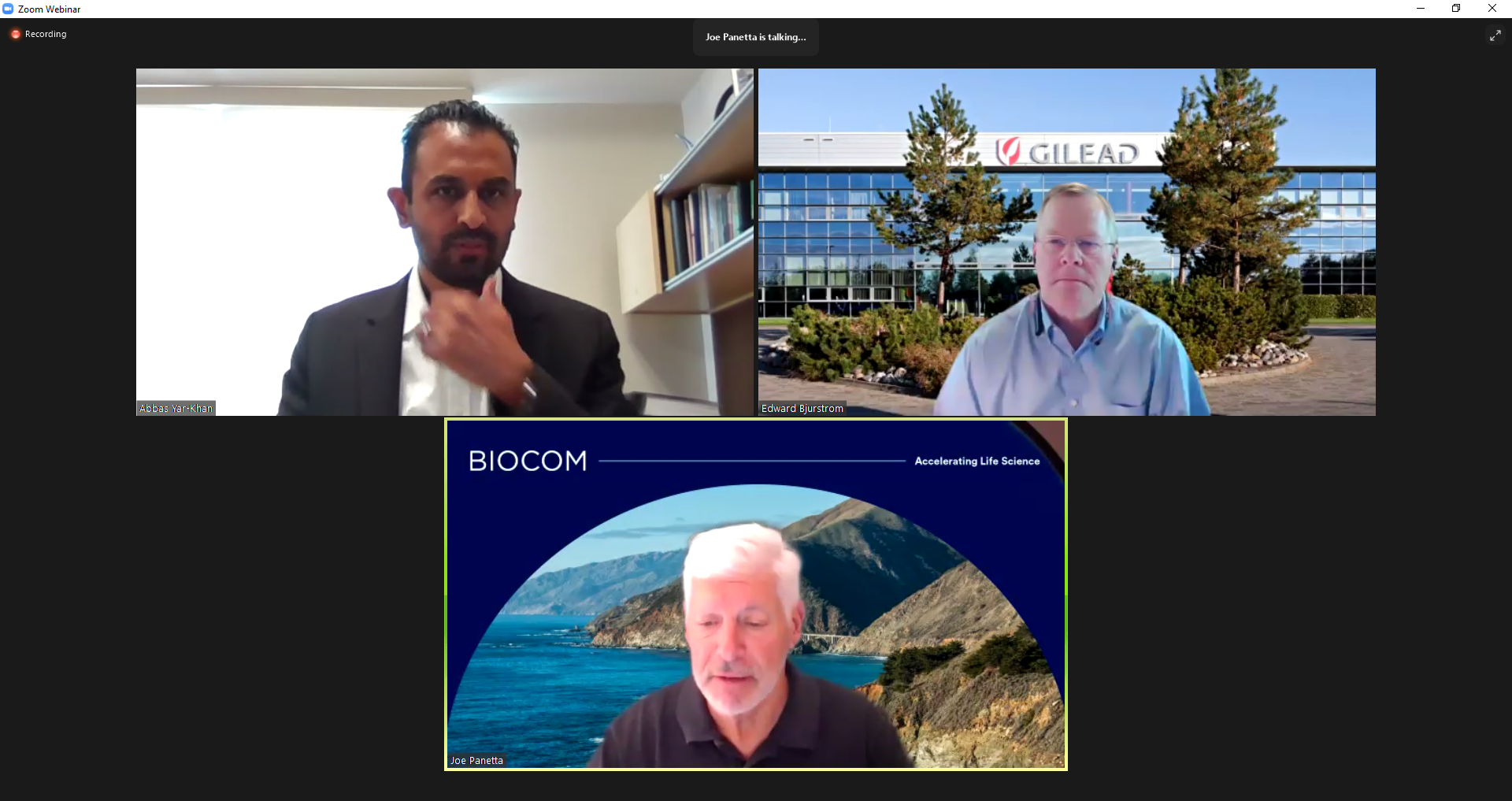 On the topic of workforce:
Ed Bjurstrom:  Gilead is in an unusual circumstance because we are transitioning from our 30-year facility in San Dimas to the new facility in LA Verne.  We've grown, and hired a significant number of contract workers as a bridge strategy as we transition facilities.  We employ approximately 500 direct, and 300 temp employees.  Of those, 60% are not degreed but highly skilled.  Manufacturing workers receive approximately 3-9 months of training once hired, even for those with experience because Gilead has unique processes.  He mentioned there are about 100 people working in the labs, with a fairly diverse ethnic composition, who live throughout LA County.
Abbas Yar-Khan:  Takeda also has about 1,000 employees locally, with 1,800 in California.  We have a variety of employees, a large percentage with high school diploma, some with a science degree required for other jobs, and some Ph.Ds which serve in science roles.  Takeda has been successful working with community colleges like LA Valley College, LA Mission College, Pasadena City College to help shape their programs and find talent.  He said the diversity at Takeda is strong.
Hiring during the pandemic?
Ed Bjurstrom:  we've hired 36 during the pandemic, some of which were temps who were moved to permanent positions to expand operation.  We anticipate expansion at the new facility, and other changes in product mix that will require hiring.
Abbas Yar-Khan:  We just expanded capacity to meet the needs during COVID.  We have about 30 open positions across all areas, including maintenance, QC, labs, etc.  We kept our internship program during COVID and will continue that.  We continue to stay connected to the colleges and universities.
Operations during COVID?  Constraints and impacts?
Ed Bjurstrom:  We have been operating with 20% of our staff working remotely.  At the manufacturing facility we need most people onsite.  But we spread people out with off-shift work.  We screen arriving workers with temperature and sanitize during the day, observe social distance, wear masks, and Gilead has not had any COVID transmission onsite, although people were exposed externally and they quarantined, so we've done quite well.
Abbas Yar-Khan:  Our workforce is currently about 40% remote.  The QC and production teams are on site.  He mentioned the same safety protocols as Gilead and the same results of no COVID transmissions onsite here in LA County.
Ed Bjurstrom mentioned how inspired he is that Gilead is making a difference in the fight against COVID,  and recounted an example of a pregnant woman who was very sick, and the hospital doctors' goal was to keep her alive long enough to deliver her baby, but after receiving Remdesivir she walked out of the hospital two days later.
New "Why LA Bioscience" web portal unveiled
LAEDC senior director of workforce development Jessica Ku Kim and Carolyn Hull the General Manager of City of LA EWDD spoke briefly about the City of Los Angeles commitment to bioscience, and the partnership to launch a new bioscience web portal known as Why LA Lifescience, which will serve the local industry and facilitate partnerships when it launches in the next 30 days.  Walter Bonnett at agency Dean Houston demonstrated the website and talked about its goal of building a community and serve as a resource hub to all participants in this industry, to build connections.  The website's main focus is to create talent and workforce connections and host an interactive map with custom layers to search for all types of assets in the industry, from businesses to educational institutions to incubators and more. The map includes a lookup tool the help strengthen awareness of resources and connections, with tag search that will allow deep drill-down into specific lifescience topics, NAICs codes, and more.
The talent development side of the Why LA Lifescience web portal allows identification to local talent development sources and institutions including the community colleges.  All the 19 local community colleges are included with links to the lifescience or bioscience pages of those colleges to make it easy to dive deeper into those talent pipelines.
Jasson Crockett, who is City of LA's lead for the bioscience ecosystem said, "Our hope and dream for this mapping web page on Why LA Bioscience is that people from outside the region can get a grasp of the many amazing companies in this region that are leading this industry, and those in the region can grow their innovative business and tap into investment and other connections."
Jessica Ku Kim also mentioned apprenticeship and pre-apprenticeship opportunities, such as the BioFutures program, which will be included on the new website.  "We want to ensure our workforce systems are tuned to the opportunities in the industry.  We will be convening the Bioscience Workforce Development Council to drive progress on that in the near future."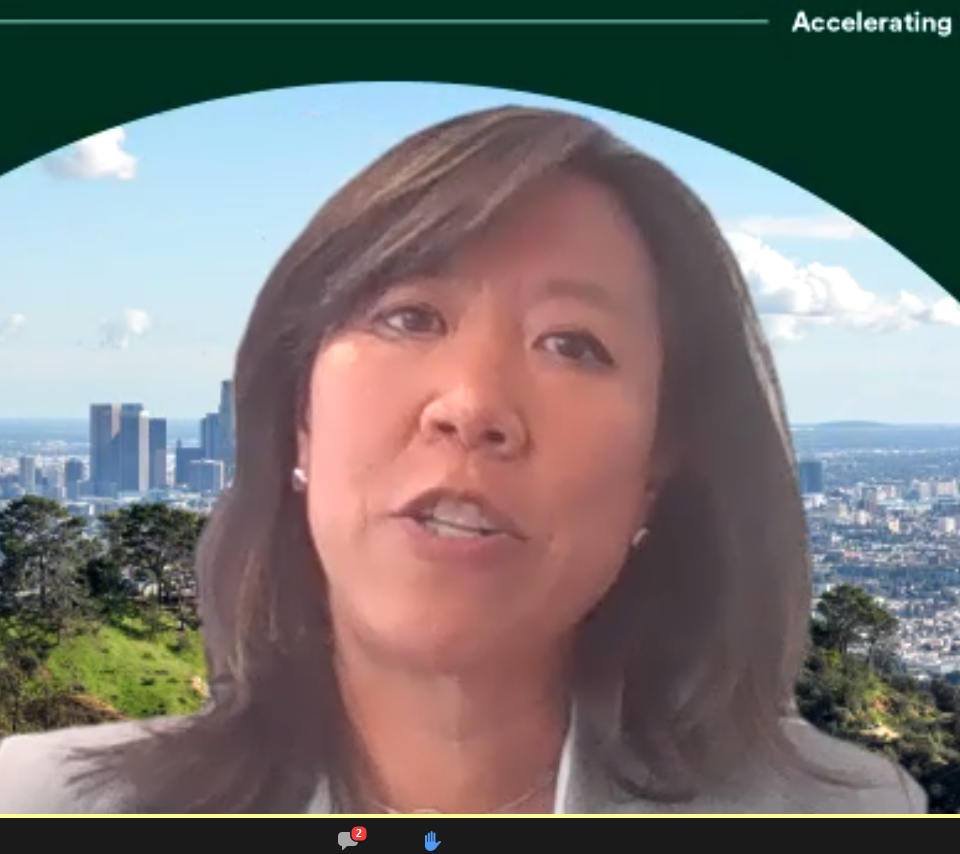 The closing was delivered by Biocom's new executive director for the Los Angeles region, Stephanie Hsieh.  She said, "As you think about all you've heard, think about all the great talent we have here.  We've only begun to scratch the surface – there is so much opportunity and potential for LA.  I want to color in that vision.  Reimagining and reinventing what a lifescience hub can and should look like.  Traditionally, when we think of bioscience we think of research and medical devices.  I want to think beyond that, such as fledgling bio renewables industry.  There will be more subsectors we haven't even discovered yet.  Wearables, and so much more…  We need to continue to foster and support more of that innovation, at the intersection of healthcare and lifesciences, and I think of Los Angeles County not just as a premier lifescience hub, but a model for what future hubs should look like.  It's going to take more collaboration.  Its going to take even more expansive workforce development programs.  It's going to require additional targeted investment in infrastructure and building a more tightly knit community, including everyone of you out there.  We're all in this.  Think about what your role will be to turn this cluster into a robust ecosystem."  She asked people to reach out to her and contact her.
####