As the digital media and entertainment industry in Los Angeles pivots and adapts its model, will these market disruptions and strategic pivots become permanent mainstays?
These topic was explored at Future Forum:  The Future of Entertainment, which was hosted by LAEDC and CSU Dominguez Hills on October 15th, 2020.  Here is a recap of that event.
Themes that dominated the discussion were the rapid market innovations around gaming platforms and VR, which are serving as a new content environment for many types of entertainment, in place of in-person events, with major ramifications for distribution and engagement channels.  The dramatic shift to streaming services was also discussed, along with other hot issues related to production in a pandemic.  Speakers included:
Andrea Berry, SVP/GM of Broadcast, Film & Television, Production Resource Group (PRG)
Mike Drath, COO/CFO of West Hollywood-based Pluto TV
Keith Arem, CEO/President of PCB Productions
Guillaume Aretos, Dept Chair, Entertainment Design, ArtCenter College of Design
Ian Eddleston, EY Partner, Global Media & Entertainment, Ernst & Young
Dr. Thomas Parham, President of CSU Dominguez Hills (event sponsor)
Shane Cullen, LAEDC events director (moderator)
Bill Allen, CEO of LAEDC (event host)
WATCH THE FULL VIDEO HERE
Dr. Parham, President of CSU Dominguez Hills framed the discussion by observing that reimagining LA's industries has become essential and is creating seismic impacts, such as new paradigms for streaming and closer ties between gaming and other forms of entertainment, as video games, music and other media adapt to overcome the disruptions to other forms of production. With a focus on adaptations to recover from these setbacks, he noted these disruptions are also driving change in CSUDH's academic programs in digital media and arts, theater arts, and music, for example.  He voiced the hope that as businesses pivot and grow they will make intentional efforts to address social justice and representation, to help all aspects of society and help make more jobs, capital and innovation become available to a racially diverse LA population.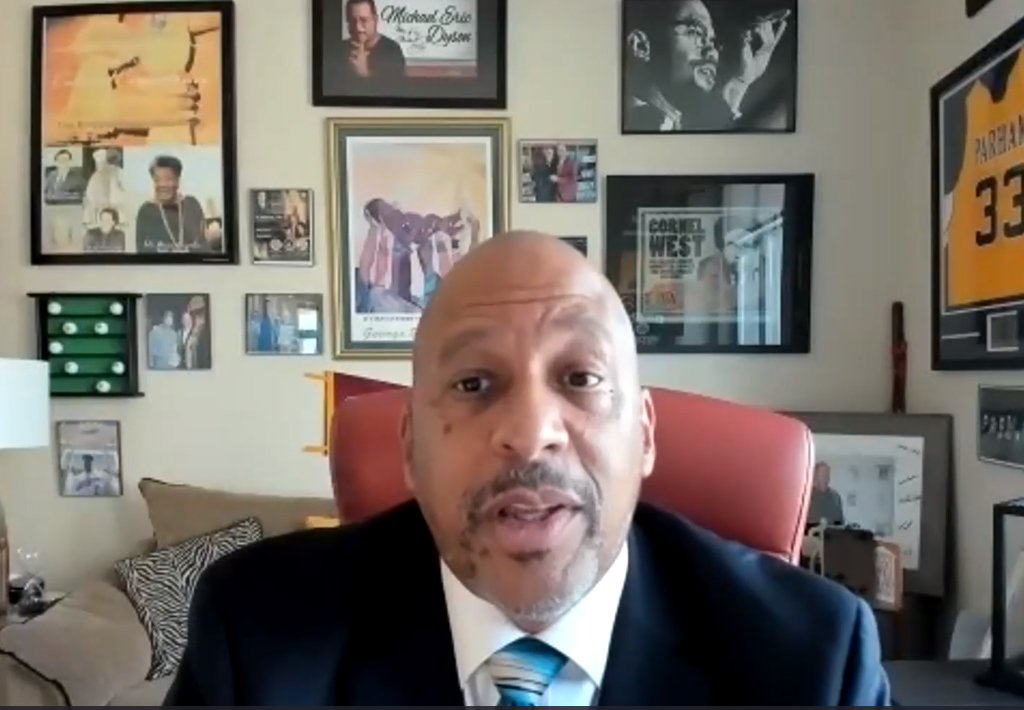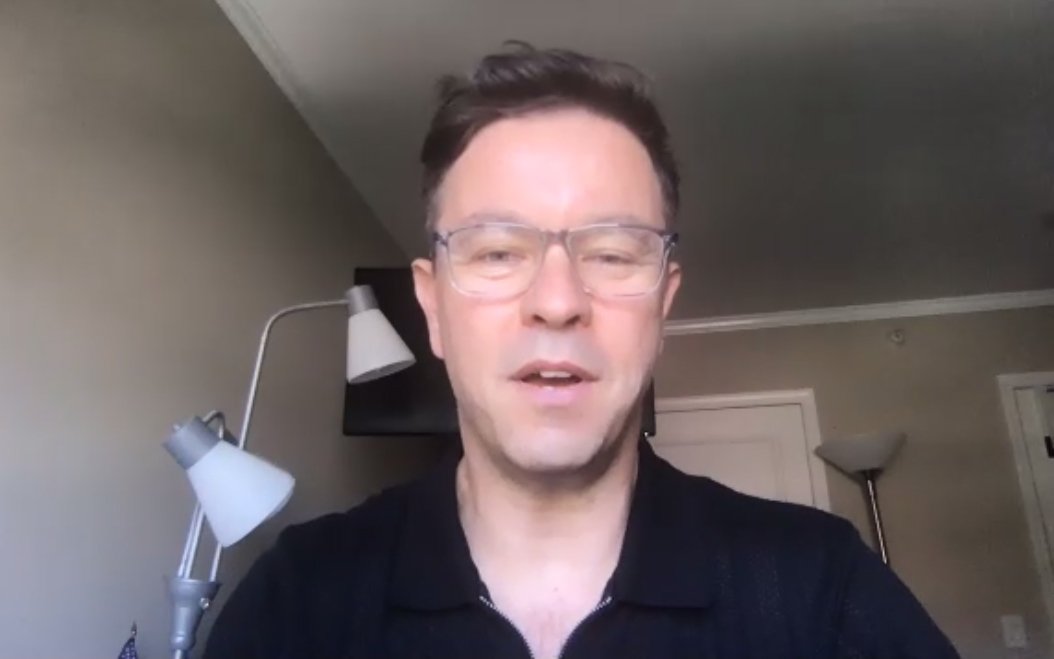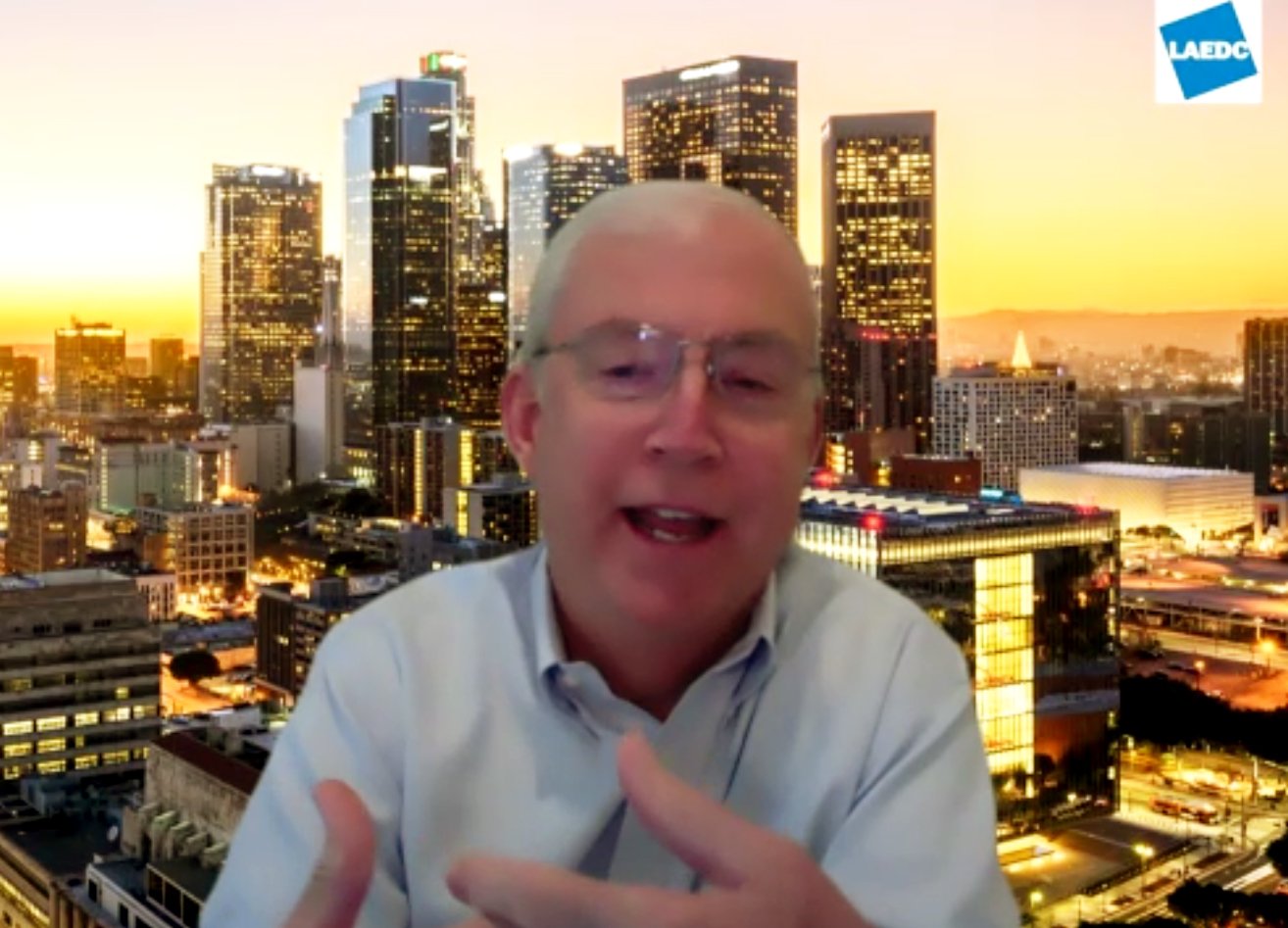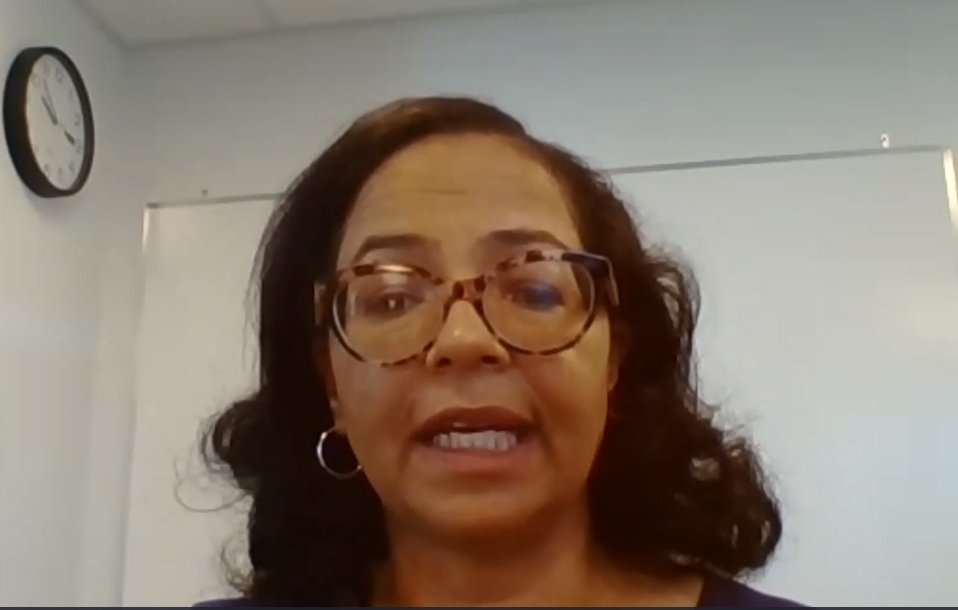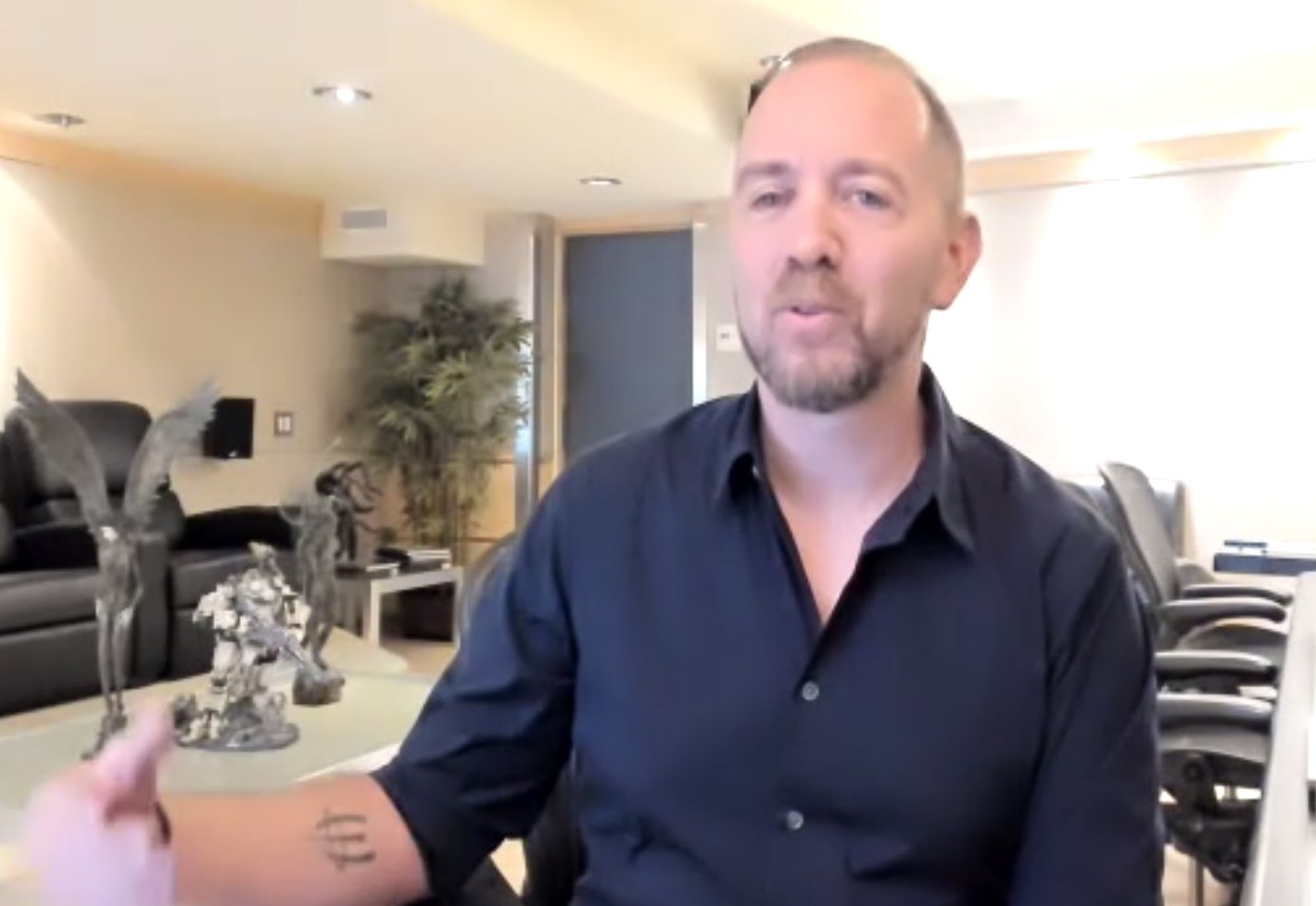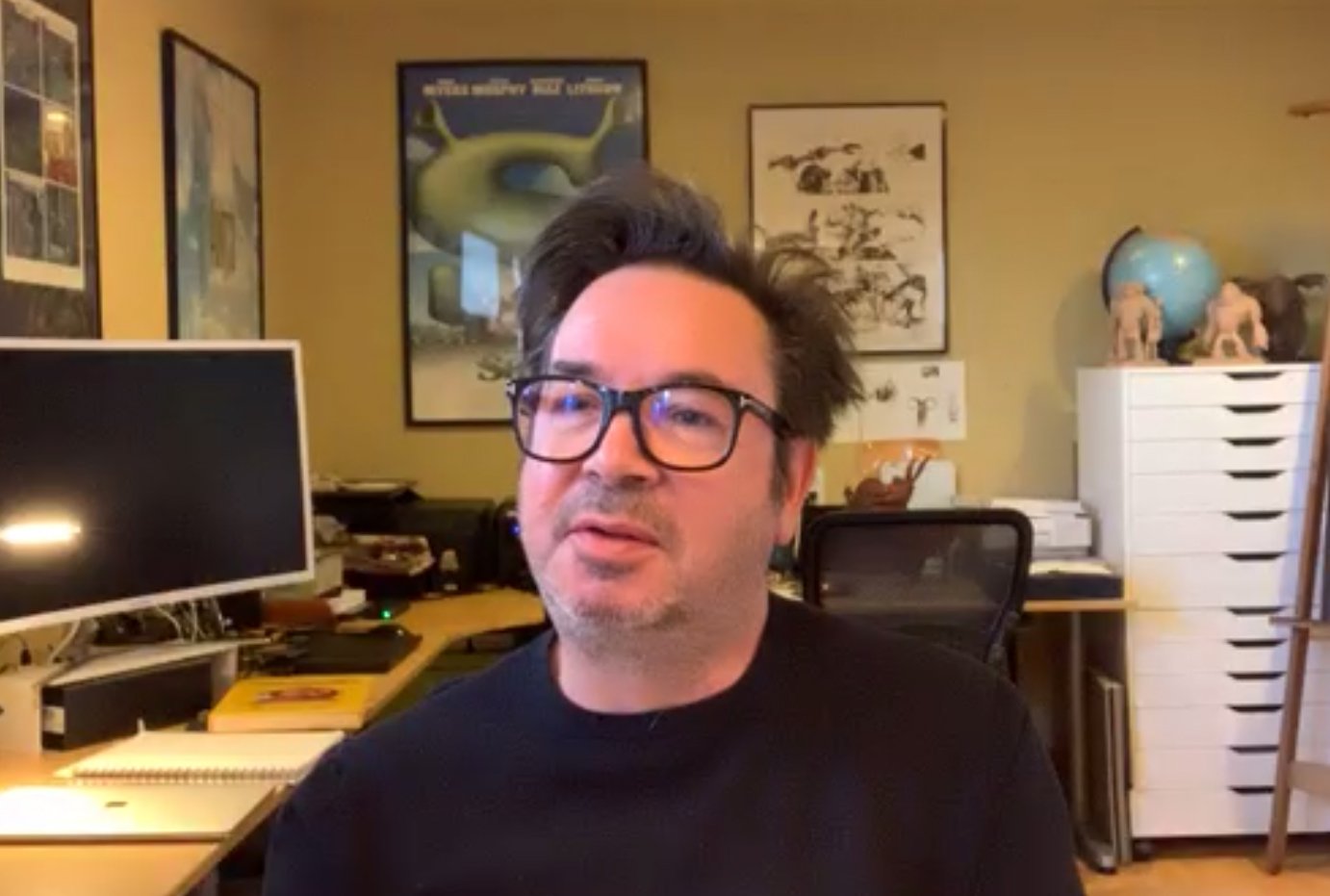 Mike Drath at LA-based Pluto TV, which is a free, streaming content platform, spoke about their business origins in 2014 as they aggregated all kinds of short-form content, such as from YouTube, and developed channels.  More recently they have added distribution and added advertisers.  When acquired by Viacom, it married a fast-growing innovative startup, free ad-supported streaming TV, with a massive library of iconic content and advertising relationships, and helped develop a scaled direct-to-consumer proposition.  In late 2019, the Viacom merger with CBS added even more content to the Pluto TV library.  With over 200 content partners, Pluto TV is now the largest, free streaming TV service in the market, according to Mike.
Mike said the average U.S. household has 4-5 paid viewing subscriptions right now, and Pluto TV adds a free offering to that mix.  Pluto is gaining users as well as content acquisition and distribution partnerships.
Mike said, "The pandemic and stay-at-home orders have been a catalyst for audiences searching for what to watch, and new ways to do so."  He noted all streaming services saw increases. "The economic impact also affected many people's wallets, and our free-to-stream was an increasingly attractive proposition for all kinds of audiences." Pluto TV saw a massive increase in viewership especially in its news channels.  In the middle of COVID, Pluto entered 17 markets in Latin America, and more international expansion is coming.
Andrea Berry, SVP/GM of Broadcast, Film & Television, PRG, talked about the company's set and stage design and manufacturing operation that thrives in the scripted and nonscripted TV market, in sports, music tours, theatrical productions, corporate events, and more. When COVID happened, "We had to pivot in our business, but we didn't stop. PRG leveraged manufacturing capability to help businesses safely reopen," using the expertise of scenery manufacturers to address the COVID challenge, primarily by manufacturing face shields and temperature scanner kiosks.  As COVID hit, the company also pivoted to doing virtual sets and virtual stages that are being used in the entertainment industry. "We saw the requests for streaming increase tremendously…. The music industry took a hit and the artists needed ways to perform for their fans virtually.  We built an XR stage here in Los Angeles," which led to an American Idol Katy Perry project.  Today, PRG has improved on that XR technology and are using it in many parts of the entertainment industry, and have built a second XR stage.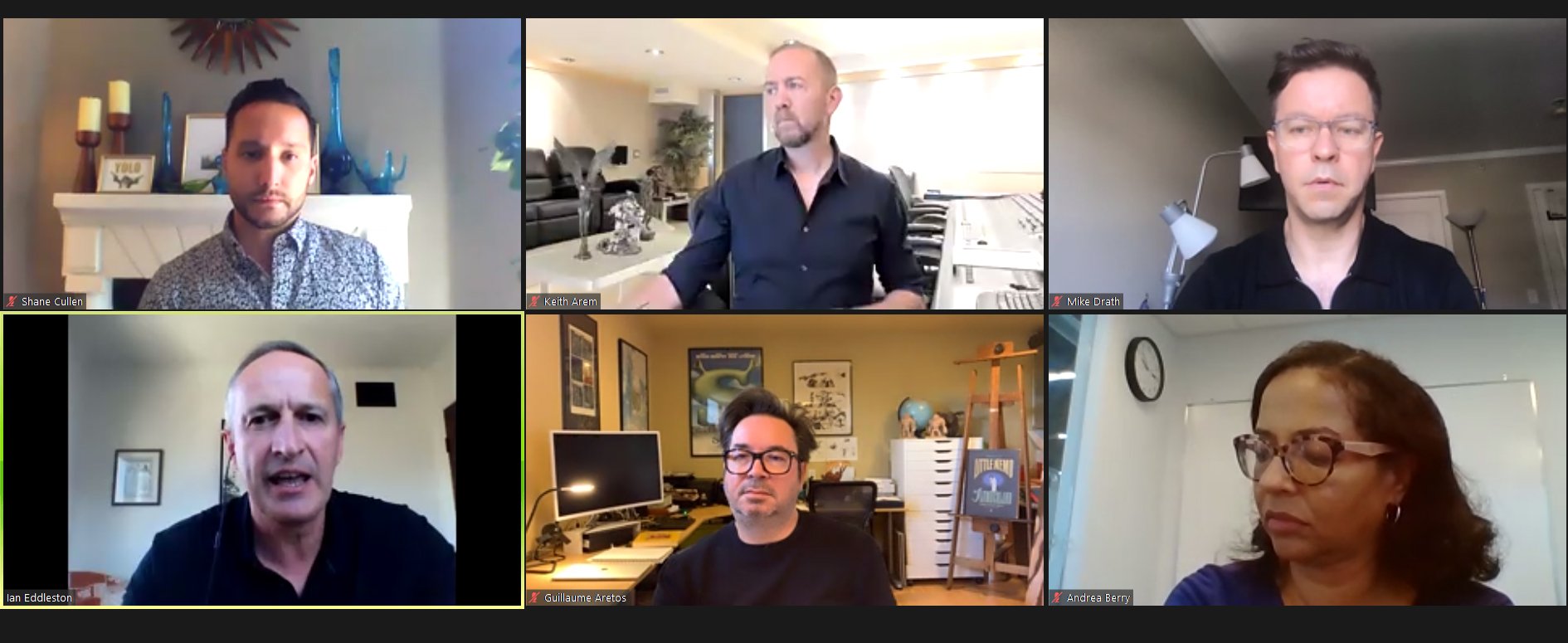 Ian Eddleston with Ernst & Young discusses shifts in the industry
Keith Arem, CEO/President of PCB Productions talked about the motion capture technologies and related animation and video production industries.  At PCB they incorporate virtual production and new pipelines for entertainment such as actors and designers to create large entertainment franchises.  " COVID has actually been a boon to our industry… we have new original programs, new original games in production, a new TV show…and we are seeing a huge uptick in audiences."  He mentioned PCB's staff tends to work in a remote work model anyway, so the pivot during COVID wasn't as hard.  "We created location rigs for our actors and celebrities to work comfortably and safely at home, and PCB's studio systems interact directly with those actors, and we are also now teaching technical acting so they can learn to work within our game industry…which has revolutionized our business because it allows us to work direct with talent," and helps actors learn how to work in these technical environments.  Work in video games requires a specific set of skills and talents with constraints that need to be learned.
Guillaume Aretos, Dept Chair, Entertainment Design, ArtCenter College of Design, who worked in production at Dreamworks for 20 years on films such as Ants, talked about ArtCenter's new games program, new animation program, and the extraordinary challenge that everything is now remote.  The college is trying new things like VR classes to get students more engaged in the visual world.
Ian Eddleston, EY Partner, Global Media & Entertainment, Ernst & Young said that a lot of businesses have needed to launch direct to consumer services and many have become buyers of content, which has created opportunity and changed dynamics of how the industry works.
"The increase in demand for content during pandemic has driven a lot of demand and opportunity."
Companies have been experimenting through necessity with direct consumer relationships, and that has disrupted distribution channels and strategies.  The explosion of OTT services and those direct consumer relationships has been dramatic.
Mike (Pluto TV) mentioned the crisis is unfortunate, but COVID really supercharged the dynamic of people cutting the cord and using streaming services, accelerating what was already going to happen.   "From an operational perspective… unknowingly, we were pre-prepared for remote work… we're all on the cloud, we're all able to work from home, everything is very mobile and nimble."  Having said that, Pluto is a tight-knit work team and the LA Team was all in one place.  But the company was able to flip to working at home, using Zoom, and worked on issues with employees to help employee health and financial benefits to help them through this difficult situation and help them get through the hardships, even with fun activities. "Pluto benefitted from all this change, but it only accelerated changes that were already going to happen."  He said he is very optimistic about the future.
Andrea (PRG) said, "People did not cancel what they had lined up for spring, they merely pushed everything back, and so we had to change and say, OK, what can we do as good citizens to help with this pandemic, and that's how the mask making and thermal scanners happened," while they had a lull in activities that had been postponed.
"We didn't know how long this would last," and nobody could imagine cancelling all these entertainment and sports events. "We had to pivot and when we saw the increase of streaming, we reallly transformed what we were doing.  We were already doing streaming before and this just kicked it up a notch."  Her team thought about how they do things and really transformed the ways it services customer thru virtual events.  So they streamed content, ranging from corporate events to music releases through YouTube and other platforms, which required a lot of engineering testing, but "it brought us together as a company and we were able to collaborate all over the globe," which in some cases even saved money.
Regarding crossovers with gaming, such as music artists hosting concerts within gaming platforms, or gaming platform rooms becoming their own content,  How has this changed the industry?
 Keith (PCB) said, "Its amazing what happened to our industry."  "On the production side, (remote work requirements) allowed our technology to be used in the way it was designed for.  Game development is a hive mind project…a collective project… and we are accustomed to working in our own offices on our own specialties… so production actually went up as we collaborated with people all over the world… and it expands our social circles to a point where our industry is exploding with creativity."  Referencing gaming, he also said that homebound audiences especially younger audiences like kids who are stuck at home now have the control to do things virtually, where they can't in real life.
"Despite how horrible the pandemic has been…it has been a rebirth of technology and opportunity for people, and an opportunity for people to grow."
Guillaume (ArtCenter) said, "How we work with the students is changing continuously.  We always need to stay alert, and this means good things for our students.  Animation is thriving, all the studios are remote, the kinds of flexibility and adaptation are significant.  "Now, a young artist can build a set in CG and compress production time substantially.  "Different ways of shooting, the use of tracking cameras in a completely virtual world, (mentioned The Mandalorian)… all of this has an impact," and ArtCenter is continuously watching and adapting.
Andrea regarding gaming crossover: "There's a huge boom in the virtual in-game concert.  We just did a collaboration on our XR stage with Epic Games and Fortnite, and they launched a spotlight concert series inside Fortnite Party Royale.  It was a virtual concert, with artists using Unreal Engine, so using gaming technology to create that 3D world for artists to perform in.  "This is all going to increase fan engagement," via gaming (multi-player platforms).  PRG has partnered with gaming platforms for distribution and it is becoming very successful now.  So gaming platforms and consoles are creating the virtual environment in which performers entertain, such as with concerts.
On the topic of why the industry is flourishing in Los Angeles and attracting talent and investment
Mike:  Pluto was born here in LA, even though it is a distributed team.  "We would like to see incentives and infrastructure to attract more talent into the region."  "This is the hub where streaming began – Hulu, Netflix, you name it — and the heartbeat of the creative community.  We are at the intersection of creativity and technology." He said that increasing the talent pool will help the industry remain strong. "Whatever can be done by those who can make changes… to ensure that we have the best engineers, data scientists, product people in the local community," suggesting it will help our industry stay competitive.  He also indicated that Pluto TV is hoping to support the community more, they are on a hiring spree and are excited about the amount of people they will be hiring in 2021 so we would like to see the local education community support that need.
Ian:  Netflix has attracted a lot of people here to LA, Amazon Studios has a big presence here, so anyone in the business looking to converge into the DME industry is putting people here.  On the production side, runaway production and cost considerations have been driven by tax incentives and credits and if we focus on that side of the business – production – that will continue to be important as we emerge from the pandemic.  Once travel becomes easier again, the local policies and practices will become more important to maintain entertainment economic activity.
On the topic of skillsets and talent that are needed in the industry:
Andrea:  "The skillsets are changing… engineers, data scientists, we need university programs to parallel what will be needed in the workforce."  With gaming, virtual productions, VR, she said we are finding technologists are being more creative, and that STEAM education is becoming more important as technology – left brain – and creative thinking – right brain – become more integrated.  This is a time for LA to shine based on these changes.
Guillaume said college curricula is changing.  "It has been a hope to have real-time rendering of a quality you can put on screen.  We are getting closer, and student short films are one area we are adapting to that.  A lot of artists now are using VR, using Gravity Sketch and other tools.  Our students use those tools to their maximum advantage.  They need to produce quickly in this market, and they gain an edge with these skills."
Mike (Pluto TV) expressed his view that the talent pipeline exists already, the education exists so he wouldn't change the curricula, especially emphasizing programs that churn out data science, analytics and engineering talent.  "We just wish there were more of them …we are hiring so quickly.  Particular skillsets like machine learning or artificial intelligence within data science, certain specific skills are hard skills are hard to come by," in the candidate pool.  Mike said Pluto sometimes relies on outsourcing talent outside of LA as needed and it would be nice if there was more home-grown talent.
On the topic of their company perspective on diversity and inclusion in the industry:
Mike (Pluto TV) said, "I think where we can have the most impact is in our product and service — we offer a wide array of views and opinions, content that challenges convention, and thought provoking and inspirational content." He also said Pluto's perceived neutrality is important.  "Advocating for social change… our product and content speak for themselves… we have made substantial shifts within content genres and demographics groups our content addresses."  "On the talent side, I think we have some work to do…. We are being led in a very thoughtful process by our parent company… and there is a huge amount of attention to address inequities within our own workforce, imbalances… and we are making inroads into recruiting in nontraditional locations, making Pluto visible to underrepresented communities.  We are seeing more kinds of people and the doors are wide open…"
Andrea (PRG) said, "I think there is definitely a lot of work to do, we need to start by letting people know the opportunities are out there."  She said the sports video group is going into colleges to explain to students what kinds of careers there are in entertainment — the behind the camera jobs they aren't exposed to.  "We're getting to the point now where (diversity) has got to be the norm for our businesses to survive….  Young people want to see it."
Bill Allen, CEO of LAEDC closed the event by thanking CSU Dominguez Hills.  He mentioned LAEDC's next Digital Media Entertainment industry council (DME) meeting will be December 4th.  He also extended the talent conversation by mentioning Center for a Competitive Workforce is an LAEDC initiative in partnership with LA's community colleges to create the talent pipelines that support growth of the exciting businesses in LA's DME industry.
Thanks for attending!