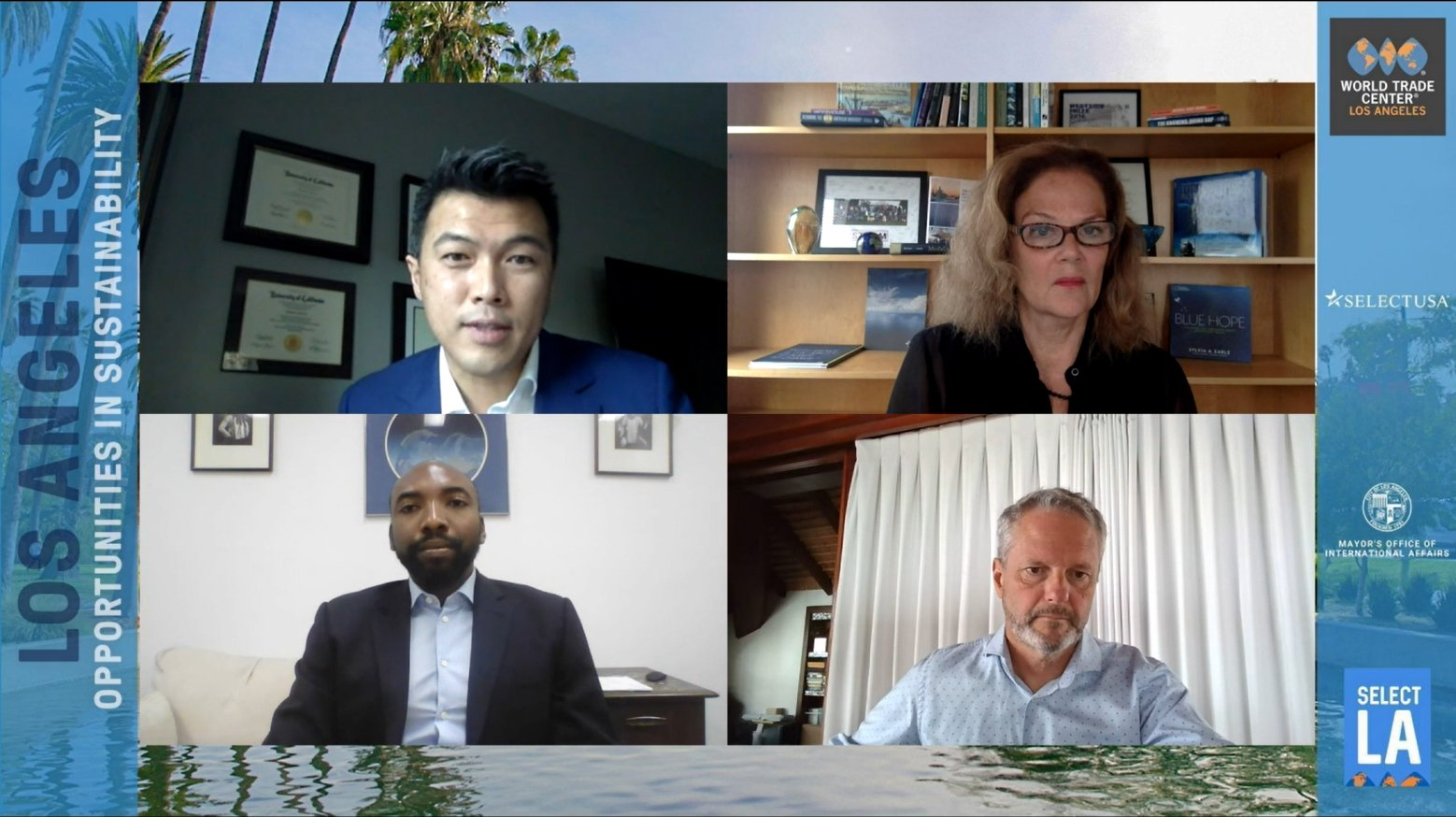 On September 24th, World Trade Center Los Angeles (WTCLA), LAEDC's subsidiary, hosted "Los Angeles Opportunities in Sustainability," a program designed to help investors explore some of the many paths to become involved in the rapidly growing sustainability industry sector in the region.  With significant government policy driving mandates for adoption of new technologies, we are entering a new California "Gold Rush," as local businesses look to scale quickly to meet the opportunity, and massive infrastructure projects are announced that will require public-private partnerships.
In the past days and weeks, California has mandated that all passenger vehicles must be zero-emissions with increasing amounts of purchases every year, a new green freight policy was adopted that will require freight transport to become green, and the City and County of Los Angeles have accelerated "Green New Deal" policies and planning, which are driving major transitions to new technology in the transportation industry, built construction industry, energy industry, and water infrastructure industry.  This wave of announcements, mandates, programs and projects is driving new innovation, new technologies, new companies, new investment, new deployment models, and new markets.  Because of the deep talent pool, government support, and history of innovation in sustainability, Los Angeles is already a globally recognized center for all this activity that will lead to extraordinary export opportunities to a global market that is expected to grow exponentially in demand for these products, services, technologies.  All this activity serves to create well-paying jobs in the Los Angeles region, while advancing LAEDC's goals for sustainability, resilience, equity and more widely shared economic growth.
Stephen Cheung, president of WTCLA and COO of LAEDC introduced the speakers, and thanked Select USA and Mayor Garcetti's Office of International Affairs at City of Los Angeles for their support of this virtual event.
Bill Burwell, Deputy Director of the Select USA conference, spoke about the focus on attracting foreign direct investment (FDI) and noted that it is driving billions of dollars per year of projects and opportunities in the U.S., and he welcomed people to attend this coming year's SelectUSA, June 6-9, 2021.  Select USA has partnered with WTCLA for six years on the Select LA Investment Summit, which is hosted in Los Angeles and serves as an essential platform for businesses seeking to secure foreign direct investment (FDI) opportunities and gain exclusive insights into market trends and deal flow throughout the Los Angeles region.
Ambassador Nina Hachigian, Deputy Mayor of International Affairs at the City of Los Angeles talked about the importance of addressing climate change.  She reminded us that Mayor Garcetti is chair of C40, the consortium of 40 top metropolitan cities across the globe committed to GHG reduction and climate action.  Mayor Garcetti knows the importance of working with leaders around the world on these issues.  The Ambassador talked about the City of LA Green New Deal, which will lead to a more equitable and just society that delivers good jobs.  It is a driving force for a zero emissions electric grid, zero emissions transport, zero water waste, zero emissions buildings and related sustainability goals.  She spoke of the new Eland LADWP electric generation project which raises LA's clean energy portfolio from 32% to 40% of total generation, and touted the most aggressive feed-in solar tariff program in the country, which incentivizes residential and commercial solar.  She also mentioned the record number of EV chargers being installed in the city, the city's recent order for largest amount of EV buses in history, and the investment of $2B to expand the Hyperion water treatment plant to improve recycled water delivery.  All the projects in the LA Green New Deal serve as a market driver that provides opportunities for investment.
Tom Buttgenbach, founder and CEO of 8Minute Solar Energy, talked about shaping the future of solar energy.  The company has set the record for lowest cost of solar and lowest cost of solar-plus-storage, with its team of over 100 engineers, scientists and developers.  The new 8Minute and LADWP project, "Eland" will provide 7% of LA's power, with a battery building alone of 20 acres in size.  "Los Angeles is now the epicenter of the new clean energy transition that we are pushing forward as a company," he said, and also mentioned that LA is a great place to do business, because of the talent available in LA. "LA is the best place to recruit, re-innovate and drive new technology forward.  I couldn't think of a better place to do business for innovative work such as this."
"When you have a company that is disrupting a 100-year old sector, it is essential that you have support from leading institutions like LADWP and City of LA, to help deploy technology and show how it works."  Since the announcement of Eland, 8Minute has received a lot of inquiries that are leading to new projects throughout the US, and the talent the company can find in LA is allowing 8Minite to expand both nationally and internationally, according to Buttgenbach.
The next speaker was Jenny Krusoe, founding executive director of Altasea, which is a leader in convening the research, innovation and commercialization for the ocean or "blue" economy, with the goal of a more sustainable and equitable world.  Altasea is still in the process of being built at Port of Los Angeles, including massive, historic dock buildings and a very large pier for direct access to the ocean.  Altasea offers significant investment opportunities, including long term leases with very competitive long term lease rates.  Krusoe spoke of the game-changing mission and asked people to join its network.  Sustainable aquaculture and marine robotics are a current focus, as Altasea's vision of the blue economy is focused on food security, energy security, mitigating climate change, and opportunities to advance science through marine research.  Krusoe quoted LAEDC's recent study on the Ocean Economy in Los Angeles, which projects there will be 126,000 jobs that pay well by 2023 in LA County alone.  Altasea is helping small and startup businesses already on initiatives such as sustainably raising seafood.
Kingsley Afemikhe, CFO of Xos Trucks, spoke next.  Xos, an LA-based electric truck developer and manufacturer is leading the way on many fronts, and already has trucks deployed with UPS and other customers.  He remarked that LA has become a hub of activity for the EV industry. In fact, LAEDC's recent report on the EV industry in California found there are already 120,000 direct jobs in the EV industry in Southern California, with several dozen local companies driving innovation in the rapidly expanding market, with sales driven in part by the significant procurement from regional municipalities and fleet operators.
Kingsley said, this is the year that the climate crisis really became real.
The accelerating change in shopping habits is contributing much more to pollution and GHGs than previously, due to home delivery, and XOS is focused on last-mile delivery which is a key part of that logistics proposition.  EV trucks have a lot of advantages, with fewer moving parts, less maintenance, quieter operation, and of course zero emissions.  Fleet delivery trucks also return to home every night which is a perfect paradigm for over-night charging.
He spoke of the Xos Trucks serving a range of applications, from medium duty to heavy freight trucks.  The technology, platform, and software are developed inhouse.  The company is still scaling and recently announced an influx of investment, and LAEDC believes more will surely follow as the company grows.
Learn more about the EV industry in Los Angeles by attending meetings of the e4 Mobility Alliance, LAEDC's industry council that supports growth and success of the companies, talent development, and sustainability, equity and resilience benefits that are realized as this industry scales.
To close the WTCLA event, all the panelists spoke of the great assistance that local government has provided to help them grow successfully, and the incredible university system in Los Angeles which includes three of the top world-ranked universities, along with over 100 other universities and colleges with varying specialties.
To request the assistance of WTCLA to help your investments into the Los Angeles region, please contact Mike Smith with WTCLA, at [email protected] 
Also visit https://WTCLA.org  and https://selectLA.org