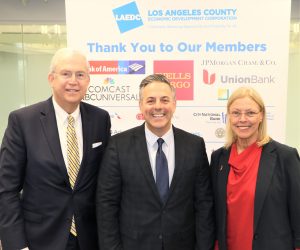 LA City Councilmember Joe Buscaino discussed port automation and LAEDC's Shannon Sedgwick previewed LAEDC's Ocean Economy report
LAEDC's January Board of Governors meeting gave members one-on-one time with LA City Councilmember Joe Buscaino, who discussed port automation and related economic development topics, and Shannon Sedgwick, LAEDC's Director for the Institute for Applied Economics previewed LAEDC's upcoming Ocean Economy report.  LAEDC hosted the meeting at new conference facilities adjacent to the lobby of our building, which we will be using more often in the future.
Councilmember Buscaino said "My community, the port community San Pedro Wilmington is home to thousands of longshoremen and women who work the docks, moving 40% of all the imports coming into the United States, and their jobs are threatened as more terminals are automated.  The ILWU is legitimately concerned about the impact of automation on their jobs, while terminal operators are legitimately concerned about losing market share."  He also noted that McKinsey says unmanned vehicles and related equipment would result in the loss of some 500 "work opportunities" daily over two shifts for union members.  Buscaino indicated it is a challenge to sort through this issue, and he indicated that more study is essential to find solutions.  On the topic of jobs, he went on to offer some perspectives about the "blue economy" (aka Ocean Economy) offering  the idea that innovation, related investment, and focus on this economic sector will create new and globally valued solutions, products, services — and create new jobs which can increase the economic vitality of the region, including at facilities like AltaSea, located at the port, which will incubate dozens of new companies.
To that point, LAEDC's Shannon Sedgwick discussed the upcoming LAEDC report on the Ocean Economy.  The report, due this spring, will explore for the first time this vibrant sector which takes advantage of our coastline for various economic activity.  While the innovation-related jobs are presently a small component of that sector, those businesses are growing and creating more jobs.  This report represents the first time in recent memory that LAEDC has announced a new industry sector that we will track and support, and Bill Allen also announced that we will begin the work of standing up an industry council focused on support of this sector.  For those interested, please contact Elsa Flores ([email protected]).  Stay tuned for the new report, which will post in the coming weeks.
In the near future, LAEDC will also be publishing a new report, detailing the economic contribution of Southern California's Electric Vehicle (EV) industry, which is creating a truly surprising number of jobs.  Stay tuned for that report's release, also in the coming weeks.  For questions about any upcoming reports, or to participate in the launch, please contact LAEDC's Lawren Markle ([email protected]).
Thanks to everyone for attending and we look forward to seeing you at LAEDC's annual Economic Forecast on February 19th.