A full house attended Future Forum on January 22nd to hear the key drivers in LA's aerospace industry, with a focus on space commercialization.  The panel also talked about the new Space Force military branch and how some organizations in Los Angeles will likely be involved, and speakers such as George Whitesides, CEO of Virgin Galactic previewed hypersonic passenger flight, while other topics included hiring needs and workforce development, in a tight labor market where there is a lot of demand for hiring skilled workers.
The full video of this event has generously been posted by CSU Dominguez Hills, our sponsor for the event.  Thanks again to President Thomas A. Parham and his great team.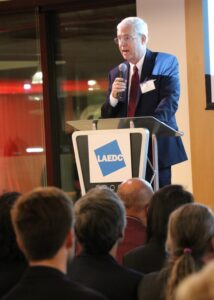 "LA is the nation's center for aerospace, it has the talent base, it has a lot of the capabilities.  You can drive a little north to be there in Mohave.  It is pretty unique to have all your engineers and test facilities so near by," said Steve Isakowitz, CEO of Aerospace Corp.  He continued, "I would argue that in America's space program, this is the most exciting time in terms of what's happening…"    Isakowitz spoke about the new US Space Force and suggested that it has big implications for Los Angeles, because SMC (Space and Missile Systems Center at LA Air Force Base) is the entity responsible for acquisition of all things we see in space.  He also suggested that other states in the US have interests in Space Force and will be vying to host various aspects of Space Force.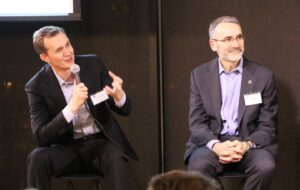 There was also significant discussion about the entrepreneurial activity in space commercialization, and Van Espahbodi from Starburst Accelerator described his role in ramping companies up into commercialization.  The reduction in weight and size of payloads such as satellites and reduced power consumption means that it is becoming economical for small companies to get into orbit, tapping into the commercial market for launch capabilities which includes numerous players now.
The commercial sector…has changed the cycle of how fast new capabilities come to market, and startups and entrepreneurs are designed to accomplish that type of progress…," said Espahbodi.   He continued," Space Force appreciates that how fast it needs to move," and suggested the entrepreneurial community can help Space Force move fast enough to keep up with threats.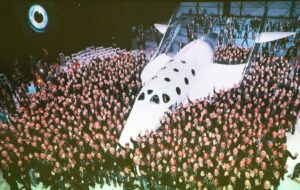 The role of additive manufacturing (e.g. 3D printing) in space will be significant, according to the panel, and there was even discussion of bioscience applications that require zero gravity, such as printing of human tissues which may include creation of replacement organs for health applications.  This was discussed as part of the massive surge in new applications and opportunities for space commercialization.
Re-usability of space assets like rockets and passenger capsules also was a hot topic on the panel, which touched on SpaceX ability to land booster rockets after launch, and George Whitesides talked about the economics of reusability, which will push down costs and allow more people and companies to be able to participate in the sector.
Speakers included:
George Whitesides, CEO of Virgin Galactic
Steve Isakowitz, CEO of Aerospace Corp
Paul Russell, the VP of L3-Harris
Van Espahbodi, cofounder of Starburst Accelerator
Mark Davidson, JPL's small business partnerships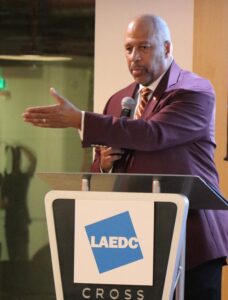 Special thanks to our moderator Linda Huber, Partner at law firm Nixon Peabody.  LAEDC also wishes to thank CSU Dominguez Hills and  President Thomas A. Parham for the continuing sponsorship of LAEDC's Future Forum.