On June 26th, 2019 the LAEDC and Cal State University Dominguez Hills continued their ongoing event series with the most recent Future Forum, hosted at Cross Campus South Bay and focused on the Future of Manufacturing.  Here are some of the big takeaways and what you might have missed.
The innovations are ready, but are we?
Los Angeles is a region with seemingly unlimited resources when it comes to innovation and cultivating industry development.  By far the most populous county in the United States, LA boasts an uber-talented and diverse workforce as well as support from some of the best workforce investment boards nation-wide (like
SBWIB
).
Our region is a major epicenter for culture, design, and tech, while also being geographically positioned to support both international and national trade markets. Look no further than LA's rapid rise as the state's third bio-science hub for evidence of how quickly our region can elevate can catalyze an industry.
So why hasn't Los Angeles rushed to the forefront of innovation with manufacturing? Innovative practices from local manufacturers like SpaceX, or the recent introduction of Clean Energy Smart Manufacturing Industry Institute by Mayor Garcetti, have only begun to scratch the surface, but clearly more is possible and could be on the horizon. Despite being the largest manufacturing center in the US and employing over 350,000 manufacturing employees countywide in 2019 according to Director of Public Relations & Marketing for the LAEDC Lawren Markle, Los Angeles along with the rest of the nation has been a bit hesitant to dive head first into the latest manufacturing tech.
There are 13 robots per 100,000 workers in Asia versus 9 in the US," said Rik Reppe, PricewaterhouseCoopers' Global Experience Lead and Keynote Speaker for the event. "15% of Asian Companies have deployed AI versus just 8% of US companies."
Where do companies struggle smart manufacturing most? The implementation according to Reppe. Its easier to play with, pilot and determine value with new technology. Changing the way we work and replacing aspects of our workforce has proven to be much more difficult in LA County and nationwide.
Supporting an agile workforce 
"Everyday on our campus we're supporting not just entreprenuership for those that want to create companies, but also the #intrapreneur who wants to solve complex problems within a company," Fynnwin Prager, Ph.D, @DominguezHills pic.twitter.com/ZXzI9KLTc8

— LAEDC (@LAEDC) June 26, 2019
Cal State Dominguez Hill has continued to be a leader in developing dynamic new entrants into our local workforce. CSUDH's holistic approach to creating student pathways has been a major contributor to developing a strong local workforce and supporting the industries which boost LA's economy.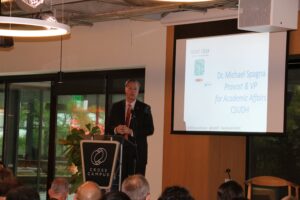 Not only does the university boast a strong entrepreneurial program, they also launched an 82-million-dollar "Center for Innovation in STEM Education" in 2017.
Contributions from local colleges and universities continue to add to the talent-rich environment which will inevitably start to feed into a more innovative future for manufacturing in our region. "We have been told manufacturing resources in this region are like drinking from a fire hose," said Fynnwin Prager, Ph.D, Assistant Professor, Public Administration College of Business Administration and Public Policy, California State University, Dominguez Hills.
With our local institutions working together to produce more forward-thinking and technology savvy graduates, the possibilities for smart manufacturing seem to be gaining significant momentum while building on a strong foundation.
How can a small business prepare to adopt new tech?
"The value of taking action with #smartmanufacturing is typically defined by 5 pieces: the right information, time, form, techonology, and people, coming together to create a collabortive road map for success" Shekhar Chandrashekhar, Ph.D.
Smart Manufacturing Lead, @CMTCSolutions pic.twitter.com/qVuj4KnkHe

— LAEDC (@LAEDC) June 26, 2019
There is an inherent hesitancy with new technology. It scares us. Ask Shekhar Chandrashekhar's mother, who was comfortable using an iPad before feeling completely intimidated at the prospect of using an iPhone. "The screen is a few inches smaller, besides that it's exactly the same technology," exclaimed Chandrashekhar, California Manufacturing Technology Consulting's Smart Manufacturing Lead describing his frustration with helping his mom get used to her new phone.
We all have our own reservations about how to move forward with technology, and businesses are similar in their guarded approach. "What is the smallest cost I can incur to start seeing results? Will this cost me a million dollars to make this change?" said Chandrashekhar of the questions he hears most often from their clients and throughout their vast partner network.
The key for smaller businesses considering smart manufacturing starts with abandoning the notion that technology is meant to replace the human element. "We all have a tremendous resource in our workforce. When we work with companies, we start by engaging the tech both strategically from the top down and tactically from the work floor up. We build a strategy on top of culture and only then do we ASK the group about their readiness for change. Build a strategy with your workforce and co-create a solution. Lay out a road map so everyone is engaged in every step"
Smart manufacturing isn't just about fluff — it's about the entire organization realizing the value add.
Solutions oriented
Rather than #virtualreality where users are completely immersed in the digital experience. #augementedreality and the industrial soultions we provide, bring digital content into YOUR space, where and when you need it." @danamorgs, Director of Market Strategy, @DAQRI pic.twitter.com/1q1qzqWTHg

— LAEDC (@LAEDC) June 26, 2019
The first cell phone was the size of a briefcase and only used by the military. "But for the right people that technology solved problems," said Dana Morgan, Director of Market Strategy, DAQRI. The only way to address the adoption curve for implementing new technology is through experimentation and feedback. "Give people who are responsible for operations the budget to explore and use the technology," said Morgan who says her team at DAQRI starts by identifying small victories.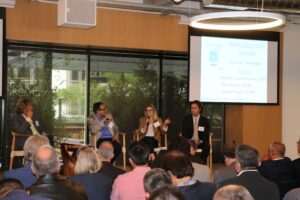 "How do you make a phone call right now on the work floor? Can we make that process hands-free? Can we make that process better for you?" Said Morgan of how she starts the conversation with implementing potentially cutting-edge solutions.
"We don't jump to the end-state. It's scary..its a vision and aspiration but it's also malleable when approached with the right context"