Over the past two years, The Los Angeles Economic Development Corporation and California State University Dominguez Hills have worked together to dive into burgeoning industries and topics that impact the everyday lives of Los Angeles County residents.
These Future Forums has been an opportunity to showcase and celebrate phenomenal instances of innovation from our region. However, as Los Angeles has grown as an epicenter for more and more industries, past forums have also provided a unique, in advance opportunity to consider the global implications of what's happening in our own backyard.
Join the LAEDC & @DominguezHills at @CrossCampus El Segundo for our latest #FutureForum Wed. June 26th at 9AM. Space is limited, registration now open!
Get 🎫: https://t.co/OnAM6FpWIg pic.twitter.com/wlvZ3j1ud8

— LAEDC (@LAEDC) June 10, 2019
As technological innovation and globalization take the economy in new directions, this region is destined to be an incubator for business opportunities that were only an entrepreneur's dream a few years ago.
Each Future Forum is a platform for industry experts and the community to come together to discuss the trends ahead, the workforce demands that will be required, and most importantly, the opportunities that will be available tomorrow.
Take a look back at a short history of the event series and join the LAEDC & CSUDH at the final Future Forum for 2019 on June 26th to explore The Future of Manufacturing!
The Future of Esports
April 24th, 2019
League of Legends Championship Series Studio @Riot Games HQ, Santa Monica, CA
Keynote Speaker: Naz Aletaha, Head of Esports Partnerships, Riot Games
Industry Experts: Rishi Chadha, Head of Gaming Content Partnerships, Twitter, David Freitag, Senior Associate, CBRE, Mike Milanov, Chief Operating Officer, Team Liquid, Irene Scholl-Tatevosyan, Attorney, Nixon Peabody LLP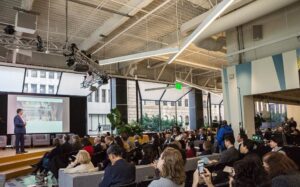 The Future of the Business of Aging
February 6th, 2019
Cross Campus Downtown, Los Angeles, CA
Keynote Speaker: Paul Irving, Chairman, Milken Institute Center for the Future of Aging; Distinguished Scholar in Residence, University of Southern California Davis School of Gerontology
Industry Experts: Ken Lund, Managing Director, Advisory PwC, Kelly Cheng, Head of New Markets and Business Development, Honor, Jessica Ku Kim, Director of Workforce Development, LAEDC, Dana Nialis, Senior Associate, CBRE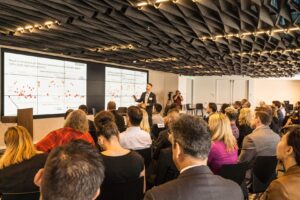 The Future of Fintech
September 26th, 2019
Convene, Los Angeles, CA
Keynote Speaker: Justin O'Connor, PwC, Director, Financial Services Digital Group
Industry Experts: Alyse Killeen, Managing Partner of StillMark Co. and StillMark Capital, Bryan Myint, Managing Director, Republic Crypto & Partner at Taureon Capital, Andrea Marcos, Credit Manager, Tala, Tayyeb Shabbir, Ph. D., Associate Dean, College of Business Administration and Public Policy, CSUDH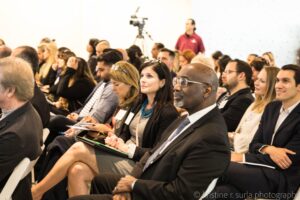 The Future of Retail and Consumerism
May 2nd, 2019
The Water Garden, Santa Monica, CA
Keynote Speaker: Rick J. Caruso, Founder and Chief Executive Officer of Caruso ®
Industry Experts: Mike Quindazzi, Managing Director for PwC, Ellie L. Altshuler, Partner, Nixon Peabody, Thomas J. Norman, Ph.D, Associate Professor of Management, California State University, Dominguez Hills, and Nicholas J. Hodson, US Strategy Leader & Partner, PwC/Strategy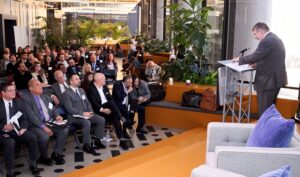 The Future of Smart Cities
January 23rd, 2018
Cross Campus Downtown, Los Angeles, CA
Industry Experts: John Rossant, Founder & Chief Curator, LACoMotion, Chairman, NewCities Foundation Rahul Gupta, Principal (Partner), Lead, Smart Infrastructure & Global Lead, Transformation of Transportation and Logistics, PwC Ted Ross, CIO, City of Los Angeles and GM for the Information Technology Agency (ITA) Bill Hanway, Executive Vice President and Global Sports Leader, AECOM Chris Manriquez, Vice President for Information Technology & CIO, CSU Dominguez Hills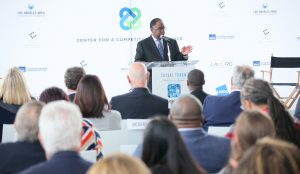 The Future of Work
October 3rd, 2017
South Park Center, Los Angeles, CA
Keynote Speaker: Mark Ridley-Thomas, Chair of the Board of Supervisors
Industry Experts: Michael Spagna, Provost, CSUDH; Art Bilger, Founder & CEO, WorkingNation; Mitra Best, U.S. Innovation Leader, PwC; Dr. Somjita Mitra, Director of LAEDC's Institute for Applied Economics; Ken O'Donnell, Interim Vice Provost, California State University Dominguez Hills; and Dr. William Scroggins, Mt. San Antonio College, President & CEO.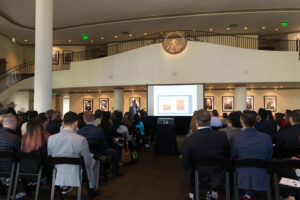 The Future of Entertainment (The Convergence of Technology & Media
March 8th, 2017
Paramount Studios, Los Angeles, CA
Industry Experts: Ellie L. Altshuler, Partner, Nixon Peabody, Ashley Crowder, Co-founder/CEO, VNTANA, Matthew Lieberman, Chief Marketing Officer, PwC, Joel Spitalnik, VP Engineering, IRIS.TV, Nancy Wang Yuen, Associate Professor of Sociology Biola University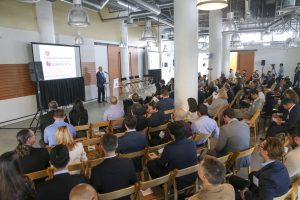 The Future of AI & Robotics
June 28th, 2017
ROW DTLA, Los Angeles, CA
Keynote Speaker: Michael King, Vice President and General Manager, IBM
Industry Experts: Michael King, IBM Watson Mike Quindazzi, PWC Randy Hill, USC's Institute for Creative Technologies