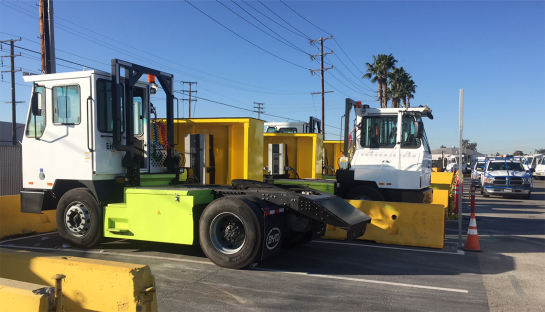 LAEDC's e4 Mobility Alliance has for years supported the development of the local EV industry, so we are pleased to congratulate Southern California Edison (SCE) on a new $356 million program designed to advance the electrification of medium- and heavy-duty vehicles, including buses and tractor trailers, by offering to install infrastructure to support charging stations at no cost.
As reported in Utility Dive, the Charge Ready Transport program will fund installations at 870 commercial customer sites over a five-year period, which SCE anticipates will support at least 8,490 fleet vehicles.
Transportation is the biggest cause of pollution in the LA area, so this program will have significant health benefits, and will reduce greenhouse emissions overall as utility power is increasingly sourced from clean generation sources like solar, thanks to SCE's proactive stance on Renewable Portfolio Standards (RPS).
Los Angeles is not only a leader on adoption of EV technologies, but also a developer of these technologies, with numerous R&D, design, supplier and OEM companies sustaining thousands of well-paying jobs and giving LA a global competitive advantage in the EV technology market.  This future-forward manufacturing industry not only creates jobs and exports that benefit the LA region, but also serves to drive global adoption of EV technologies which lessens the rate of climate change and drives progress towards a lower-carbon economy that will benefit us all.
Learn more about e4 Mobility Alliance support for businesses in this sector (programs such as California SmartMatch), and see what LAEDC is doing to support talent development and job opportunity in this industry (internship and work-based learning opportunities via our partnership with the community college system).