"One of the latest disruptive trends investors are looking to capitalize on in 2019 is professional video gaming," says Benzinga's Luis Aureliano.
Here are all of the details investors should know as they dip into a potentially lucrative and rapidly growing industry.
A Billion Dollar Industry
2019 is slated to be the first year the industry surpasses $1 billion in revenue, solidifying esports' position as a serious contender on the world stage. Take a look at the latest revenue projections via Newzoo: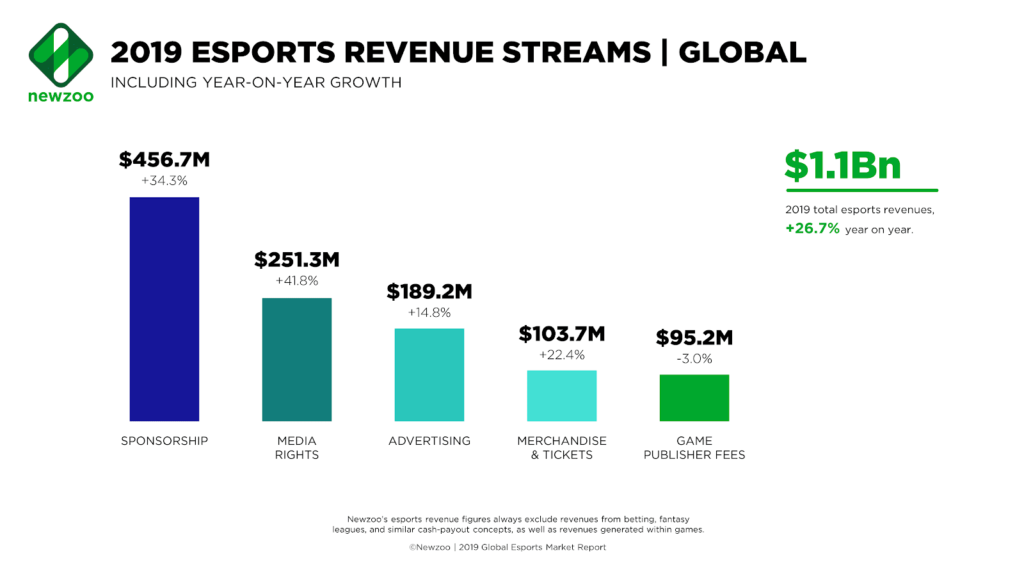 Viewership and Broadcast Platforms are Evolving
Not only are audiences clamoring for esports they are doing so on innovative platforms which break the traditional televised mold for viewing your favorite sports. Which platform is king of esports viewership? That crown belongs to "Twitch,"  which was acquired by Amazon for $970 million in 2014.

How does viewership stack up with traditional sports?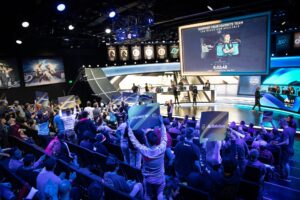 "Compared to just years ago, viewership for esports has grown significantly, particularly for League of Legends, the most popular competitive game," says Aureliano.
"During the 2018 Mid-Season Invitational, League of Legends attracted more than 60 million unique viewers. To put things into perspective, the most-watched NBA game since 1998 attracted roughly half that number in 2016 with a record 30.8 million viewers during game 7."
What to keep an eye on
Besides keeping an eye on streaming partnerships and viewership what other areas worth monitoring for potential investment opportunities?
Formation of Professional Teams: Surely we should keep an eye on the companies producing top games like Activision and Riot Games. We should also keep an eye on the development of subsequent professional teams for games like NBA2k, League of Legends, and Overwatch.
Aureliano provides an example of just how quickly teams can form for popular games: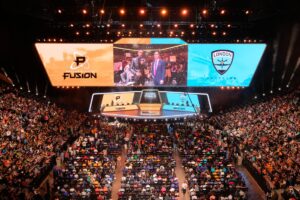 "Consider Activision Blizzard's Overwatch as an example again since the title was one of the first games launched with esports already in mind.
Since its launch in 2016, the company has franchised out geo-located teams for Season 1 of the OWL that began last year. Now, as Season 2 is underway, the league is beginning to look more like a traditional professional sport with teams like the "London Spitfire," "LA Gladiators," and many others spreading from New York all the way to China and South Korea. And yet, because the OWL is still so young, no teams have their own home arenas to play in as one would expect for a professional sports team — yet."
New Arenas: Every team needs a homecourt right? Philadelphia is the latest to commit to a dedicated venue for esports. The "Philadelphia Fusion," members of Activision/Blizzard's Overwatch League are partnering with Comcast Corporation to build a $50 million esports-specific arena; the first in the league. Set to be built in the same massive complex which also hosts the Eagles, Flyers, 76ers, and Phillies, the 60,000 square foot arena is expected to seat 3,500 spectators and include training and broadcasting facilities as well.
Introducing Fusion Arena: a $50 million first-of-its-kind venue and the largest new-construction, purpose-built esports arena in the Western Hemisphere. It will be home to the Philadelphia @Fusion & stand alongside the home venues of Philly's beloved teams in the Sports Complex pic.twitter.com/ckxEiYxgLW

— Comcast Spectacor (@ComcstSpectacor) March 25, 2019
Compared to the well-established world of professional sports, esports offers a unique opportunity for investors to still gain access during the industry's infancy.
Want to experience one of the world's top esports venue's for yourself?
REGISTER NOW for the LAEDC's upcoming Future Forum:  The Future of Esports in L.A. hosted from the League of Legends Championship Series Studio at Riot Games and featuring Keynote Speaker, Naz Aletaha, Head of Esports Partnerships, Riot Games. Space is limited, secure your spot today!