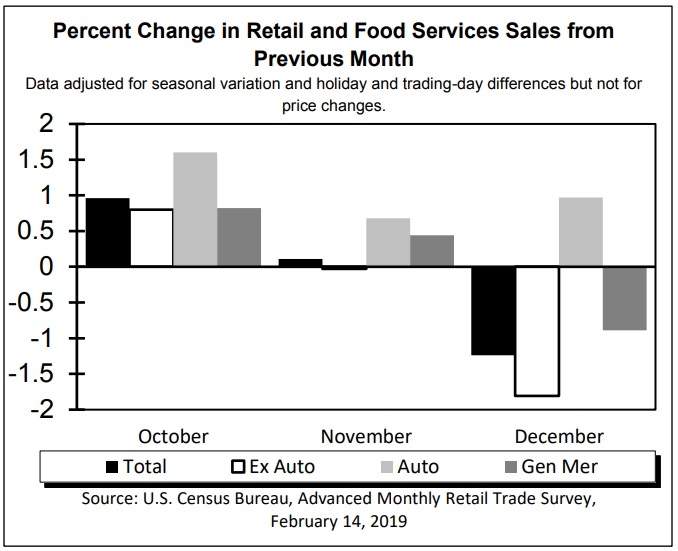 Advance estimates of December 2018 retail and food services sales, a major driver of the U.S. economy, fell 1.2 percent from the previous month, to $505.8 billion, according to the Census Bureau. The drop is the steepest decline in retail sales since 2009, according to a Bloomberg News review of data from the Commerce Department.
Consumer spending is responsible for approximately 70 percent of U.S. growth and considered a key indicator of future economic conditions and consumer sentiment. The December decrease was unexpected and is the latest sign that growth is starting to slow.  Consumer sentiment can also lead to self-fulfilling outcomes because if you think a slowdown is coming and reduce spending, that reduced spending can lead to a slowdown.
LAEDC will be offering analysis of this development and the national, state and local economy and the outlook for Greater Los Angeles next week on February 20th, at the annual LAEDC Economic Forecast.  There are numerous risk factors with specific relationships to Los Angeles that will be explored, including ongoing trade and tariff disputes, the housing affordability crisis, slowdowns in the economies of China and other trading partners like the UK which is likely to take a hit from Brexit.  Dr. Somjita Mitra, LAEDC's top economist and top investment strategists from US Bank will inform attendees and give them guidance to plan for the next two years.  Learn more and register HERE.