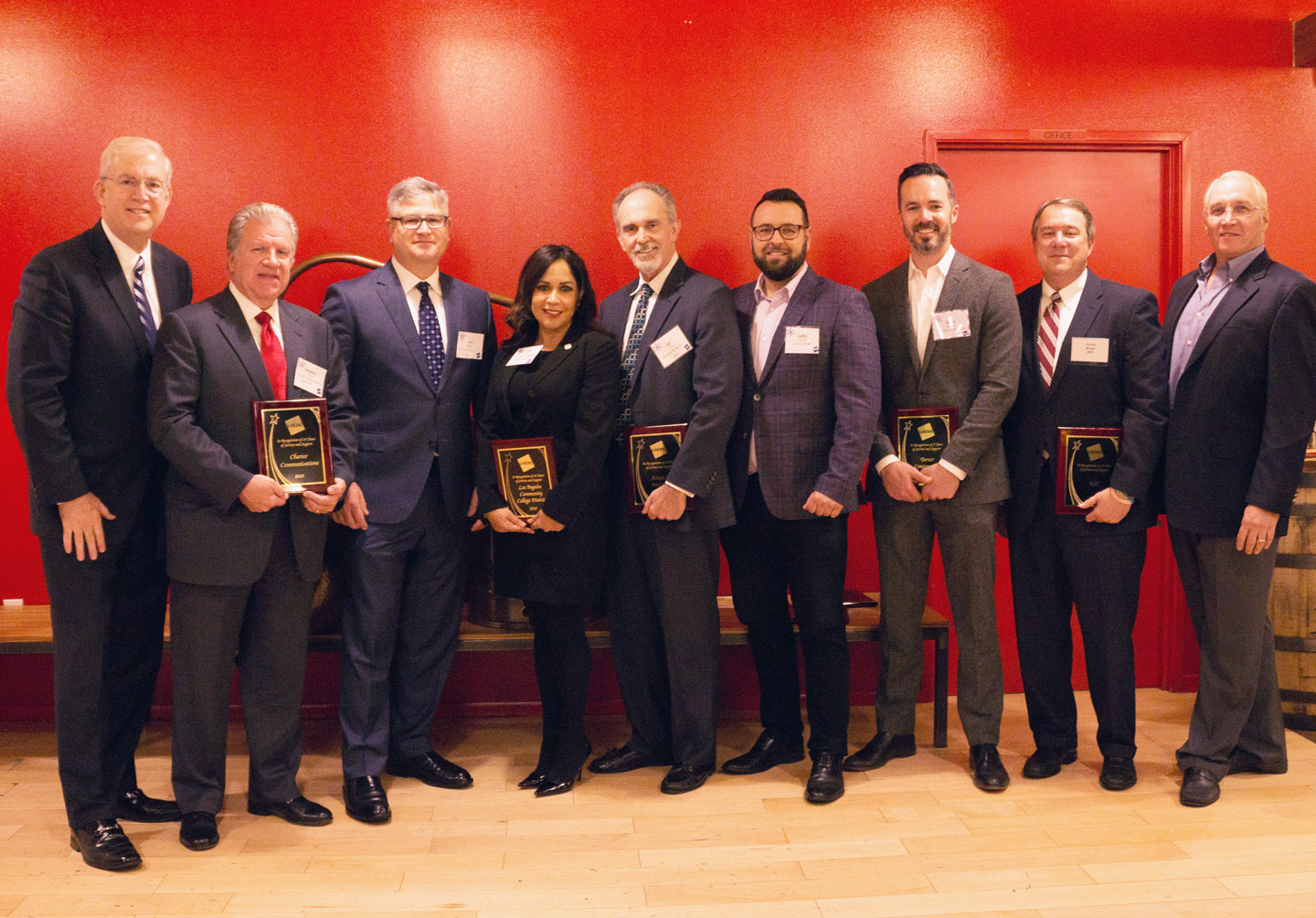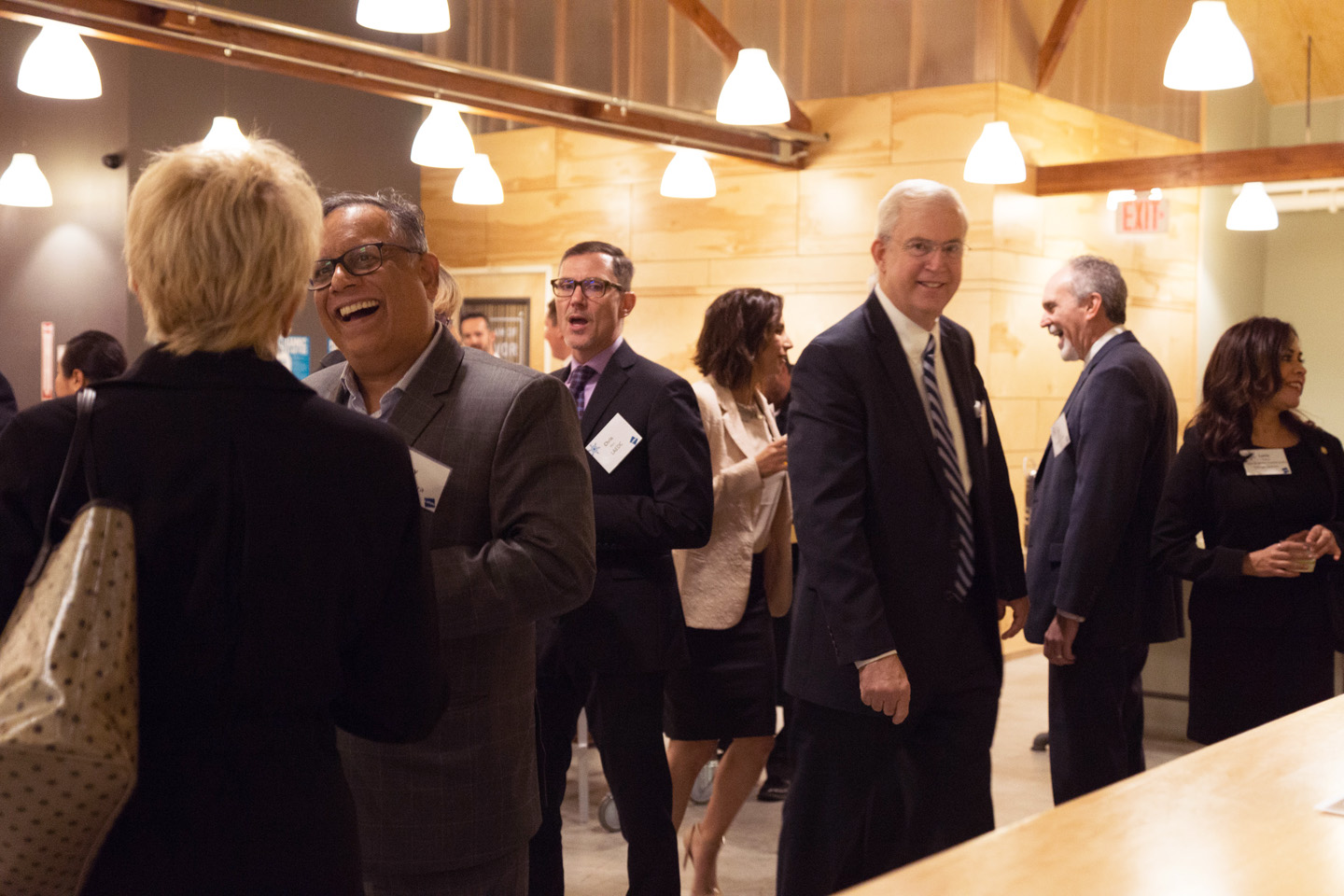 LAEDC members gathered Wednesday, December 5th to network and enjoy food and drinks, and receive service awards for years of partnering on economic development via membership with LAEDC.  Your support,  and engagement on our initiatives makes our public-benefit mission possible, and collectively we are advancing opportunity and prosperity for many Angelenos throughout the region.  Thousands of our neighbors have jobs or pathways out of poverty thanks to the work we are pursuing together, and every year at this event we like to show our gratitude.  Thank You!
We honored many members for their years of commitment to the economic vitality of this region: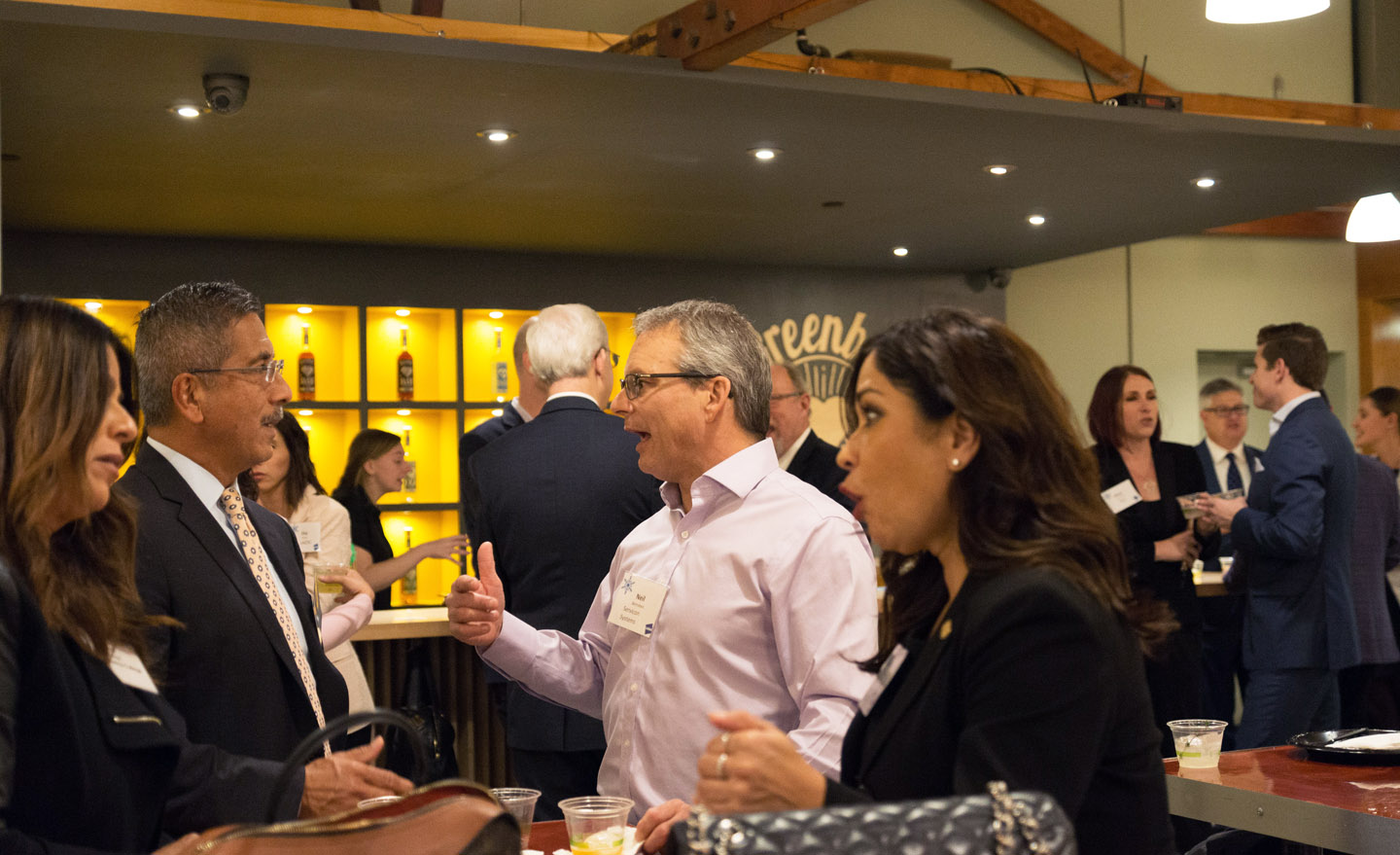 Along with the recipients pictured above, service awards were presented to Rio Hondo College (5 years), Chevron (5 years), CSU Long Beach (10 years), LMU (10 years), Pierce College (10 years), LA Trade Tech (10 years), Long Beach City College (10 years), LA Southwest College (10 years), City of Southgate (10 years), American Business Bank (10 years), CSU Dominguez Hills (10 years), City of Torrance (10 years), GKKworks (10 years), East West Bank (15 years), City of Pasadena (25 years), City of Vernon (25 years), Bank of America Merrill Lynch (25 years), Cox, Castle & Nicholson LPP (30 years) and Watson Land Company (35 years).
Among the informal conversations overheard:
Arizona State University (ASU) has a new footprint in Los Angeles, and has joined LAEDC as a member,

Bank of China VP Jason Fu chats with a colleague and LAEDC's Bill Allen

Bank of China is about to celebrate 30 years in Los Angeles supporting investment,

CISCO has partnered with LACCD and is providing computer networking technology training to community college students, such as at LA Trade Tech,
Several people expressed interest in the Digital Media and Entertainment Council meeting tomorrow (12/7) which will focus on talent pipelines with leaders from Viacom, community colleges, and other experts and industry leaders,
We welcomed USC's David Brown, who is moving into his new role as Interim Senior VP of University Relations, for Tom Sayles who retired this year,
The LA Auto Show is underway, and Lefty Tsironis, Director of Experiential Marketing took time to talk about new initiatives of the Auto Show.  LA Auto Show was recognized for its 5 years of support for economic development leadership.
Deanne Leavenworth, who was for many years a public policy advocate at Charter and Time Warner, and is now providing public policy consulting to many clients in Los Angeles, at his practice Leavenworth Endeavors,

LAEDC Chair Eric Rowen LAEDC's Elsa Flores

Reed McMaines of Turner Construction accepted the 5-year service award and was also introduced as the new General Manager and Vice President of Turner Construction, now that Kevin Dow has moved up in the company,

We also discussed LAEDC's support for businesses impacted by the wildfires, and
Public relations director Lawren Markle spoke to several members who will offer guest posts for LAEDC's website, highlighting projects and perspectives of their organizations, something LAEDC likes to do when the work is mission aligned.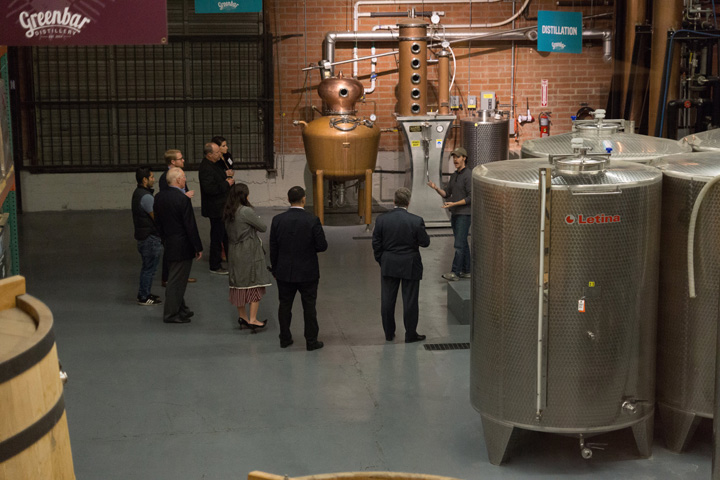 Thanks again to ALL our members and we look forward to a great year ahead of engagement with you, to foster creation of well-paying jobs and improve our workforce development systems, to benefit our region's residents.