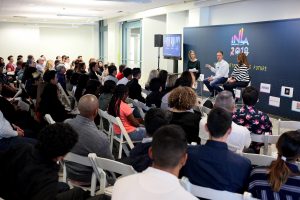 On November 2nd, InnovateLA held its annual kickoff event, launching its two-week countywide celebration through November 18th. LA's most innovative students, companies and nonprofit organizations came together at the Water Garden, Santa Monica for a full day of festivities, celebrating the breadth of innovation and creativity within our region.
A moderated "Why We Matter In the Future" conversation started of the day, an engaging back and forth on automation, diversity, and the human experience in the workplace. Local media and students from area high schools eagerly awaited their chance to inquire with top corporate executives who discussed the future of different industries. The panel touched on a wide variety of topics including cleantech, gaming, aerospace, and digital media while sharing some thoughts and stories from their personal success.
"I knew our company could grow fairly large and have a global impact, but I thought maybe 500 people at best," said Adam Miller, Founder of Santa Monica based, cloud management leader Cornerstone OnDemand, which now employs nearly 2,000 employees. "What we know as mainstream has ended," said Ana Valdez, Executive Director of the Latino Donor Collaborative, "there's a new mainstream economy that Gen Z will be the best at adopting".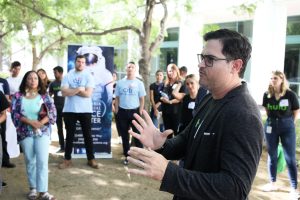 Taking place in close proximity to the rising tech hub known "Silicon Beach," the event was able to capture cutting edge opinions from those positioned near the forefront of tech innovation. The afternoon's "Innovation Showcase" created a rare networking space for  companies, nonprofit organizations and individuals at the intersection of diversity, tech, and media. The showcase also allowed high school students interested in science, technology, engineering, and mathematics (STEM), a unique opportunity to connect with working professionals in their fields of interest.
"Students were very excited to have been part of the experience. They enjoyed the entire event and even raved about touring the Hulu office, wanting to be part of the team already!" said Adela Retana, Assistant Principal at Banning High School. "Thank you so much for giving our students this opportunity and motivating them about their future!"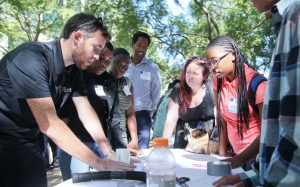 Los Angeles is a leading global center for innovation and entrepreneurship and the LAEDC is proud to partner with InnovateLA to showcase and celebrate that with a series of events, lectures and talks all over LA in the coming days. If your organization is part of the innovation ecosystem in LA, we encourage you to learn more about InnovateLA 2018, which runs from November 2nd-18th, and how you or your organization can participate.
Here is more information:  https://laedc.org/event/innovatela-2018
Special thanks to our corporate teams from Hulu, Amazon, Citi, Riot Games, Cornerstone On Demand, and BCG Digital Ventures.