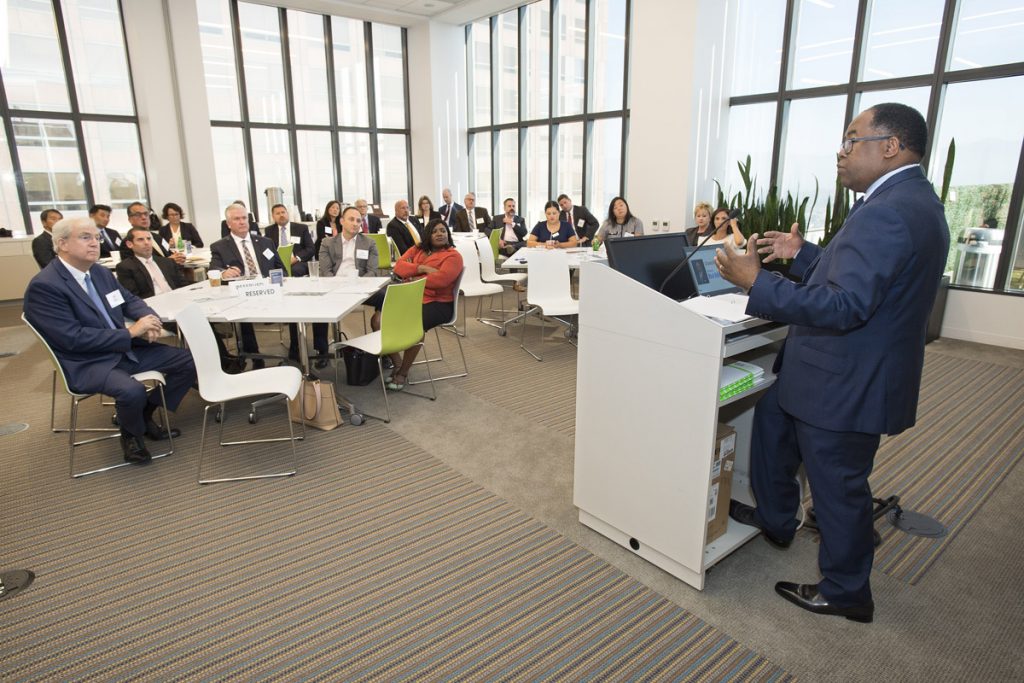 LA County Supervisor Mark Ridley-Thomas, aerospace manufacturer L3 Technologies and medical device startup Neural Analytics joined LAEDC members at the September LAEDC Board of Governors meeting, to learn more about the occupations and future of the bioscience industry, hear about LAEDC business assistance that led to L3's continuing operations in Torrance, and to learn about "companies on the cusp," which certainly describes the firm Neural Analytics.  LAEDC member Nixon Peabody hosted the meeting at their phenomenal facility in DTLA.
The Supervisor took time from his preparations for the LA Bioscience Summit to talk about the issue of homelessness and the County's activities that are driving results on that front.  He also spoke about the importance of public-private partnerships in economic development, and touched on his work and the work of the County CEO's office to grow the bioscience industry, which marked a great deal of progress this year.  LAEDC has played a role in that partnership, which includes facilitating $15 million in financing for LA Biomed, assisting individual firms with a variety of services, and creating a 2016 strategy document that has helped County of Los Angeles take positive steps to grow the bioscience industry.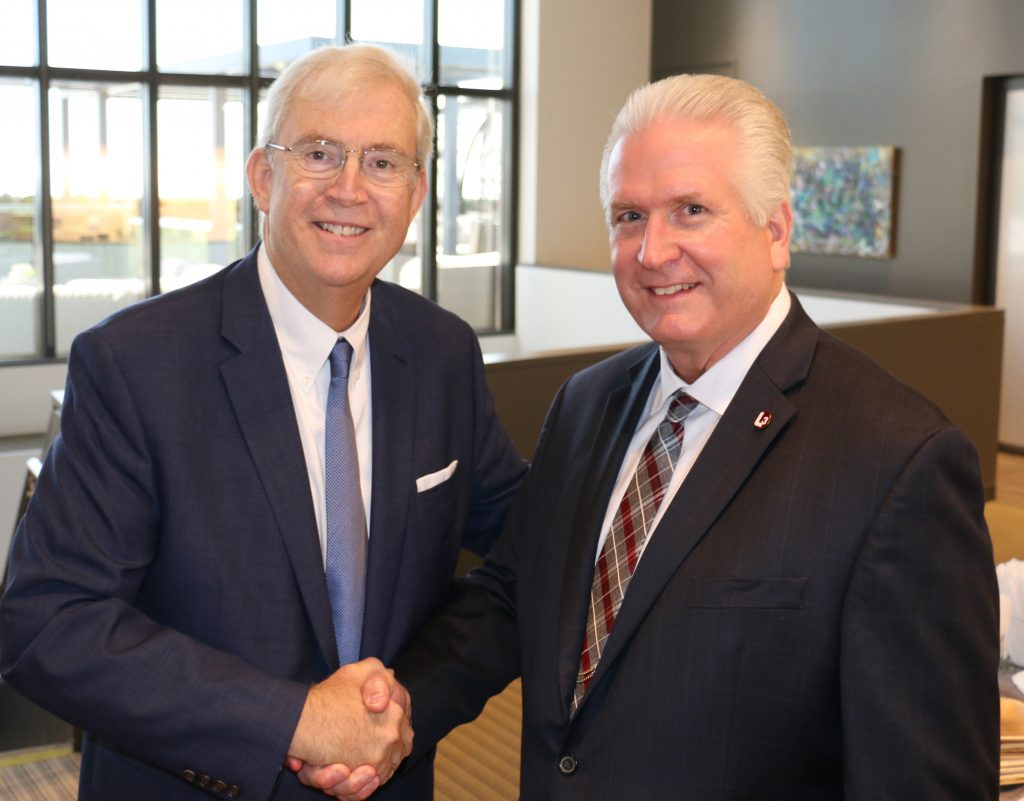 Glenn Grindstaff from L3 Technologies described the space and satellite related power and electron tech they manufacture, and the reasons why L3 is succeeding in LA County, with the largest factor likely being the region's talent with deep aerospace experience.  During a recent period of consolidation, L3 considered moving out of state, but with the help of LAEDC staff Barbara Levine and partners LAEDC brought to bear on the challenges, L3 was able to find a variety of incentives that cemented the decision to stay in LA County and move employees from other regions to LA.   L3 was able to utilize the California Competes Tax Credit, the ETP workforce training program,  the South Bay WIB recruitment and internship programs, programs aimed at reducing utility costs, and a variety of other assistance which ultimately made the proposition to stay in LA County that much more attractive.
Dr. Somjita Mitra, Director of LAEDC's Institute for Applied Economics presented on the occupational forecast and industry composition of the biosciences industry cluster in LA County, reinforcing the view that there is a lot of opportunity for adding well-paying jobs with career ladders in the region.  She emphasized the educational attainment in the bioscience industry tends to be higher (lots of associates degrees and graduate degrees seen in the workforce), and noted that educational attainment is directly correlated with higher wages.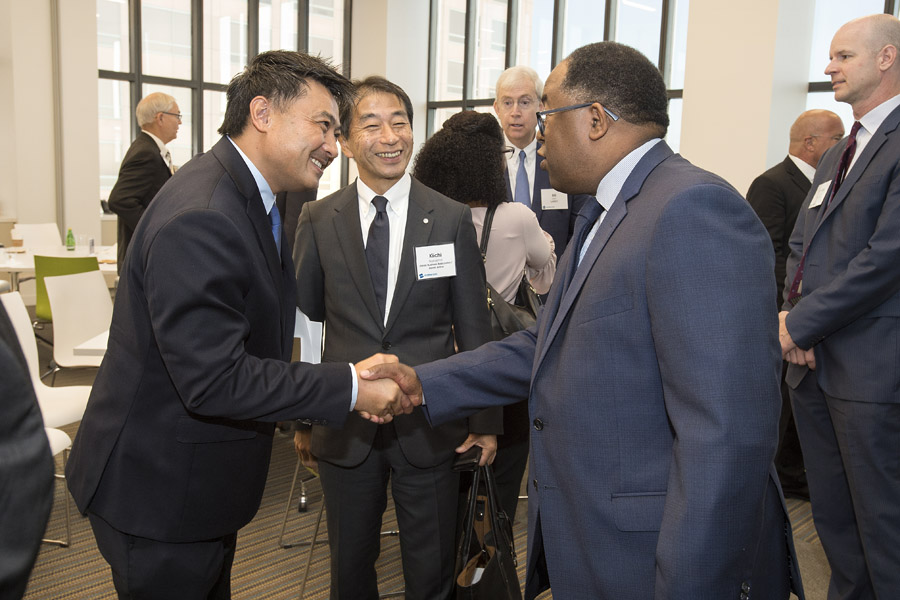 As part of LAEDC's Companies on the Cusp series, Dr. Leo Petrossian, Co-Founder & CEO, Neural Analytics presented on the company's extraordinarily innovative products, which are mobile ultrasound systems that assist in diagnosis of brain injuries.  Following a cross-campus collaboration at UCLA, where Dr. Petrossian was pursuing an MBA, Leo co-founded Neural Analytics Inc., a medical robotics company developing and commercializing technologies to measure and track brain health. In just five years as CEO, he led development of the Lucid Robotic System, a robotic assisted ultrasound platform that was recently FDA cleared. This technology integrates ultrasound, robotics and machine learning to assist clinicians to non-invasively monitor a patient's brain blood flow characteristics and provide actionable information to diagnose a variety of neurological disorders. The company is an example of Los Angeles home-grown innovation in biosciences that is propeling industry growth and exportable technologies.  The company has been doubling employment every year for several years running.
We invite you to join LAEDC as a member, to participate in this type of insightful content, access leaders to discuss issues, and support the public-benefit nonprofit mission of LAEDC, collectively advancing opportunity and prosperity for all.  Contact Elsa Flores, VP of Strategic Relations for more information, at 213-236-4815,