Site Selection Magazine has published an article highlighting some of the reasons that the advanced transportation industry cluster is doing so well in Los Angeles.  LAEDC's Judy Kruger is quoted and helps build awareness of LA's competitive strengths in this industry cluster.  Site Selection, a national trade magazine, is a valuable resource for companies looking at location decisions.  Please read it via this link to the publication's website, or below:
https://siteselection.com/issues/2018/sep/california-the-state-of-mobility.cfm?
The State of Mobility
For advanced transportation technology, California is leading the way.
From Site Selection magazine, September 2018
When Shenzhen, China-based BYD went shopping for a U.S. manufacturing location, it followed the lead of other top players in the next-generation vehicle space. It went to Los Angeles County, California. That was back in 2010. Today, BYD, which stands for "Build Your Dreams," is churning out 1,500 electric buses a year and employing some 800 workers at its newly expanded plant in Lancaster.
Bolstered by a talent pool with roots in the aerospace industry and propelled by public policies and market demand, southern California's electric vehicle industry is driving innovation and creating much-needed manufacturing jobs.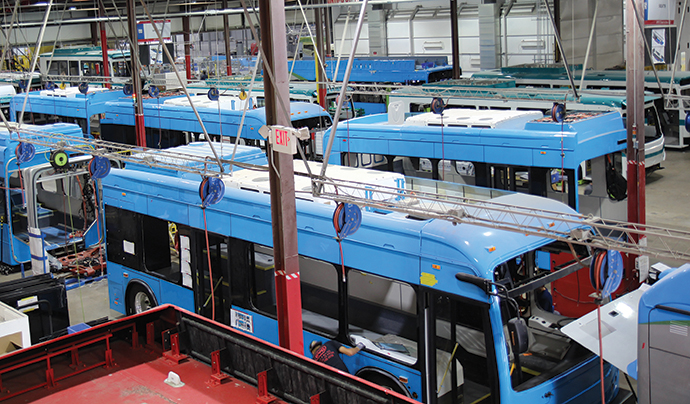 "Electric vehicle companies are popping up continually in the region," says Judy Kruger, director of aerospace and advanced transportation for the Los Angeles Economic Development Corporation (LAEDC). "It's because of market share and it's also because L.A. is a hub of innovation with the talent to support it."
The Los Angeles area leads the nation in sales of electric vehicles. According to a report released in May by the International Council on Clean Transportation, the Los Angeles metropolitan area accounted for more than 143,000 electric vehicle sales from 2010 through 2017. L.A. had new electric vehicle sales of nearly 12,000 during 2017, more than twice as many as second-place San Jose.
Tesla has found a home in southern California, as have Lucid Motors, Fisker Automotive, Faraday Future, Karma and Evelozcity. BYD is one of at least six electric bus makers that call the region home. Others include Proterra, Ebus, U.S. Hybrid Corporation, New Flyer Industries and Executive Coach Builders.
"We're very excited about the electric bus manufacturers that are cropping up in the region," says Kruger. "You won't find another cluster like this in the U.S."
"You won't find another cluster like this in the U.S."
Asked why BYD chose to locate in Lancaster, with headquarters in downtown Los Angeles, the company's vice president for North American operations, Patrick Duan, ticks off a list of factors.
"Millions of people live here, so mobility and transportation is a huge thing," says Duan. "On top of that, L.A. City and the State of California have pioneered in promoting zero-emission technologies in terms of transportation. Los Angeles has a mission to promote cleaner technology and more efficient transportation.
"Logistically," says Duan, "L.A. County has two major ports, the Port of L.A. and the Port of Long Beach, and being in the business of manufacturing electric transportation vehicles, we import a lot of components globally. The convenience aspect is very important to us.
"Lastly," he says, "L.A. has a huge pool of talent for all kinds of gifted, experienced employees. In Lancaster, we were able to find hundreds of talented workers. Even if they don't have exactly the experience with electric vehicle technologies, the talent level is such that we can hire them and train them with their fundamental experience. That's been very successful."
The Los Angeles County Metropolitan Transportation Authority has set a target of converting its entire 2,200-bus fleet to electric propulsion by 2030 and has signed a contract with BYD to build 60 buses with an option to build 40 more. The company also has a $79-million contract for up to 85 buses with the suburban Antelope Valley Transit Authority, which has a goal of becoming the nation's first fully electric fleet by the end of this year. A state grant of more than $24 million is helping to fund the purchase. BYD also has sold buses to Long Beach Transit, UCLA, Stanford University, Facebook, "and to a lot of other transit agencies and airports around the country," says Duan.
Last October, BYD, whose largest investor is Warren Buffett's Berkshire Hathaway, Inc., completed an expansion that quadrupled the size of its Lancaster plant to 450,000 sq. ft. (41,806 sq. m.) and allowed it to nearly double the size of its workforce.
"I don't think there's such a thing as a production paradise. California's the right place for us because this is where our customers will be."
"The city of Lancaster and the city of L.A. have been very supportive of us," Duan says. "Without their support and very fast reaction to our requests, we wouldn't have been able to do this expansion. Lancaster has been very supportive in helping us find talent, and they've also connected us with Antelope Valley Community College, which has programs that we've used for training our employees, especially production staff.
"Two years ago we were at 200 employees," says Duan. "Today we're at 800, and we're on a curve bending up. We're ramping up pretty quickly."
Faraday Future Turns a Corner
Four and a half years since the company's founding by Chinese billionaire Jia Yeuting, Los Angeles-based Faraday Future is moving toward production of a real automobile. In a late August interview with Site Selection, Dag Reckhorn, the electric car company's senior vice president of global manufacturing, said FF's plant inside a former tire factory in Hanford, California, was close to completing its first test model of the long-awaited FF 91.
"It's a big milestone," said Reckhorn.
The company's goal of bringing a car to market by the end of the year appears to have gone by the wayside, with officials saying the FF 91 will "probably" be available for purchase next year. Reckhorn says buildout of the Hanford plant, begun early this year, is likely to be completed in the second quarter of 2019.
"We have finalized the whole pre-production area," says Reckhorn. "We've installed electricity and plumbing and gotten the necessary permits, including the conditional certificate of occupancy. The plant had been closed since 2000, so nothing was up to modern standards. It's been a huge endeavor and we're proud of the fact that we pretty much hit the timing."
The fortunes of Faraday Future have brightened from a year ago, when the fledging company appeared to be on life support, having terminated work on a $5-billion production facility in North Las Vegas, Nevada, in favor of launching operations from the abandoned Pirelli plant in California's San Joaquin Valley. The company posted a 2017 net loss of $339.6 million amid executive departures, lawsuits, desperate fundraising efforts and reports of sunken morale. Staggering losses incurred by FF's Chinese parent company, LeEco Group, placed Jia on a list of debt defaulters by the Chinese government and led to a government-directed freeze on his assets.
Key to the company's rebound was a $2 billion investment by Hong Kong-based Evergande Health, which also assumed a 45-percent ownership stake, with Jia being named as CEO.
"Have we turned around? Yes, we definitely have," says company spokesman John Schilling. "Not only with the funding, but the FF 91 is on track and we've taken a positive direction in terms of hiring. We have momentum, including with the building of the Hanford facility."
Full-time staff at the 1-million-sq.-ft. (92,903-sq.-m.) plant now includes some 60 production workers, says Reckhorn, with plans to be at 200 by the end of the year. Sequoia Community College in nearby Visalia is providing initial training.
"The area around Hanford is huge," says Reckhorn. "The San Joaquin Valley has a workforce of two million people, so we haven't had any issue finding people. We will hire up to 1,300 people when we're fully ramped up. That's probably not this year and probably not next year but the year after that."
Reckhorn says FF 91 bodies are being built and painted in Michigan, then shipped to Hanford for assembly. By setting up shop in California, Faraday Future is bucking a trend of manufacturers seeking out states where land and labor costs are lower and regulations less invasive.
"We're ramping up pretty quickly."
"If you're counting every penny," says Reckhorn, "then you might find places that are more suitable, but then you find other issues. I don't think there's such a thing as a production paradise. California's the right place for us because this is where our customers will be."
First unveiled at the 2017 Consumer Electronics show in Las Vegas, the futuristic FF 91 will come with a 1,050 horsepower engine that propels it from zero-to-60 mph in 2.39 seconds, quicker than the fastest Tesla. Its 130-kwh battery pack allows a range of 378 miles on a single charge. The company says a driverless valet parking feature will enable the car to park itself after the driver has already exited. Company officials decline to specify a cost, but reports have put it in the six figures. Reckhorn says to expect an announcement on that later this year.