American Airlines, the 2018 Eddy Awards Corporate Honoree, made history in 1959 when an American Airlines Boeing 707 launched the first transcontinental commercial jet trip from Los Angeles to New York. This historic flight marked the beginning of American Airlines' rich contribution to our regional economy—and one that continues to this day.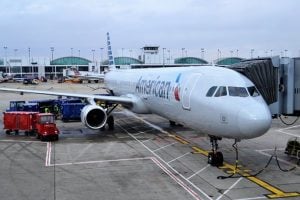 In January of 2018, American Airlines unveiled part of a network wide $200 million investment in the airline's lounge product. The improvements at LAX lounges include:
• Refurbished Admirals Club in Terminal 4
• New Admirals Club in Terminal 5
• New Flagship Lounge and Dining Area in Terminal 4
The new Flagship Lounge at Terminal 4 allows qualifying first and business class customers a high-end facility to refresh before flights with quiet rooms and showers, along with a variety of dining options. The new Flagship Dining at Terminal 4 is the first and only pre-flight sit down dining experience to be offered by a domestic carrier at LAX.
And last September, the airline announced a $1.6 billion investment in LAX's Terminals 4 and 5 to create a world-class experience for its 16.5 million annual passengers and nearly 7,000 team members who call the hub home. Learn more about American Airline's contribution to our regional economy and their Eddy Award here.