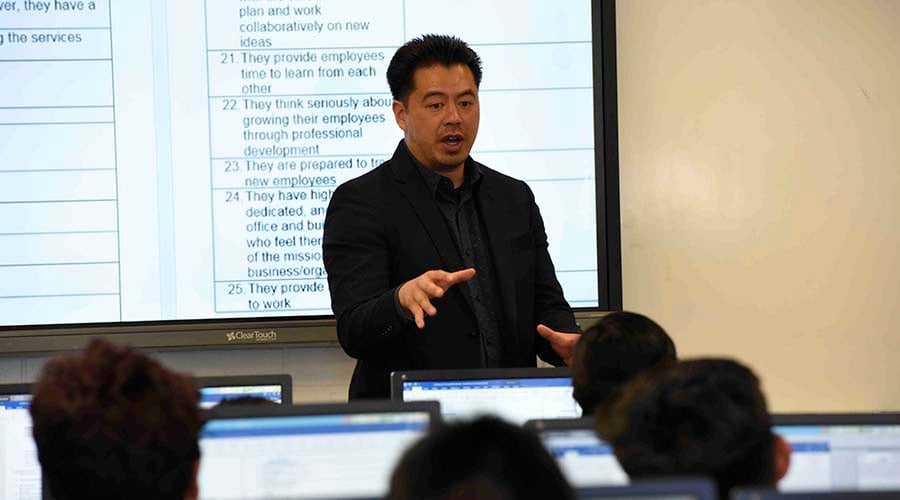 As occupations in the Los Angeles economy increasingly require information-age technical skills, businesses are more frequently partnering with college systems to develop programs specific to the hiring needs expected in the future.
Through these partnerships, businesses are revealing the new skills they require in workers, and colleges are adapting curricula and adding programs, with a win-win end result.  More students find well-paying careers and more businesses solve the talent gaps they face as they expand and adopt technical processes.
For example, all of the 21 community colleges in LA County have career education programs, tied to local industry to serve businesses with talent, and in fact 523,000 students of the 770,000 total student body are enrolled in those programs.
A major driver of these partnerships in California is the Strong Workforce ("Doing What Matters") initiative led by the Chancellor's Office at the California Community College system.  In the greater Los Angeles region, the LAEDC and Center for a Competitive Workforce (CCW) are helping convene these industry-education partnerships, based in part on CCW research on the workforce development priorities for the region.
The CCW, housed at LAEDC;
Develops forecasts for occupational hiring, with comparisons to the supply of talent;
Validates occupational forecasts with businesses, to further specify the knowledge, skills and competencies required to successfully perform occupations;
Fosters more partnerships with industry, to directly influence college program development;
Drives more internships, apprenticeships, and hiring through these partnerships.
We offer the list below of Industry-College partnerships, which prepare students for career paths.  This list is being updated frequently (contact LAEDC's Director of Workforce Development, Jessica Kim at [email protected])
Industry-College Partnerships in the Los Angeles region:
Aero-Flex + West Los Angeles and El Camino College: Partnering with a consortium of 11 aerospace and advanced manufacturing employers, including Northrop Grumman, and additional stakeholders such as South Bay Workforce Development Board to implement pre-apprenticeship and apprenticeship pathways. LINK
Amazon Web Services + Santa Monica College + East LA College: Cloud computing curriculum where students earn an industry-recognized cloud computing certificate, to develop new Solutions Architects that can deploy Amazon's cloud computing solutions at any business, expanding to other colleges in the region, with high school partners to provide college credits. LINK
BuildLACCD + LA Harbor College: Through this partnership, students and interns develop opportunities with AECOM and other construction contractors building LACCD campuses.
California Resources Corporation, Interplastic Corp, Newport Ingredients + LA Trade Tech: As part of the applied sciences career pathway, these partners provide employment opportunities, campus visits and recruitment, and facility tours.
CreatorUp + LA Mission College: Career pathway workshops and digital media internships with companies like Google, YouTube, and other digital media organizations.
Dermalogica + Cerritos College: Our esthetician students are trained on Dermalogica products and participate in educational opportunities at the Dermal Institute of Dermalogica
Dermalogica + Santa Monica College: Partnership with Dermalogica to train and empower women entrepreneurs in the salon and spa industry.
Ford "ASSET" program + Cerritos College: Cerritos College is the only Los Angeles county community college where students can participate in the formal Ford automotive repair training program
Fiat Chrysler "FCA" program + Cerritos College: Cerritos College is the only Los Angeles county community college where students can participate in the formal Fiat Chrysler automotive repair training program
General Motors "ASEP" program + Cerritos College: Cerritos College is the only Los Angeles county community college where students can participate in the formal General Motors automotive repair training program
Grifols + LA Trade Tech College:  Grifols maintains several college partnerships to develop a workforce skilled in lifescience lab occupations.  As part of this, LA Trade Tech provides tours of Grifols facilities, offers industry related guest lectures, employment opportunities for students, and Grifols provides curricular insight to ensure programs are aligned with skills needed for employment in various entry- and mid level jobs.
Haas Automation + Cerritos College + Santa Ana College + Fullerton College + Glendale Community College + LA Valley College: In partnership, a program was developed to train students to be machinists on computer-based CNC manufacturing machines, so that manufacturers buying Haas hardware have a ready pool of talent to draw from, which provides well-paying career paths to students.
Hollywood studios + Santa Monica College: Industry partners such as ABC, CBS, Time-Warner, and Fox worked with the college to develop the first-in-nation certificate for Promo Editor occupation, to fill the talent pipeline in Hollywood.  This is a 10-course program.
Honda "PACT Collision" program + Cerritos College: Cerritos College is the only Los Angeles county community college where students can participate in the formal Honda automotive collision repair training program
Honda + Rio Hondo College: Honda is developing new technician talent for R&D and new fuels in partnership with Rio Hondo College.
Imagination Works + LA Mission College:A partnership designed to offer career mentoring and internship opportunities.  Students gain hands-on experience in the digital arts industry, and mentoring.  Projects include advertising, car wraps,  and print media, etc.
Kaiser Permanente + Mount San Antonio College: Developing technician talent pipeline for specialized blood assay work, an in-demand occupation known as phlebotomy.
LinkedIn + LA Southwest College + LACCD District + PRO-GTL: In partnership with LinkedIn, a LinkedIn Learning rollout to students and faculty throughout the 9 college LACCD District and 10 college Global Trade and Logistics Consortia  enables students to build a LinkedIn profile and have access to regional employers, alumni mentors, and professional development tools, in part to develop logistics industry talent of the future.
LA Metro (MTA) + LA Trade Tech College and LA Valley College: Developing a workforce for various transportation occupations in administration, operations and maintenance, ranging from bus driver and rail technician occupations to transit construction occupations and more, with training funds from City and County of LA Workforce Boards. Through this partnership, MTA recruits, screens, trains and places students into jobs with a career track.
Los Angeles World Airports (HIRE LAX) + Los Angeles Southwest College + Los Angeles Trade Tech College: In partnership with LAX, Parsons, and Flintridge Center,  this Apprenticeship Readiness Program provides MC3 Construction training taught by LA Trade Tech, with job placement management by LAWA and Flintridge Center.
Lucid + LA Mission College: Partnership includes social media workshops and internship opportunities.
Quinn Caterpillar + Long Beach City College:  Co-designed program to develop students as talented heavy duty mechanics, that leads either to an apprenticeship or to employment opportunities on heavy machinery.
Riot Games + Santa Monica College: Fast growing gaming company has very specific competencies requirements and co-developed curriculum with the college to improve its recruiting pipeline.
Snapchat + LA Valley College, LA City College and Santa Monica College: Snap, Inc is developing a middle-skill talent pipeline after specifying skills, platforms and technologies their future employees will need to utilize.
Solidworks + Cerritos College: Our engineering design technology students can earn credit by exam by taking Solidworks Certification exams
SoCAL NOMA (National Organization of Minority Architects) + Los Angeles Southwest College + SCI-ARC (LA Innovation School of Architecture): In partnership with NOMA and SCI-ARC, a summer camp each year accepts 75-125 middle school minority students to develop their interest in architecture and engineering.
Tesla + Citrus College, Rio Hondo and East LA College: Tesla defined a specific curriculum to serve its middle-skill talent needs, including for electric vehicle technicians.
UPS + East LA College "College at the Hub Partnership": ELAC defined a specific online curriculum to serve UPS middle-skill ability needs enhancing the talents of UPSers that immediately impacts their promotional opportunities.
Univision Posible + Los Angeles Southwest College + ENETLA+ Campus Upstart: In partnership with Univision's Posible Summit event, student participation inspires and empowers our community to prosper in business and entrepreneurship and have access to critical resources. The Entrepreneur Network of LA initiated by a 9 college consortia and Campus Upstart provides these opportunities to students and community constituents.
In addition, LA Trade Tech College has developed partnerships for Construction, Maintenance and Utilities:
Operating Engineers Local 501 + LA Trade Tech:  Partnership developing a workforce for various facilities maintenance occupations ranging from HVACR to Painting and remodeling.
LA/OC Building Trades Council + LA Trade Tech: The program trains students for entering into union apprentices' programs for a multitude of trades.
LA County Federation of Labor + LA Trade Tech:  Pre-apprenticeship training and preparation for placement into apprenticeships and other employment, via affiliated unions including IBEW Local 11, Sheet Metal Local 105, Laborers Local 300, Ironworkers 416, Pipe Trades UA Local 78 and UA 250, Insulators Local 5, Painters Local 1036, Operating Engineers Local 12/Local 302 and Carpenters Local 409, among others.
Anti-Recidivism Coalition (ARC) + LA Trade Tech:  Through this partnership, formerly incarcerated people who are reentering the workforce receive pre-apprenticeship training and union employment opportunities for various construction and related trades.
LA City Department of Street Services + LA Trade Tech: degree program for city employees incumbent worker training for advancement.
LA City Department of Sanitation + LA Trade Tech:  Short term training boot camps for entry level placement into the workforce, with targeted outreach to women and other under represented groups.
In addition, LA Trade Tech College has developed partnerships for Advanced Transportation and Manufacturing
LATTC partners include LA Metro, Santa Monica Big Blue Bus, Torrance Transit, Foothill Transit, etc.  LATTC works with a number of industry partners that have contributed to the development of the Advanced Transportation Pathway degrees and certificates. These partners include Toyota for alternative fuel system vehicles; and Perfect Sky, a company that develops and delivers hands-on hybrid, plug-in hybrid, and electric vehicle training and curriculum to technicians and educators regarding the design, operation, diagnosis, and repair of hybrid and electric vehicles.  Other industry partners include: Downtown LA Motors Group, Sage Automotive Group, Inland Kenworth, Bombardier, Hyundai, Tesla, MV Transit, Kia, Volkswagon and Eaton.
Additional industry-college partnerships in LA County but outside of the LA|OC Regional Consortium:
Haas Automation + College of the Canyons:  Co-developed program to train students to be machinists on computer-based CNC manufacturing machines, an in-demand occupation.
National Institute of Metalworking Skills (NIMS) + College of the Canyons: Provides industry-based certifications in fabrication and manufacturing
Fabricators and Manufacturers Association + College of the Canyons: Resources for exposing K12 students to Advanced Manufacturing
ToolingU + College of the Canyons:  curriculum that aligns with the needs of employers in the Advanced Manufacturing sector
Manufacturing Skill Standards Council(MSSC) + College of the Canyons:  online training in logistics
American Production and Inventory Control Society (APICS) + College of the Canyons:  Trains students in supply chain management and lean processes
American Aerospace Technical Academy + College of the Canyons: Provides training in Non-destructive Testing for apprentices at local companies
Northrop Grumman + Antelope Valley College: Aerospace curriculum to develop new technicians to build advanced aircraft for the Air Force.  Program is expanding to other colleges to scale capacity.
#####