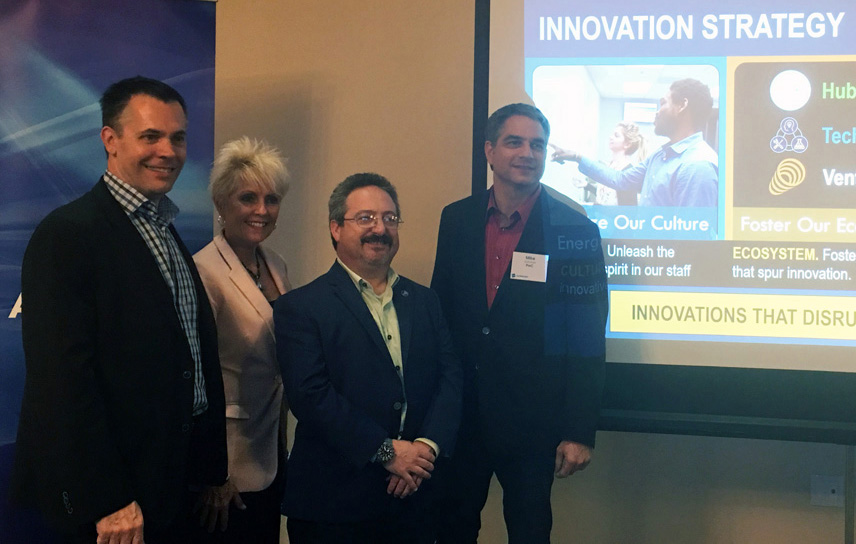 Industry attendees at the quarterly meeting of SoCal Aerospace Council met with Aerospace Corporation on April 11th, to learn about the Innovation Lab at Aerospace Corporation, network and discuss current industry issues.
Aerospace Corporation, a vital part of the aerospace industry in LA County, is a trusted partner in assuring mission success with our national space systems, and as hundreds of "NewSpace" companies create different business models and technologies for accessing space, Aerospace Corp's Innovation Lab helps identify emerging technological trends and opportunities, and supports a corporate culture of innovation within Aerospace Corp.  The Lab works with a sampling of those new space businesses in this pursuit.
Judy Kruger, LAEDC's Director of Aerospace Industry Cluster Development led the meeting, with PwC's Mike Quindazzi chairing the council, and guests Rob Sherwood and Andre Doumitt of Aerospace Corporation presented details on the Innovation Lab and its approach.  Thanks also to Jeff Malin of GO-BIZ for his remarks and support for the industry.
The focus of the SoCal Aerospace Council is increasingly supplier matchmaking, to stimulate the local industry cluster, and a matchmaking session was conducted at the event as part of LAEDC's new California SmartMatch program.
Plans are underway for the next Aerospace Council supplier matchmaking event with a well known aerospace prime, and word is that it will be a "no-miss" event.  Contact Judy Kruger for details at [email protected]