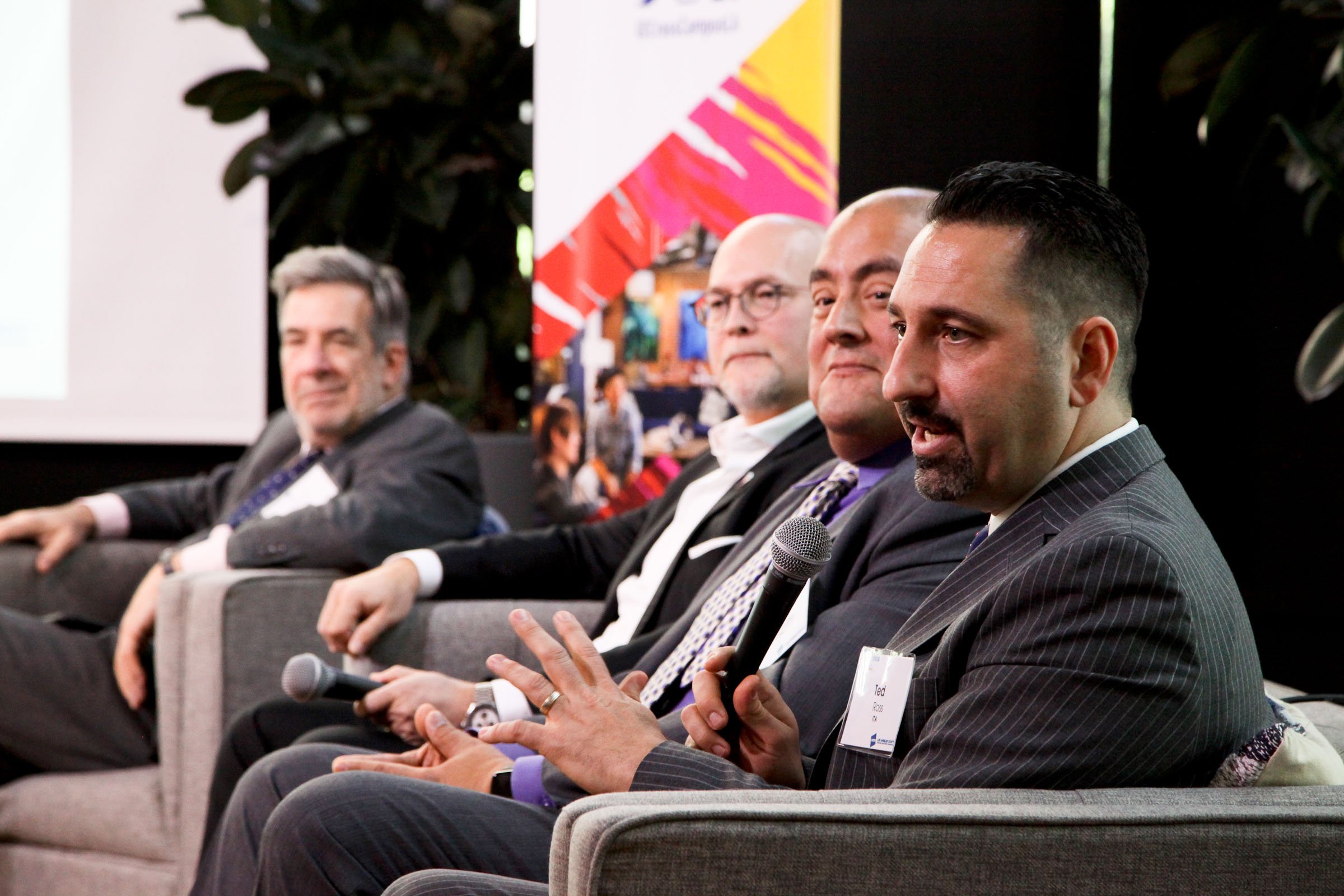 Experts discussed the Future of Smart Cities at LAEDC's latest Future Forum, made possible by our Presenting Sponsor CSU – Dominguez Hills, with approximately 200 guests in attendance at Cross Campus in DTLA. Topics included the power of open data sharing, such as in City of LA, the future of transportation including aerial taxis, the increase of self-optimizing algorithms that automate city operations, the increasing importance of data analytics and partnerships with private industry to compile and analyze data, and much more.
Ted Ross, from City of Los Angeles talked about coding AI into operating systems for infrastructure, to better respond to real-time conditions.  He mentioned the incredible investment in data points, with over 40,000 traffic pads connected and networked to monitor traffic — combined with the unprecedented data coming from its Waze partnership that gives the city near a million data points to optimize transit-related systems in the city.
Several panelists discussed the future of integration of this data, so that residents can ask their Alexa or other smart home device, "What's going on in City Council today?"   That scratches the surface of how residents will be able to tap the power of the information available which is slowly coming online in various ways.
AECOM's Bill Hanway discussed the upcoming Olympics and Measure M as huge contributors to not only infrastructure, but upcoming interactive systems like advanced digital event ticketing to help visitors and residents alike navigate and experience the region.
Cal State Dominguez Hills' Chris Manriquez talked about the ways that higher education is tackling the need for skilled workers for such systems, and the university's role in preparing talent to work on coming smart city projects, as well as the ways higher education is tapping its data warehouses to improve community engagement.
PwC's Rahul Gupta served as moderator and framed some of the most important smart city issues as sustainable growth and environmental progress, and cited progressive international cities making progress on those issues.
The Future Forum was made possible by our sponsors:
PRESENTING SPONSOR
FEATURED SPEAKER SPONSOR
Panelists included:
John Rossant, Founder & Chief Curator, LACoMotion, Chairman, NewCities Foundation
Rahul Gupta, Principal (Partner), Lead, Smart Infrastructure & Global Lead, Transformation of Transportation and Logistics, PwC
Ted Ross, CIO, City of Los Angeles and GM for the Information Technology Agency (ITA)
Bill Hanway, Executive Vice President and Global Sports Leader, AECOM
Chris Manriquez, Vice President for Information Technology & CIO, CSU Dominguez Hills