Digital skills becoming increasingly essential for well-paying "middle skill" jobs, as highlighted by Brookings Institution and this article in Marketwatch.
This one chart sums up what's happening to America's 'good' jobs
By SILVIA ASCARELLI, SENIOR NEWS EDITOR, MarketWatch
As computers and other technology invade our jobs, it's no secret that workers with low levels of computer savviness are losing out.
What may surprise is just how much they are losing.
These two pie charts sum up what's happened to so-called "good" jobs — the kind where a college degree wasn't a prerequisite but still paid above the national average — between 2002 and 2016.
While just over half of these jobs in 2002 required little digital competence, by 2016, 87% of those same jobs required medium or high levels, according to data recently analyzed by the Brookings Institution.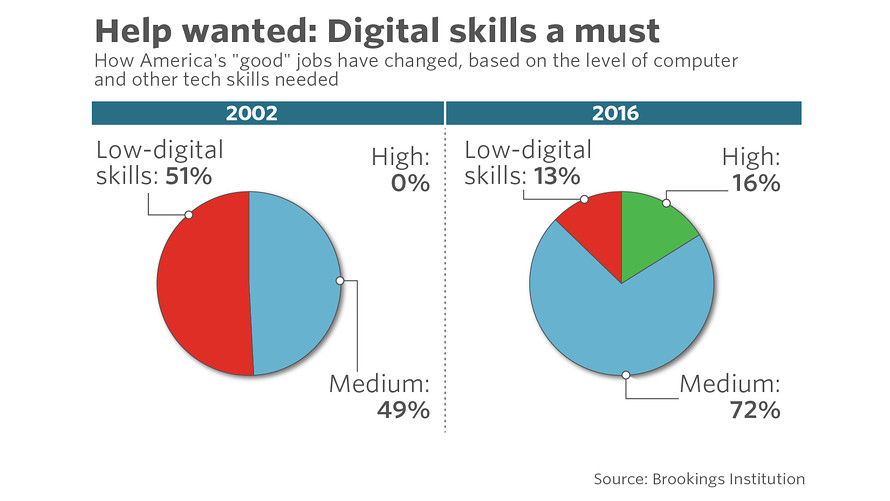 That doesn't mean workers have to learn to code, says Mark Muro, senior fellow at Brookings' Metropolitan Policy Program and one of the authors of the report. Rather, the scores measure a mix of worker knowledge of computers and electronics needed to do the job as currently demanded as well as the significance of complete digitalization of a particular job. That could require being skillful with Microsoft Excel or Salesforce software, or being able to solve equipment problems using digital diagnostic tools.
So the job of a sound engineering technician has a digital score of 79, for example, while that of a plumber has a score of just 13. Both are classified by Brookings as "good," middle-skill jobs. Some of the biggest leaps in digital skills have come in the tool-and-die industry, sound technicians and police patrol officers.
 Here is the full list of the 15 jobs Brookings singles out as "good" middle-skill jobs as well as the Bureau of Labor Statistics' employment estimates for 2026.
The search for 'good' jobs
Digital score
Digital score
Jobs
Jobs
Percentage
2002
2016
2016
2026 estimate
growth
Sound engineering technicians
42
79
17,000
18,100
6.3%
CNC machine tool programmers
 (metal and plastic)
61
74
25,100
29,200
16.3%
Electrical and electronics
 engineering technicians
59
72
137,000
139,800
2.0%
Radiologic technologists
55
64
205,200
230,400
12.3%
Police, sheriff patrol officers
27
62
684,200
731,900
7.0%
First-line supervisors
 of transportation, material-moving
 and vehicle operators
29
60
204,200
217,700
6.6%
Real-estate sales agents
31
60
348,800
370,500
6.2%
Executive secretaries and
 executive administrative assistants
45
59
685,300
566,200
-17.4%
Telecommunications line
 installers, repairers
25
56
106,100
107,800
1.6%
Registered nurses
38
55
2,955,200
3,392,200
14.8%
Tool and die makers
3
51
72,500
67,200
-7.3%
Firefighters
19
40
327,300
351,000
7.20%
Flight attendants
9
35
116,600
128,500
10.2%
Postal service mail carriers
6
22
316,700
278,500
-12.1%
Plumbers, pipefitters, steamfitters
0
13
480,600
556,400
15.8%
Source: Brookings Institution, Bureau of Labor Statistics
"By and large, the higher the digital score, the greater the resilience of the job in the face of further automation and artificial intelligence," Muro said. Those workers also are doing more complicated work and might be better able to adapt to changes.
How many of these 15 jobs can survive?
While the Brookings data don't predict the future for those jobs, prospects for some of them aren't good.
Tool-and-die makers, once the Cadillac of the skilled trades, are being replaced by those who have mastered the computer numerical control (CNC) machines that now can build the metal forms and plastic molds that had been…..
Read the rest of the story at Market Watch:
https://www.marketwatch.com/story/this-one-chart-sums-up-whats-happening-to-americas-good-jobs-2017-11-16