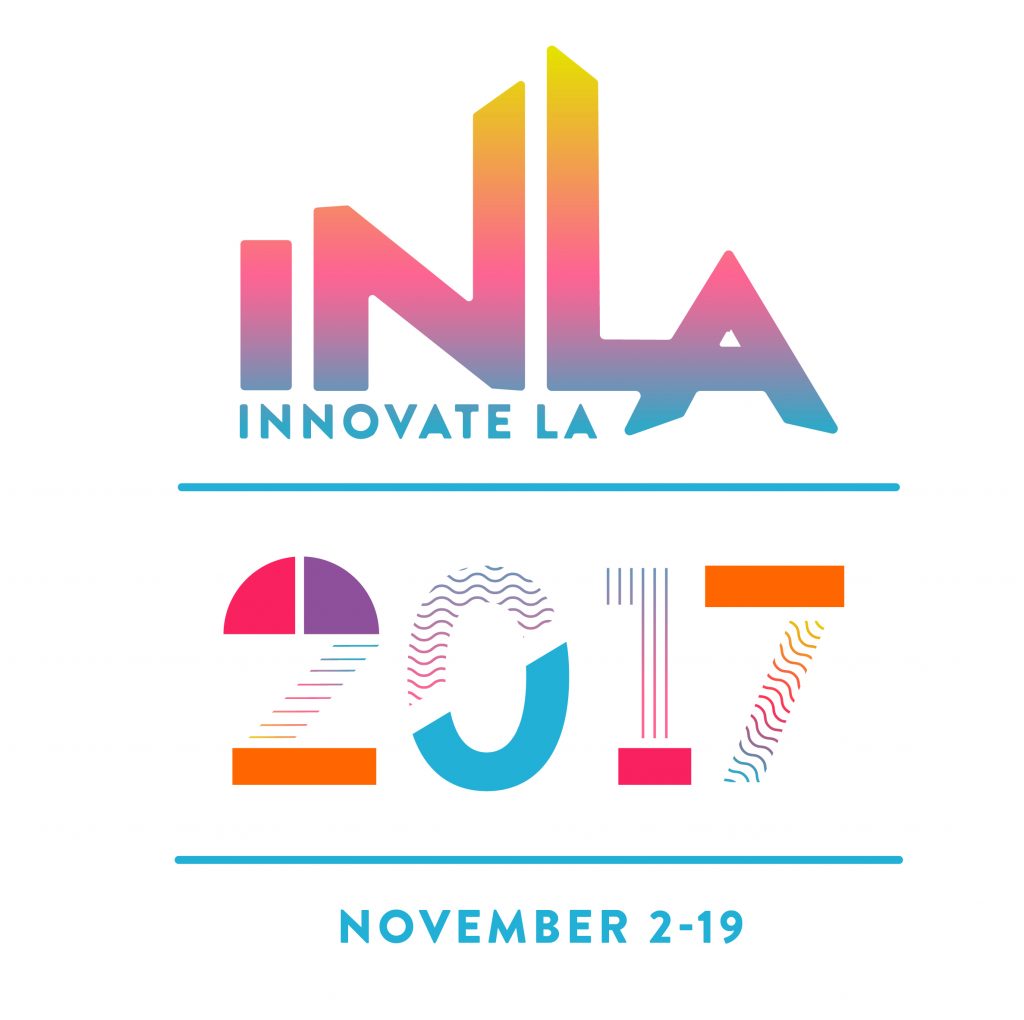 InnovateLA 2017 Highlights LA's Innovative & Creative Ecosystem
Event series to highlight Los Angeles County as a leading global center for innovation
LOS ANGELES, CA. November 1, 2017 – In its fourth year, the Los Angeles County Economic Development Corporation (LAEDC) welcomes partners and participants to InnovateLA, a countywide celebration of the breadth of innovation and creativity found within our region. Events will run from November 2nd through November 19th, 2017. Tens of thousands of Angelenos are expected to attend the more than 100 events touching on cleantech, arts, business, manufacturing and civic engagement.
Los Angeles provides an unparalleled convergence of innovation, spanning the arts to aerospace, traditional and digital entertainment to transportation, manufacturing and international trade. The creative collisions and collaboration at overlapping fringes of industries unleash new ideas, industries and businesses, providing great economic opportunity for the residents of the region.
Diversity of human capital and the region's collective focus on driving change across industries will be on full display during InnovateLA. A variety of events hosted by civic organizations, universities, leading businesses and more will celebrate and highlight the talent and ingenuity found across Los Angeles. Events encompass the breadth of thinking and bold endeavors covering a myriad of topics in formats including panel discussions, showcases, demonstrations, workshops and social mixers.
The full array of the 100+ events can be found on the web at Innovate.LA .  Here is a brief sampling:
Artificial Intelligence LA – Building Minds with Patterns (Thursday, Nov. 16th)
Biotech for Investors – LA's Next Great Growth Industry (Thursday, Nov. 16th)
Commercializing Biotechnology – Market Entry and Partners (Thursday, Nov. 9th)
LA CoMotion – An Expo and Festival on New Mobility & Transit Innovation (Wednesday, Nov 15th)
"Los Angeles is a leading global hub for innovation – and is more than ever emerging as a vital hub of smart and innovative thinking about mobility," said John Rossant, Founder & Chief Curator, LA CoMotion, an event which is part of InnovateLA. "It is absolutely clear that this city will lead the way in changing how we move through global cities in the future. And this is why we are so proud to organize LA CoMotion, the leading conference and festival on urban mobility, in Los Angeles and during InnovateLA. We look forward to showcasing the region's most innovative policymakers and entrepreneurs working to improve urban transportation."
"LA's diverse business communities, from fashion and creative agencies, to professional and financial services, to Silicon Beach start-ups and large tech players — have come together to create a thriving WeWork community," said Jon Slavet, WeWork Managing Director, West. "We are very excited to partner with InnovateLA for a multi-week celebration of all the amazing things happening in Los Angeles."
"EY is honored to be a sponsor of InnovateLA," said Patrick Niemann, Greater Los Angeles Managing Partner at Ernst & Young LLP. "We're committed to helping organizations keep pace with the transformative age through our global network of EY teams and innovation centers that are creating powerful ideas and solutions—whether it's through artificial intelligence, blockchain, robotics or analytics. We salute the countless contributions of LA's leading innovators and disruptors and we support InnovateLA as it stewards innovation and ingenuity in our region."
InnovateLA thanks its sponsors, which include (Gold) Kaiser Permanente, Los Angeles Community College District, WeWork, XPrize Foundation, (Silver) Amgen, Citi Bank, EY, KCET, and (Bronze) Outfront Media, Gen Art, GetGlobal, and Uber.
###
About InnovateLA
InnovateLA is a countywide celebration of the breadth of innovation and creativity within our region. From cleantech to gaming to aerospace and digital media and beyond, Los Angeles is a leading global center for innovation and entrepreneurship rooted in boundless creativity and diversity. InnovateLA takes place from November 2 – November 19, 2017.  www.Innovate.LA
About Los Angeles County Economic Development Corporation (LAEDC)
Los Angeles County Economic Development Corporation (LAEDC) is advancing opportunity and prosperity for all. This is achieved via collaborative economic development leadership, objective economic research and analysis, strategic assistance to government, business, and education partners, and targeted public policy. LAEDC was established in 1981 as a private, non-profit, public benefit corporation.    www.laedc.org