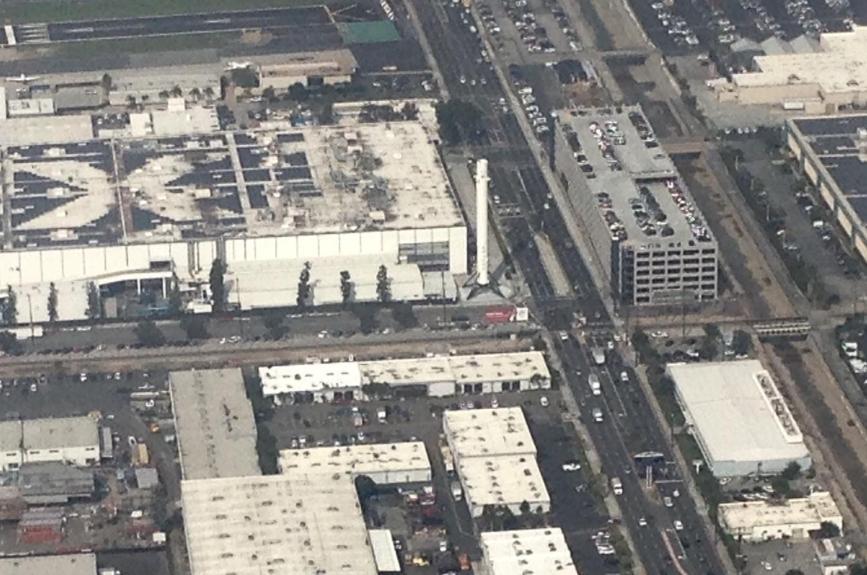 Daily Breeze published an opinion article by Dave Flaks, President of LAEDC, about preserving industrial-zoned land, which is vital to creation of well-paying jobs.  Many thanks to Daily Breeze for offering LAEDC's views on this important issue.
Read the article HERE at the Daily Breeze
By DAVE FLAKS
Last week, the Hawthorne City Council voted preliminarily to approve an apartment building proposed for a site near SpaceX's rocket manufacturing headquarters and a new Amazon delivery hub. Ordinarily, my organization, whose purpose is to advance opportunity and prosperity for the residents of L.A. County, would cheer the prospect of more housing, which is in such desperate need right now.
Unfortunately, however, this approval is nothing to celebrate. You see, the city of Hawthorne is using a zoning waiver to deviate from the set of rules the city has in place to convert industrially-zoned, jobs-producing land to build these apartments.
Spot zoning deviations, such as this, are troubling on multiple levels. First, it's bad administrative policy, as this type of random development sets a bad precedent for the future growth and city planning of the area. At its core, zoning is intended to ensure that there is a balance of space to house and employ an area's residents. This is typically accomplished by dividing the area into residential, commercial, industrial and other zones, which are for the most part separate, to support the services that meet both residential and non-residential needs. For this reason, existing zoning regulations shouldn't be unpredictably altered without serious evaluation of the city's broader land use goals.
Second, this type of spot zoning is bad public policy. Industrial land is "employment land," which is a critical input of production, much like capital or labor, for industries, such as aerospace, alternative transportation, biotechnology and logistics, as well as for firms large, medium and small.
Industrial vacancy rates are at historical lows, standing at around 1.2 percent across L.A. county. Using one-off variances to retire employment land greatly exacerbates the incredibly low vacancy rate situation, making it hard for employers to find locations. It affects the economics of surrounding industrial land parcels and puts pressure on further industrial conversion by increasing industrial land speculation in the hope of converting industrial parcels to other uses, which prices out industrial land-dependent tenants. In turn, this drives out production-based businesses and jobs, which not only redirects economic investment and revenues to other locales, but potentially leaves Hawthorne residents with fewer — and often lower paying — job prospects.
In this case, the parcel is well-placed industrial land that is situated in the heart of Hawthorne's aerospace alley, located at the corner of Jack Northrop Avenue, named after the founder of the eponymously named Northrop Company, and adjacent to SpaceX's central manufacturing company. Aerospace jobs happen to be some of the highest-paying production-based jobs, paying an average wage of $100,450 per year, with significant spillover effects onto the rest of the local economy, including increasing wages and job counts in the city's local-serving industries, such as hospitality, construction and retail.
Finally, it is bad land use and economic development strategic planning. Spot zoning, by definition, contravenes more painstaking and transparent general and specific planning processes. Indeed, the Land Use Element of the city of Hawthorne's own General Plan admits as much, reading in part:
"Economic development land use policies have an immediate and direct impact on economic activity within the city. Many decisions made in the past were made without consideration of these impacts, and the cumulative effect of this has contributed to economic decline. Although land use matters cannot be decided solely based on their potential economic impacts, to not consider economic impacts is to handicap economic stability and growth in the city."
Though some attempt to portray industrial activity as a blight on our communities based on conjuring up old images of steel mills or smelting plants, in the 21st century "industrial" is no longer a dirty word. Industrial means skilled, high-wage jobs in growth areas vital to Hawthorne's long-term economic prosperity. It includes industries in which the city has productive advantages, such as in aerospace, and in so-called "new economy" areas like biomedical, digital media and autonomous vehicles.
Hawthorne city planners understood this, saying as much in the city's Land Use Element, which reads: "Land use regulations shall be regularly evaluated and updated to facilitate the attraction of high technology industries which will enhance the local economy and support Hawthorne's image as an aerospace research and development hub." To this end, industrial land also serves as the de facto incubation spaces for our region's entrepreneurial class, spawning many of our region's top tier companies, including SpaceX, now one of the region's top employers, but which once depended on acquiring less expensive space when it was a start-up.
We believe that siting an apartment project on prime employment land is not the right housing solution. What's left of the city's industrial land cannot be preserved without city government taking responsibility for orderly land use planning. Other cities have recently acknowledged the importance of industrial land to the health of their economies with officially-mandated and aggressive programs to preserve their industrial land bases, creating Industrial Business Zones (New York), Manufacturing/Industrial Centers (Seattle) and Permanent Manufacturing Districts (Chicago).
The city of Hawthorne too must make a commitment to preserve its vitally important industrial land, taking into account that 1) each new housing unit creates the need for 1.5 jobs and industrial land-dependent jobs on average pay substantially better than the retail jobs located in and around new residential development; 2) more residential means increased demand for city services without corresponding increases in revenues; 3) new housing within industrial zones negatively impacts new and expanding businesses, and 4) once converted, industrial sites will be impossible to regain.
There are no easy solutions to the city's housing crunch. But the rush for solutions shouldn't come at the expense of our economic future by making it too convenient to use our scarce supply of jobs-producing land to resolve our housing challenge. We are at an important crossroad on this issue, and the Hawthorne City Council cannot afford to make the wrong decision. Hawthorne's future economic health depends on it.
Dave Flaks is president and COO of the Los Angeles County Economic Development Corp.