LAEDC Success Story
American Shoe Manufacturing and Design, Inc.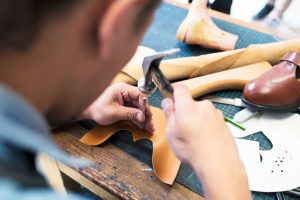 For several years, American Shoe Manufacturing and Design, Inc. has been manufacturing exquisite, custom-made ballroom, special occasions and street shoes for men and women in the City of San Fernando.
The Challenge. When the LAEDC knocked on their doors in October 2016, owner Chrysana Constantine employed 18 individuals. Her challenges included a rising minimum wage and workers compensation costs. She was concerned about her workforce and wanted to do everything in her power to retain all 18 of her highly valued employees.
Through the LAEDC and its workers compensation expert partner, they were able to:
Identify several areas for cost-savings 
Implement preventative measures to ensure a safe and healthy work environment 
Save about 30% on insurance costs 
Provide significant risk management guidance, and OSHA compliance programs, such as Injury and Illness Prevention Program, and create an employee handbook
Arrange attendance to an important classification inspection with the Workers Comp Insurance Rating Bureau (WCIRB) which ensured the company classified its employees correctly and continued the owner's control of her workers compensation costs
After working with Ms. Constantine for several weeks, the LAEDC and the workers compensation expert's assistance led to the retention of American Shoe Manufacturing and Design's 18 employees.
"LAEDC has been an invaluable resource for my small business! If you have a business in Los Angeles, I would highly recommend contacting the RED Team to see how you can take advantage of the many programs and services they have to offer!"
Chrysana Constantine, CEO, American Shoe Mfg & Design, Inc – USA
ALL OF THESE SERVICES WERE PROVIDED AT NO COST.