LAEDC's Bill Allen and Biocom's Dina Lozofsky coauthored a commentary on bioscience in LA County, to put in context a potent new source of economic development opportunity in the region as L.A.'s legacy industries face new challenges.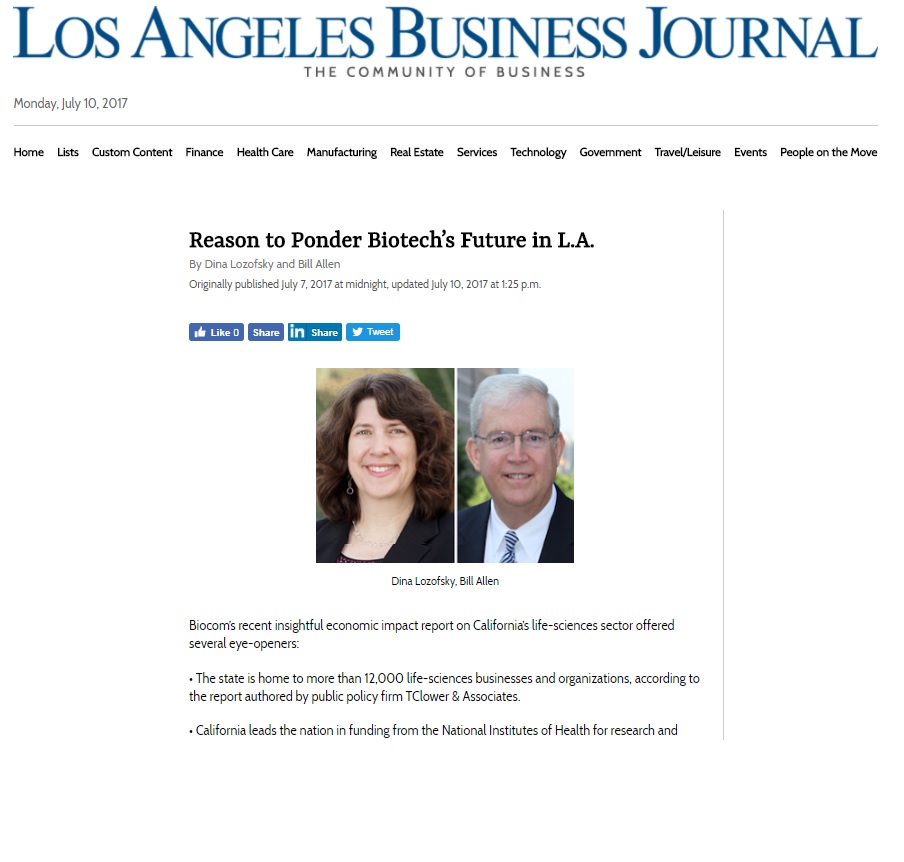 Reason to Ponder Biotech's Future in L.A.
Biocom's recent insightful economic impact report on California's life-sciences sector offered several eye-openers:
• The state is home to more than 12,000 life-sciences businesses and organizations, according to the report authored by public policy firm TClower & Associates.
• California leads the nation in funding from the National Institutes of Health for research and innovation.
• Biotechnology is increasingly a key contributor to the regional economy of Los Angeles, taking root throughout in the city of Los Angeles as well as Pasadena, Monrovia, the Santa Clarity Valley, South Bay and Santa Monica.
Add that up and biotech has the potential to become one of the region's largest job creators.
That's news because San Diego and the Bay Area are often considered the most expansive hubs for the life sciences. Yet California has an additional industry powerhouse in L.A.'s thriving sector. More news: Los Angeles County has long led the state in NIH funding, drawing more of these critically needed research grants (roughly $1 billion annually) than San Diego or San Francisco. And while the L.A. basin's academic institutions have long nurtured the talent and innovation that drive the industry – Los Angeles boasts some of the nation's finest teaching hospitals, biomedical research organizations and world-class universities – private investment and entrepreneurship in life-sciences fields are beginning to catch up.
"…a new focus by both the private and public sectors in Los Angeles is working to provide the connectivity and infrastructure to bring the regional cluster from infancy to maturity."
The Biocom report details that the county is home to more than 2,400 individual establishments in the life-sciences industry, including 103 biopharmaceutical companies, 436 medical device and diagnostic companies, and 787 research and lab support institutions. The industry employs nearly 70,000 people, the largest employment figure of any county in the state, generates $40.3 billion in ….