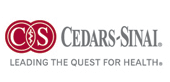 LAEDC's Corporate Honoree for this year's Eddy Awards, Cedars-Sinai, is widely renowned for its transformation of national and global healthcare, as evidenced by its recent ranking among the best hospitals in the nation. Cedars-Sinai consistently sets new standards in quality and innovation in patient care, research, teaching and community service. Moreover, Cedars-Sinai strives to deliver the highest level of personalized care, clinical programs and specialized treatments for all conditions and illnesses.

At the same time, Cedars-Sinai has demonstrated a longstanding commitment to strengthening the greater Los Angeles community and its most vulnerable and under-served residents. By leveraging its world-class expertise in prevention, patient care and education, Cedars-Sinai works to improve the health and well-being of those in need. Through a broad spectrum of community-based activities and outreach initiatives, Cedars-Sinai provides fundamental healthcare and extensive livelihood programs to local neighborhoods, schools, homeless shelters and community centers, and in so doing, aims to make the most impact with the most people. As such, Cedars-Sinai's contributions towards the health and well being of the general workforce continuously proves to be integral to strengthening our city's regional economy.

Alongside its provision of charity care, medical research, education of health professionals and hundreds of community service programs, Cedars-Sinai is known for its free and part-pay hospital care that assists the uninsured and those with limited means. Cedars-Sinai serves the highest number of Medicare patients in California and is also one of the largest providers of Medi-Cal services among non-government hospitals across the state. While Medicare and Medi-Cal payments from the government are significantly less than the actual cost of caring for these patients, Cedars-Sinai continues to stand firmly devoted to caring for the community and its patients.

Please join us in honoring Cedars-Sinai at our Eddy Awards on November 9th, 2017. This is LAEDC's only annual fundraiser in which we celebrate exceptional public and private leadership in LA County economic development and recognize honorees, like Cedars-Sinai, that demonstrate outstanding contributions to economic development in the region. Through your support, LAEDC's work in raising the standards of living for L.A. County residents by increasing economic opportunity and regional prosperity is made possible.

More details about the Eddy Awards here.