LAEDC hosted 90 members and guests at our Board of Governor's meeting on April 19th, with featured speaker LA County Supervisor Kathryn Barger.  LAEDC Chairman Chris Martin welcomed our guests, and we were pleased to introduce two new members, UPC and LA County Department of Public Works.
Attendees  heard the story of the United Precision Corporation (UPC) an aerospace industry manufacturer/supplier that was helped by our Business Assistance Team. Robert Hawrylo and his brother co-founded UPC in 2014, and have worked their way toward tremendous success in their first few years in business. Along the way, Robert mentioned how the LAEDC helped his business find and secure government contracts and manage workers comp. Today UPC has multiple government contracts, and are expanding their facilities to double their workforce. Among their clients are the US Navy, US Army, Rocketdyne, Raytheon, Northrop, Boeing, Lockheed, and SpaceX. Other LAEDC assistance mentioned by Robert included: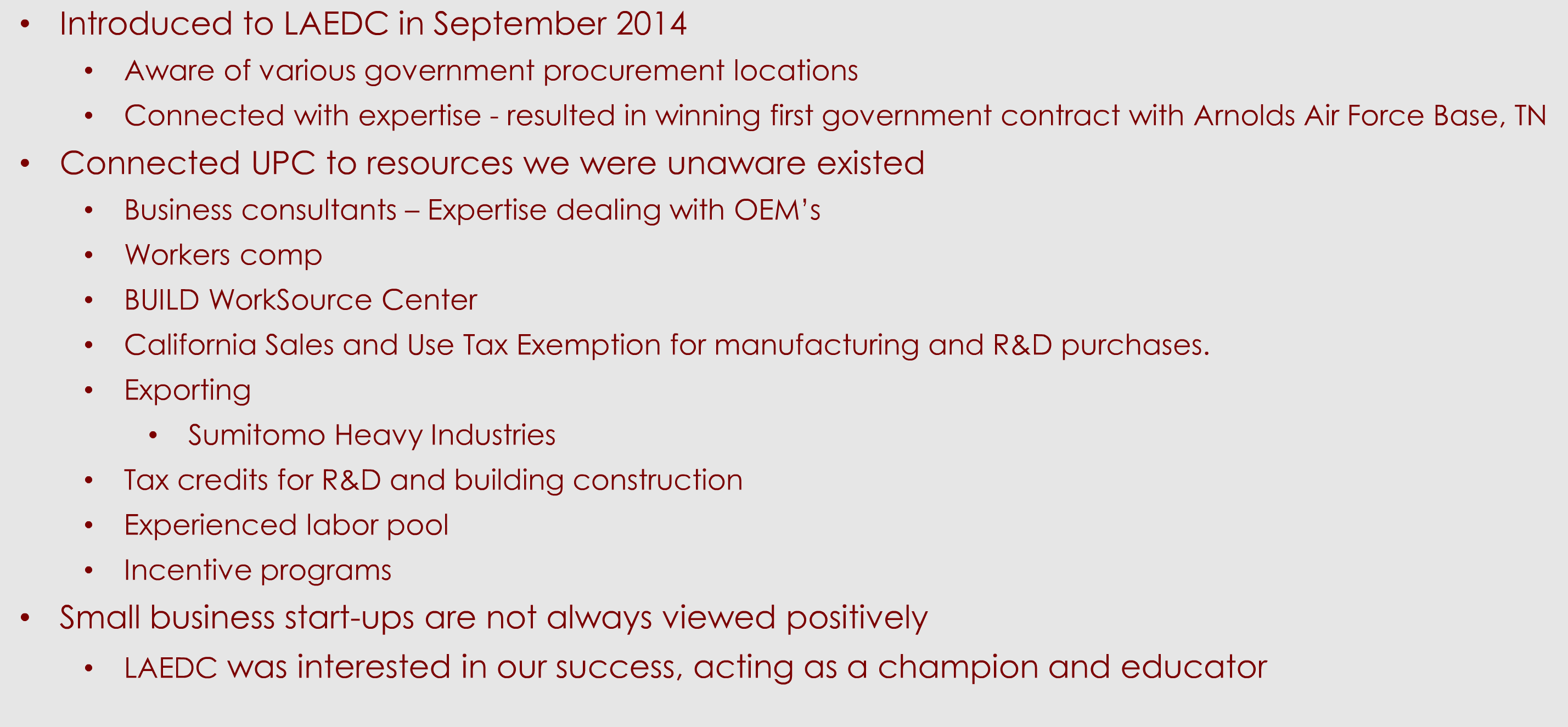 Contact our Business Assistance Team for no-cost help for you business here.
Bill Allen, LAEDC's CEO, then shared insights about how our region's Trade and Logistics industry cluster continues to  be a vital source of employment for our region's residents, with an average annual salary well above Southern California's average wage.  Of course this industry cluster is fundamentally important to Los Angeles County, and we continue to support public policy and other initiatives that make our region competitive and support that enormous employment base.  Industry highlights include:
The average annual wage earned by SoCal trade and logistics workers in 2015 was $63,130 (14% more than average wage of all other industries)
Trade and logistics employed 580,450 Southern California workers in 2015 (increase of 9.7% from 2005)
In addition to 580,450 direct jobs, trade and logistics supported 273,840 indirect and 310,490 induced jobs in Southern California
The industry contributed 13% of regional gross product and generated $75.7 billion in labor income and fiscal revenues of $42.6 billion (direct, indirect and induced)
While there are some question marks on the horizon, as increasing automation affects jobs in warehousing, at the port, and potentially in trucking, we are heartened to see growth of jobs over the study period and we will continue to do our part to help the industry cluster remain vibrant.
Rafael de Anda, LAEDC's Associate Economist, then gave his presentation on the State of the Unemployed in LA,
which you can access here
.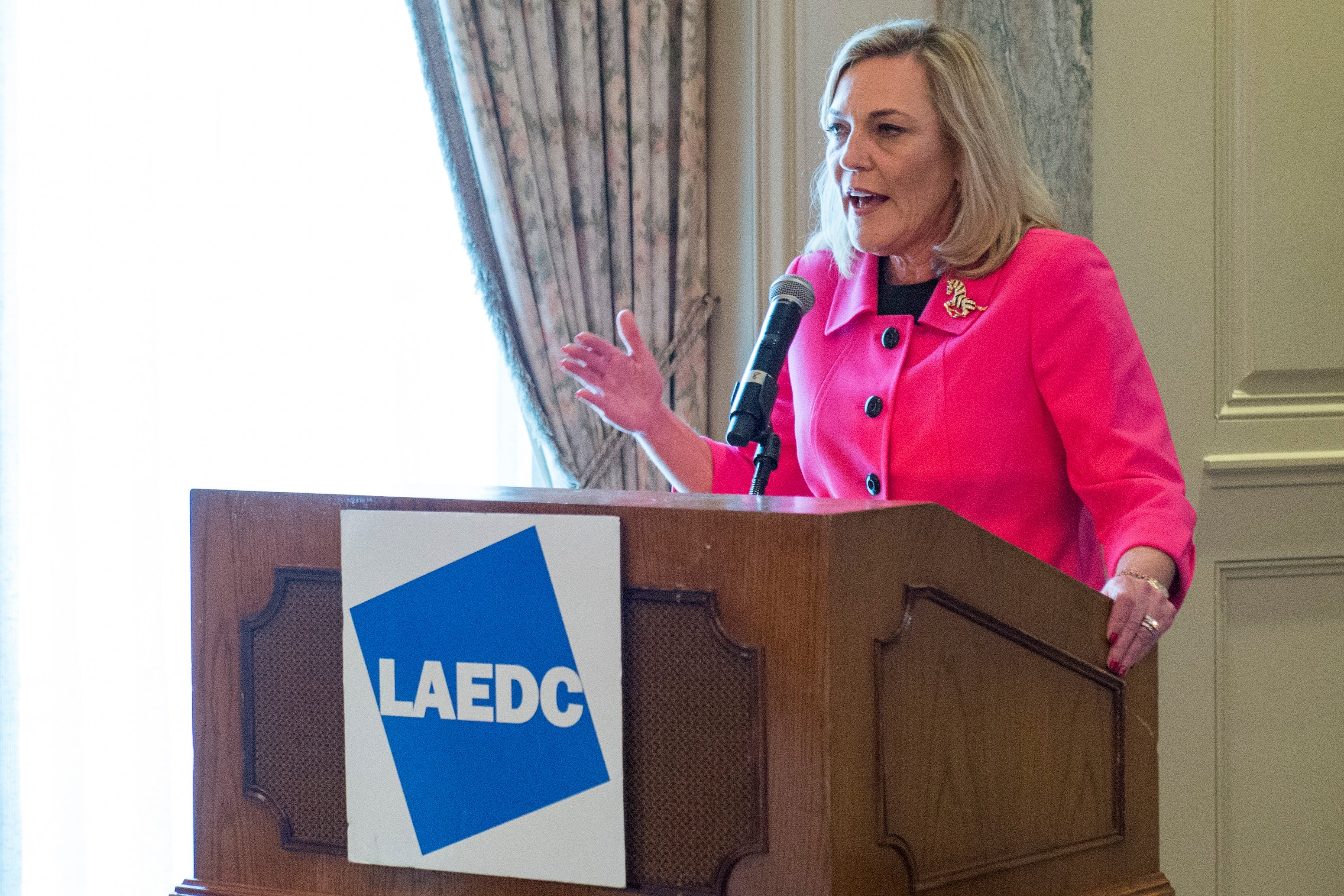 The meeting was capped off by an engaging conversation with Kathryn Barger, the newly elected LA County Supervisor representing the Fifth District, which encompasses 22 cities and 70 unincorporated communities across 2,800 square miles of the northern half of our county's geography. Supervisor Barger started her remarks by updating everyone on LA County's adoption of a balanced budget, which she mentioned, received unanimous support form all five LA County Supervisors. Supervisor Barger highlighted how LA County's residents practice the notion that "charity begins at home," as demonstrated by our vote to self-fund massive initiatives via taxes, as evidenced by Measures M & H passing at the ballot box. She also pointed to our County's ability to capitalize on public/private partnerships to build long-lasting infrastructure projects, such as our large-scale transit undertaking that will benefit this generation and those that follow.