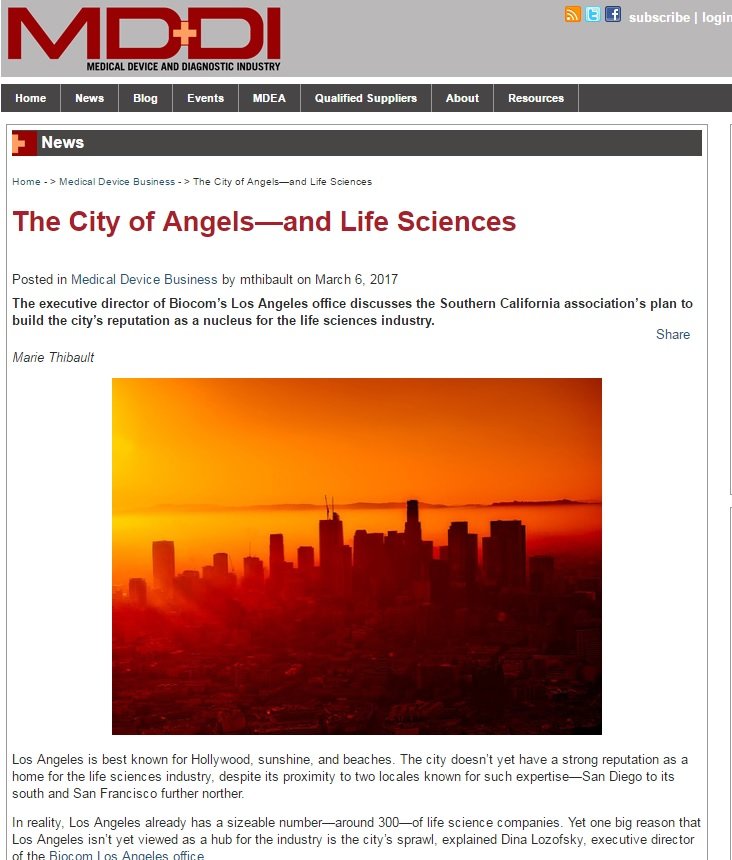 LAEDC partner Biocom is actively fostering growth of the bioscience industry in L.A., and Dina Lozofsky of Biocom talks about the market opportunity in this article in MDDI Magazine.  Read the article online here: http://www.mddionline.com/article/city-angels-and-life-sciences-03-06-17
The City of Angels—and Life Sciences
Posted in Medical Device Business by mthibault on March 6, 2017
The executive director of Biocom's Los Angeles office discusses the Southern California association's plan to build the city's reputation as a nucleus for the life sciences industry.
Marie Thibault
Los Angeles is best known for Hollywood, sunshine, and beaches. The city doesn't yet have a strong reputation as a home for the life sciences industry, despite its proximity to two locales known for such expertise—San Diego to its south and San Francisco further norther.
In reality, Los Angeles already has a sizeable number—around 300—of life science companies. Yet one big reason that Los Angeles isn't yet viewed as a hub for the industry is the city's sprawl, explained Dina Lozofsky, executive director of the Biocom Los Angeles office.
"It's just this huge geographic behemoth, but when you look at the number of companies, there are actually hundreds of life science companies in LA," Lozofsky said. "It's just that there's a few of them here and a few of them there and some in the south."
The Los Angeles area also has the benefit of several well-known academic and medical institutions, including the University of Southern California, University of Califonia, Los Angeles, the California Institute of Technology, and Cedars-Sinai, among others. Yet the startups that have their genesis at these institutions migrate away from Los Angeles, Lozofsky said, because they need additional resources to continue their development.
Those missing elements, according to the Los Angeles County-commissioned Battelle Technology Partnership Study, include enough wet lab space for these growing companies, more repeat life science entrepreneurs, and more capital to fund these companies. Addressing these challenges is a key focus for Biocom's Los Angeles office, which opened in 2016. "We have such an opportunity in keeping the ones that we are spinning out, staying in the region," Lozofsky said.
Biocom is working with the Los Angeles County Economic Development Corporation and others to help overcome these obstacles, with the goal of bringing more growth, revenue, and jobs to the Los Angeles life sciences industry.
An important first step toward that goal is raising awareness that the Los Angeles region already has strong life science companies and a growing presence, Lozofsky said. For instance, Los Angeles is an emerging hot spot for the medical device and digital health industries. "I would say that the trends are particularly strong in medical device and digital health companies, because one of our strengths is the fact that we have a lot of work going on both in life sciences and physical sciences. Where you get the convergence of those two I think you'll see a lot of activity," Lozofsky said. She added that there are a number of therapeutic and diagnostic companies in the city as well. Awareness of this growing industry may lead to more capital invested and more development of wet lab space. In turn, those factors could attract life science entrepreneurs.
The lack of wet lab space seems to be the result of what the market demanded historically. Lozofsky pointed out that because there isn't one main nerve center for life sciences in Los Angeles, "there just hasn't been one obvious place to put one big facility." Instead of huge facilities, there are now smaller incubator spaces like Lab Launch in Monrovia (with another space opening soon in Chatsworth)  and HATCH in northeast Los Angeles that are popping up around the city.
Biocom Los Angeles works with the San Diego office on legislative and economic efforts to support life sciences in Los Angeles. The two offices have also worked together on events. This is a strategy Lozofsky believes will help both the Los Angeles and San Diego regions. "There's an opportunity to connect the two clusters that will make both of them stronger," she said.
Biocom Los Angeles has planned more than a dozen events in Los Angeles for 2017, partnering with other organizations focused on life sciences in the area. One recent event focused on the process of licensing intellectual property from universities. "Tech transfer is so important for the growth of life sciences in Los Angeles," Lozofsky said.
What does the long-term vision for the Biocom Los Angeles effort include? "I want us to be acknowledged as the life science powerhouse that we actually are," Lozofsky said. Admitting that this recognition may take at least two to five years to achieve, she said, "I don't think we'll ever have . . . one single hub in Los Angeles."
Lozofsky explained, "I think you're going to see several smaller hubs all around the region. I like that, because Los Angeles is a different animal than all of these other places . . . We have this enormous geography, we have this enormous talent pool, we have a large and diverse patient population that can be helped and supported."
Marie Thibault is the managing editor at MD+DI. Reach her at [email protected] and on Twitter @MedTechMarie.