Former MEND leader, Marianne Haver Hill to lead the implementation of the five-year, multi-sector Los Angeles County Strategic Plan for Economic Development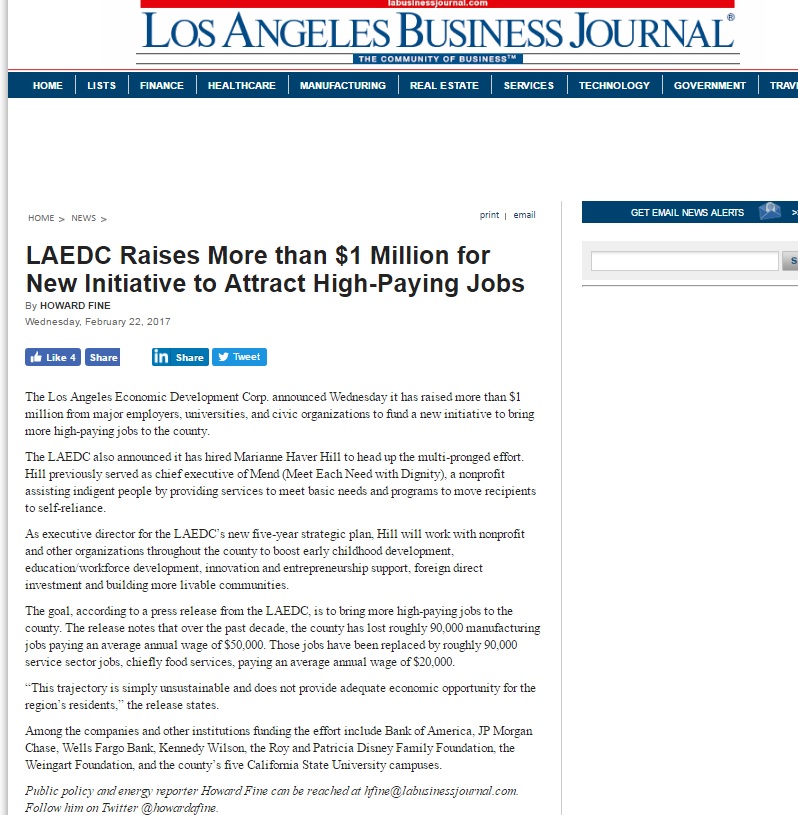 LOS ANGELES, CA – (February 22, 2017) The Los Angeles County Economic Development Corporation (LAEDC) today announced it has raised more than $1 million in funding from a multi-sector alliance of business, education and philanthropic institutions to implement the five-year Los Angeles County Strategic Plan for Economic Development. This shared, cross-sector funding commitment reflects and builds on the Strategic Plan's broad-based, consensus roots and development process, which gathered input from over 500 stakeholder organizations, including industry, labor, government, education, environment, philanthropy and nonprofit leaders, during 26 public meetings. (For the plan: www.lacountystrategicplan.com.)
To date, this extraordinary group of civically-engaged institutions coming together to fund the Strategic Plan includes:
Bank of America, California State University-Dominguez Hills, California State University-Long Beach, California State University-Los Angeles, California State University-Northridge, California State Polytechnic University-Pomona, Citibank, JPMorgan Chase, Kennedy Wilson, Roy & Patricia Disney Family Foundation, Union Bank, Weingart Foundation and Wells Fargo
The diverse array of participating organizations illustrates the widespread recognition that while Los Angeles has recovered all of the jobs lost during the Great Recession, our rapid and unprecedented economic transition into the labor-displacing "automation age" is creating a labor market that is increasingly dominated by lower-paying, lower-skilled occupations, providing few pathways out of poverty and exacerbating many of the symptoms that we are all trying to treat through philanthropy, education and government.
Demonstrating this point, Los Angeles County lost approximately 90,000 manufacturing jobs during the Great Recession, paying an average annual wage of $50,000, and replaced those jobs with approximately 90,000 low-paying service sector jobs, mostly in food services, paying an average annual wage of $20,000. This trajectory is simply unsustainable and does not provide adequate economic opportunity for the region's residents.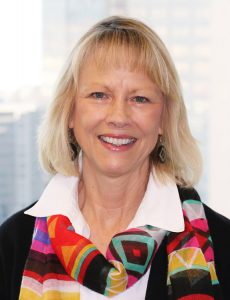 New Executive Director Marianne Haver Hill will lead a dedicated team and oversee resources to accelerate collaborative implementation of the Plan. Prior to accepting her new role at LAEDC, Marianne Haver Hill served as President and CEO of MEND (Meet Each Need with Dignity), which assists 37,000 individuals each month in L.A. County with services designed to meet basic needs and move recipients on to self-reliance. Haver Hill scaled up a 5000 volunteer workforce and more than 350 on-going collaborations with Southern California universities, businesses, nonprofit and government agencies, and community groups. Her work earned recognition by Governor Brown's office when MEND was named the 2012 California Nonprofit of the Year, a testament to Haver Hill's extraordinary ability to encourage collaboration and achieve results. She is also an Adjunct Professor at USC Price School of Public Policy.
Marianne Haver Hill will help mobilize organizations across the county to drive implementation of the Plan's strategies in areas such as: early childhood development; education and workforce development; innovation and entrepreneurship support; foreign direct investment attraction; and building more livable communities, just to name a few. Under Marianne's leadership, the Plan will advance strategies that address these and many other economic development-related priorities, while also assessing, tracking and publicizing the region's five-year implementation progress and success along the way.
At its core, the Strategic Plan sets out the following seven core aspirational goals for the region, with a set of objectives and strategies under each:
1. Invest in our people to provide greater opportunity
2. Strengthen our leading export-oriented industry clusters, to create jobs
3. Accelerate innovation and entrepreneurship
4. Be more business-friendly
5. Remove barriers to critical infrastructure development, financing and delivery
6. Increase global connectedness
7. Build more livable communities
Other private, government, education, labor, community, philanthropy and nonprofit organizations are urged to be part of the Plan's implementation. For more information, contact [email protected].
About the 2016-2020 L.A. County Strategic Plan for Economic Development
The Strategic Plan is a blueprint to strengthen economic opportunity and raise standards of living for our greater Los Angeles region, in the face of challenges stemming from the most rapid economic transition ever. Developed after a year of public input and consensus of organizations and individuals throughout L.A. County, the Plan was published in January 2016, and contains over 100 strategies and 30 objectives to realize seven overarching goals. Success hinges on collaborative and broad implementation by public, private, education, labor, and nonprofit sectors. www.lacountystrategicplan.com
About LAEDC
Los Angeles County Economic Development Corporation (LAEDC) is focused on raising standards of living for residents of L.A. County by increasing economic opportunity and regional prosperity. Through collaborative economic development leadership, LAEDC promotes a globally competitive, prosperous and growing L.A. County economy to improve the health and wellbeing of its residents and communities and enable those residents to meet their basic human need for a job. Offering objective economic research and analysis, strategic assistance to government and business, and targeted public policy, LAEDC is guided and supported by the expertise and counsel of its business, government and education members and partners. LAEDC was established in 1981 as a private, non-profit, public benefit corporation. www.laedc.org
Media contact: Lawren Markle, LAEDC, 213-236-4847, [email protected]